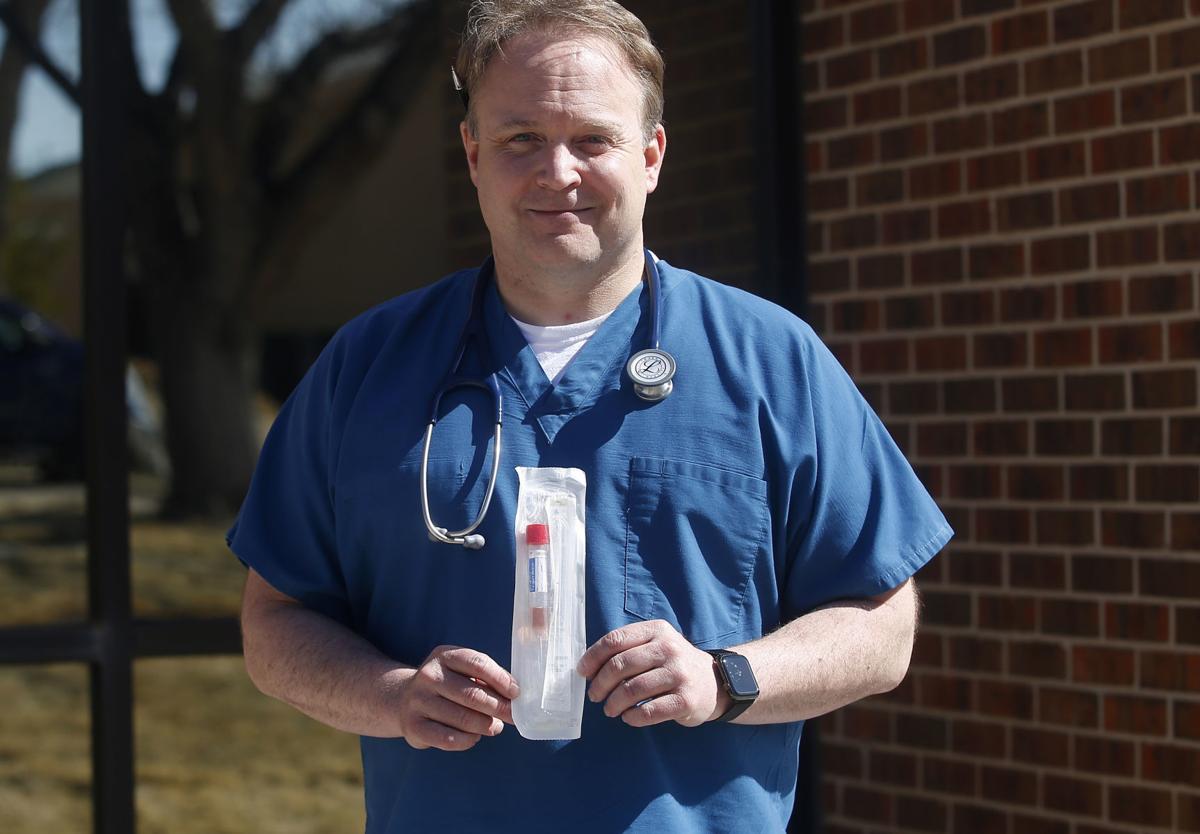 Wyoming Medical Center will expand its coronavirus services next week with a new telehealth program designed to help absorb the number of people concerned they may have the respiratory infection.
Earlier this week, the hospital started up a clinic to treat patients who may have COVID-19, the respiratory illness caused by the novel coronavirus. The clinic has seen several hundred patients through four days this week. The new program will include providers from at least one of WMC's primary care clinics. It'll act as another way for the hospital to divert potential COVID-19 patients — and respiratory patients generally — away from the emergency room and primary clinic waiting rooms.
The telehealth program, which will begin Monday, will be multi-layered. Patients having respiratory of COVID-19 symptoms — cough, fever, shortness of breath — can call into a number; they'll be rerouted to a WMC health care provider. That first provider will screen the patient for potential COVID-19 symptoms. If needed, the patient will then be set up for a telehealth appointment with another provider — either at the COVID-19 clinic or elsewhere within WMC — or an in-person visit to the clinic.
Those telehealth appointments will feature the provider talking to the patient via a video app. Previously, those apps had to be secure — FaceTime, for instance, normally wouldn't have been acceptable. But in light of the growing COVID-19 crisis, the federal government eased those telehealth restrictions earlier this week. While WMC is still studying what those changes mean, it should allow providers to communicate with patients on a variety of more standard video apps — potentially including FaceTime.
During that initial phone call, if a patient's in significant medical distress — if they're having trouble breathing, for instance — they may be directed straight to the emergency room. Generally, hospital and county health officials have urged people who have a fever, a cough or shortness of breath not to immediately report to the ER, unless they're struggling to breathe. That's the point of both the respiratory clinic and the new telehealth program.
Dr. Andy Dunn, WMC's chief of staff and the physician running the COVID-19 clinic, said the telehealth program is designed to help the hospital absorb the volume of patients reporting possible coronavirus symptoms. Dunn's clinic saw nearly 300 patients in its first two days. It's tested at least 30 people and has received 17 results back — all negative, as of early Thursday evening.
There have still been no coronavirus cases in Natrona County, also as of Thursday evening. Statewide, there have been 18 cases, and the state lab has tested more than 250 samples from patients across Wyoming.
Dunn's clinic is open seven days a week, from 8 a.m. to 8 p.m. The telehealth program — the phone line and the availability of providers for follow-up video appointments — will be open from 8 a.m. to 5 p.m.
"If you've got a fever at home, you can call and they can do all that screening (for symptoms) ... and then they can tell you what your next steps are," hospital spokeswoman Kristy Bleizeffer said.
Concerned about COVID-19?
Sign up now to get the most recent coronavirus headlines and other important local and national news sent to your email inbox daily.