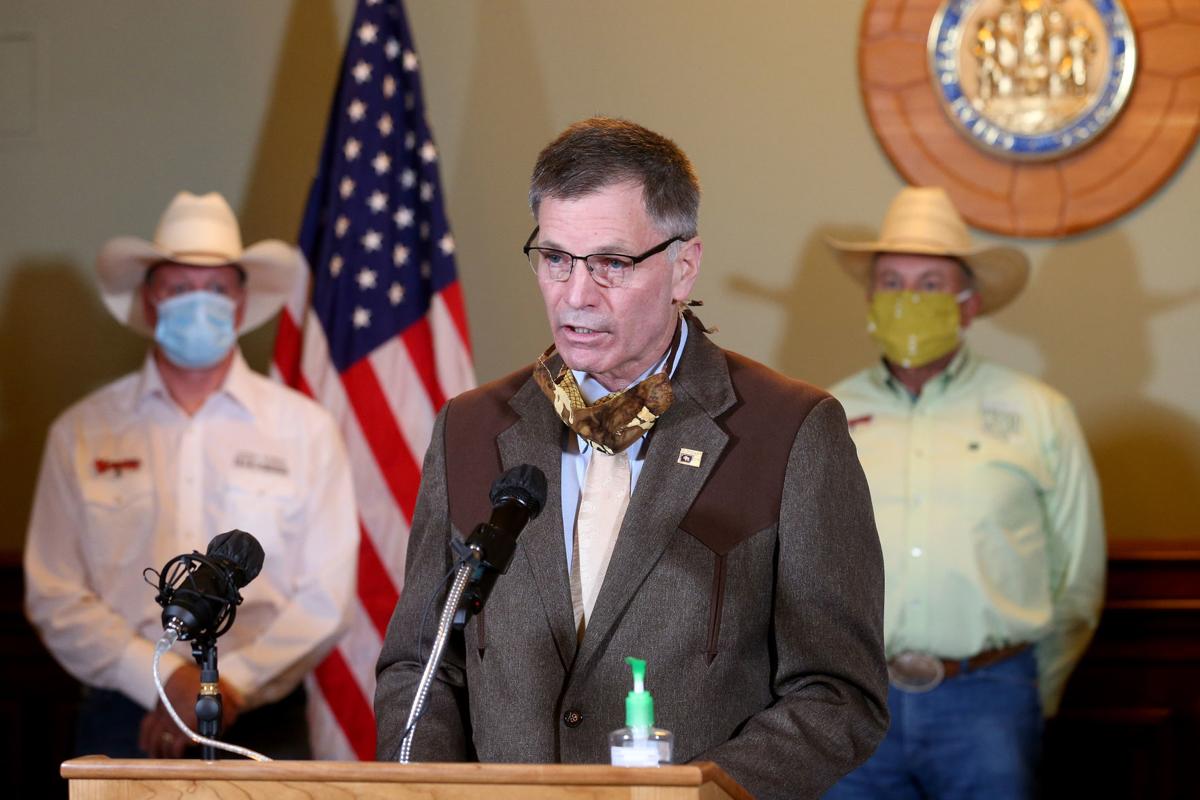 The three broad public health orders that were set to expire this week have been extended, with no changes, through mid-July, Wyoming Gov. Mark Gordon announced Monday, as the state continues to grapple with a spike in coronavirus cases.
It's the first time in six weeks that orders have been extended without being loosened, a reflection of the nearly 300 cases — out of 1,144 confirmed since mid-March — that have been identified in the past two weeks. The extended orders, effective until July 15, still allow for opened businesses, large outdoor gatherings and indoor gatherings of up to 250, all of which are permissible under certain circumstances.
"It is clear from the recent increase in cases statewide that the dual threat of COVID-19 to both the health of our citizens and the health of our economy is not going away," Gordon said in a statement accompanying the release. "No one wants to see the progress we have made vanish, but that requires each of us to make a concerted effort to slow the spread of the virus. It is really simple and depends on everyone practicing good hygiene, social distancing and doing their best to wear a mask in public where social distancing isn't possible. It's the way you and our economy will both stay healthy."
The governor's office, in its announcement, notes that 25 percent "of Wyoming's total number of lab-confirmed cases of COVID-19 have been identified in the past two weeks" and that this latest wave has touched "15 counties and reflects increased transmission within Wyoming communities."
The state continues to "recommend the use of face coverings in public settings where it is not possible to stay physically apart." The University of Wyoming announced Monday that effective immediately, all students and staff must wear face coverings on campus or while conducting UW business.
Dr. Alexia Harrist, the state health officer, told the Star-Tribune last week that while the state has expanded its ability to test more people, the recent spike is not solely attributable to better testing. It's reflective, she said, of "increased transmission" across the state. Indeed, the number of tests coming back positive is higher than it was earlier this month.
Still, testing is up — averaging more than 300 tests per day in June as of Friday, compared to 277 in May, 104 in April and 60 in March. And while there has been a surge in cases recently — with Uinta County now up to 140 cases as of Monday, from nine at the beginning of June — there has not been a jump in hospitalizations.
Thirty new cases were confirmed Monday, the second most in a single day. There have been 1,151 confirmed cases and 299 probable cases in Wyoming.
Concerned about COVID-19?
Sign up now to get the most recent coronavirus headlines and other important local and national news sent to your email inbox daily.