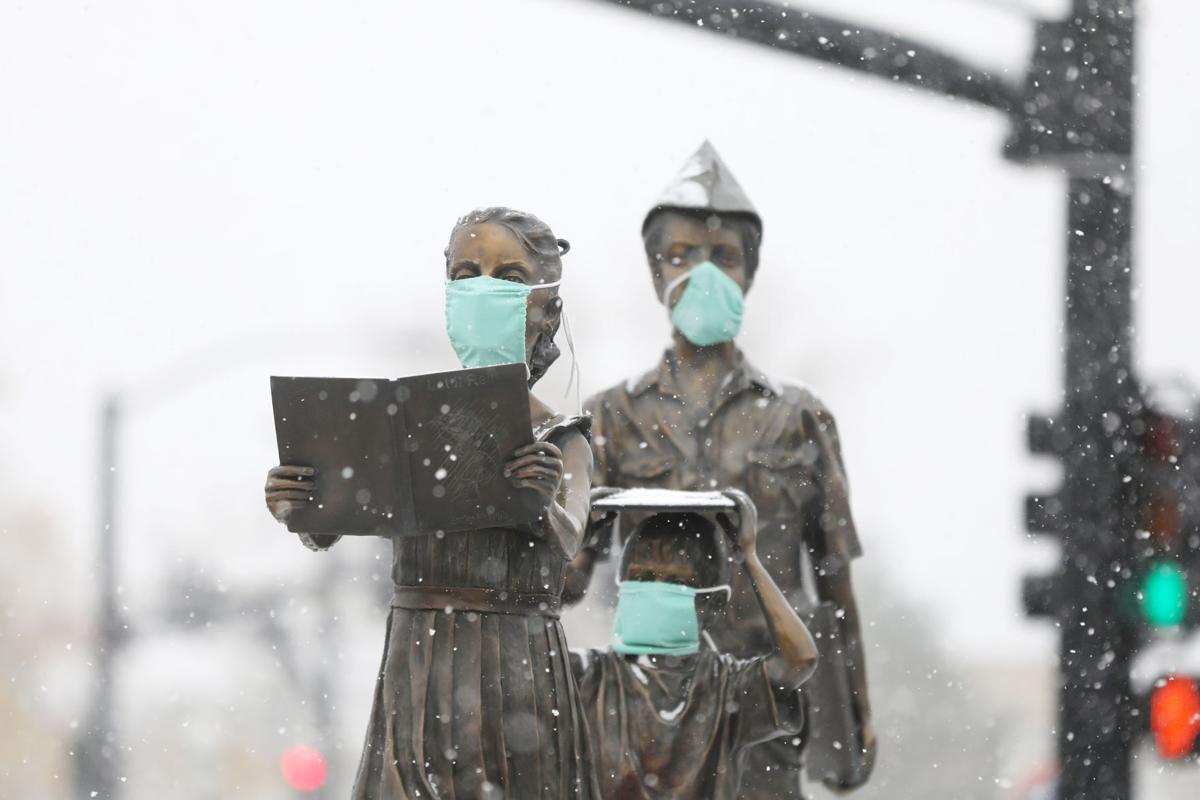 Wyoming's public face mask requirement will remain in place through Feb. 14, but the state will begin softening some existing restrictions as COVID-19 cases in Wyoming continue to level, Gov. Mark Gordon announced in a press release Thursday.
Most of the state's existing public health orders have been unchanged and extended through Feb. 14, but the state will allow larger public gatherings beginning Tuesday. An indoor venue will be allowed to serve up to 25% of its capacity or 250 people, so long as masks are worn, and outdoor gatherings will be permitted for up to 500 people.
"Wyoming is making progress and coming closer to safely returning to more normal lives, and the steps we have taken are helping us achieve this," Gordon said in the release. "I am confident that as our vaccination rate increases, the data-driven approach we are taking and our improving circumstances will give us more opportunity to further relax our orders."
COVID-19 infections in Wyoming have fallen dramatically since their peak in late November. The state is adding on average roughly 300 new cases a day, a significant improvement from the upwards of 1,000 new daily cases recorded on multiple days in November.
Cases began falling almost immediately after Thanksgiving, which several officials have attributed to face mask requirements. More than a dozen counties enacted their own local face mask orders through the month of November and early December as the virus reached a fever pitch, hospitalizing hundreds statewide.
A statewide face mask order took effect Dec. 9, and cases have mostly plummeted since, picking up slightly in the last week.
Hospitalizations have also dropped since November. Eighty-four people were hospitalized statewide Thursday. At the height of the state's surge, Nov. 30, nearly 250 people were hospitalized for the virus.
The state and most counties are still in the White House Coronavirus Task Force's "red zone" for cases per 100,000 people, meaning while cases are falling, the virus is still spreading across the state at a dangerous level. Just five counties fell below the "red zone" designation for that metric during the last two weeks, but far more counties are seeing overall improvements when factoring in testing positivity rate and the number of active cases.
Currently, Big Horn, Hot Springs, Platte, Park, Sweetwater and Uinta counties are still in the high transmission category, or the "red zone," and Teton County is in the very high transmission category. Most counties are in the task force's "orange zone," indicating medium-to-high transmission.
In total, four health orders are active in Wyoming and will be extended through at least Feb. 14. Three of those orders are on their 20th continuation. The face mask order has been continued twice.
According to public surveys, the orders are in step with the majority of the state. In December, the Wyoming Survey and Analysis Center reported 76% of respondents were wearing masks in public — a jump from 40% in June.
"We are here because we love our freedom and because the man in that building is a tyrant," Clem told an unmasked crowd of hundreds.
COVID-19 has killed 550 people in Wyoming. Vaccinations have begun statewide, but the process has been slower than originally expected and demand among vulnerable residents has proven high in the early days of inoculations.
Almost 29,000 first doses of a vaccine have been given in Wyoming thus far — nearly 60% of the state's available allotment. More than 4,500 people have received a second dose.
Follow health and education reporter Morgan Hughes on Twitter @m0rgan_hughes