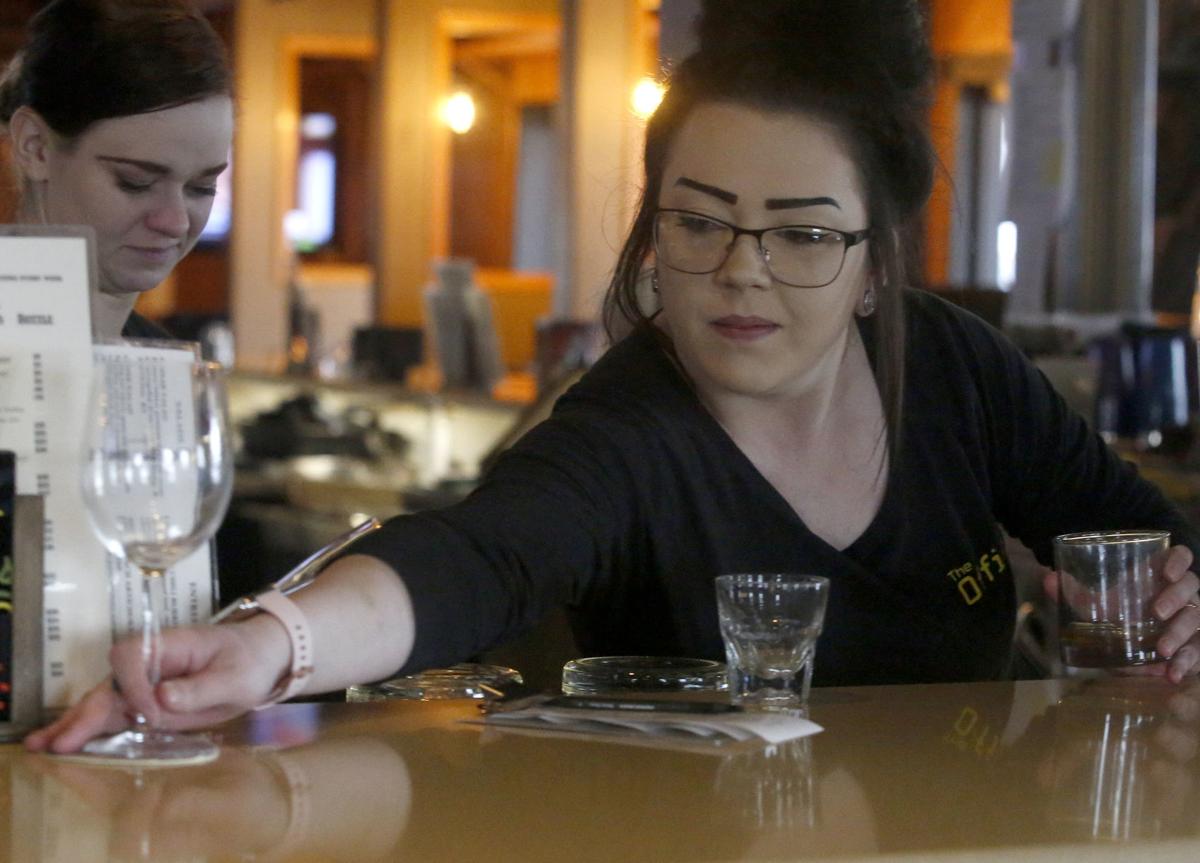 In light of "unprecedented" times brought about by the spread of the novel coronavirus, Wyoming Gov. Mark Gordon issued an order Thursday afternoon closing bars, gyms and most other public spaces across the state for the next two weeks.
"This Governor has never been inclined to overstep local authority, but these are unprecedented times," Gordon said in a statement announcing the order. "It is critical that there is uniformity across the state in how social distancing measures are implemented."
The order is effective immediately and extends through April 3. The mandate affects "schools, theaters, bars, nightclubs, coffee shops, employee cafeterias, self-serve buffets, salad bars, unpackaged self-serve food services, gyms, conference rooms and museums." Restaurants can still operate, as long as they do so outside of a dine-in setting. Child care services are also closed, except for those that cater specifically to "essential personnel."
It's the latest in a series of announcements by the state to try to slow the spread of the coronavirus, which causes respiratory illness. Sunday, the governor recommended that all of the state's K-12 schools be closed, prompting a wave of compliant announcements by school districts across the state. He also announced that he would be forming five task forces to try to get ahead of the disease and counter the negative effects its spread may prompt here.
In his news release announcing the order, Gordon indicated that he was taking the measure to limit spread and avoid overburdening the state's hospitals with a flood of COVID-19 patients.
"Wyoming, like all Americans, must commit to reducing the strain on our healthcare system," he wrote. "These are hard measures and they will be difficult for employees and businesses alike, but they are warranted."
Dr. Alexia Harrist, the state's health officer, wrote that health officials knew this decision was difficult.
"But it is an important step to help them avoid becoming ill and to help them avoid spreading COVID-19 to those who are most vulnerable," she said. "We should all work together to help keep our friends and neighbors safe."
Bans similar to Gordon's have been announced across the country in recent days. On Sunday, California Gov. Gavin Newsom ordered the closure of bars and nightclubs. Colorado Gov. Jared Polis issued an order similar to Gordon, closing restaurants to dine-in service and completely shuttering gyms and theaters. Other bans have been enacted in Connecticut, New York, New Jersey, Florida, Illinois and Indiana, among many other states.
"A significant number of Wyoming citizens are at risk of serious health complications, including death, from COVID-19," Gordon wrote in his order. "Although most individuals who contract COVID-19 do not become seriously ill, people with mild symptoms ... place other vulnerable members of the public at significant risk."
Closures elsewhere
Just before Gordon's order was released publicly, Casper Mayor Steve Freel announced a similar measure for Natrona County.
"We know that the next few weeks will be challenging for everybody in the community," he said at a news conference just before the governor's announcement. "We are asking everybody to do their part for the good and betterment of Natrona County."
"We can all weather this storm together," Freel added.
Earlier on Thursday, the health officer in Laramie County ordered the closure of bars, movie theaters and other communal spaces in the capital city. Teton County officials have taken similar measures, as have those in Park County, where an employee of the hospital in Cody has tested positive for the virus.
As of Thursday evening, there have been 18 confirmed cases in Wyoming. The cases have been spread across five counties: Laramie, Teton, Park, Sheridan and Fremont.
All 18 cases have been confirmed since March 11. The virus has spread rapidly elsewhere across the country. According to the New York Times, which keeps a real-time count of U.S. cases, there have been more than 10,800 COVID-19 patients in the United States as of Thursday afternoon, with nearly 170 deaths. After weeks of delays and shortages of supplies, increased testing in places like New York have added to the totals; the state announced more than 1,700 new cases by Thursday morning.
Before the state announcement Thursday, officials in Laramie County took a similar step, after the city has had several cases reported in short order this week. The capital has had four confirmed COVID-19 patients, including one at F.E. Warren Air Force Base.
Gordon's order allows restaurants to remain open for curbside and drive-thru services. His announcement, like those in Casper and Cheyenne, prohibits any patron sitting down and eating inside a restaurant.
The order does not apply to grocery stores, markets, convenience stores, pharmacies, drug stores, food pantries, crisis shelters or other places that offer food meant to be consumed elsewhere.
Across Casper, businesses have already taken steps to limit patronage. Several restaurants — including Thai Kitchen and Buffalo Wild Wings — closed their dining rooms earlier this week and are only allowing takeout orders. Movie theaters have similarly shuttered, as has the Nicolaysen Art Museum. Countless events have been canceled, schools here are closed through the first week of April, and city hall has been closed off from public access.
The closures in Laramie County include all theaters, film or stage; bars, nightclubs, taverns or saloons; self-serve buffets, salad bars and other "unpackaged self-serve food service;" golf and country clubs; public pools, hot tubs, gyms, fitness centers, saunas, locker rooms and conference rooms; museums; tasting rooms; and "other like establishment or indoor recreational" facilities.
"We recognize that these are extraordinary actions, but COVID-19 is a serious public health challenge," the Laramie County health officer, Dr. Stanley Hartman, said in a news release announcing the closure order there. "This decision was not taken lightly and will hopefully increase positive outcomes for our community."
"The virus that causes COVID-19 is a new strain that we do not know much about," Cheyenne Mayor Marian Orr and City Council president Mark Rinne said in a joint statement. "This strain appears to be more virulent than previous strains that we have dealt with. In addition, the mortality appears to be higher than the influenza that we normally deal with. Consequently, governments around the country and the world are taking steps to control the transmission of COVID-19."
The two city leaders called the decision an "extraordinary step" and asked citizens not to "succumb to the hysteria" by hoarding food and supplies.
"We want to express sympathy for those directly affected by this decision," they wrote. "We know that the next few weeks will be difficult for all of us. Particularly, for those that will be struggling to get by without an income. While we are disappointed in the decision to restrict businesses in Cheyenne, we understand the decision."
Still no cases in Casper
There still have been no confirmed cases of the respiratory illness in Casper or Natrona County, as of Thursday evening. Health officials have said for a few weeks that it's only a matter of time before COVID-19, the disease caused by the novel coronavirus, gains a foothold here. Natrona County health officer Dr. Mark Dowell canceled the state high school basketball tournament last week in an effort to slow the spread.
The latest Wyoming cases — in Teton and Laramie counties — were confirmed Wednesday night and Thursday afternoon, respectively. Other than the Teton County man, all other testing results from the state lab Wednesday night were negative.
There was some confusion over the total count as agencies outside the state Health Department began announcing confirmed cases. The number was already up to 18 at one point late Wednesday, prior to the Thursday announcement from the city of Cheyenne. However, new information from the state Health Department indicated the case on F.E. Warren Air Force may have briefly been double-counted. It is currently included in the state's tally of four Laramie County cases.
The newest Laramie County case is closely linked to a previously confirmed case in the county. The four cases in Sheridan are linked, as are the eight in Lander. Park and Teton county each have one case. The state has tested 274 samples as of Thursday afternoon. Additionally, 14 Wyoming tests had been reported to the state by commercial labs and one Wyoming test was done by the Centers for Disease Control and Prevention.
The eight Fremont County patients are all either residents or staff members at the Showboat Retirement Center. Two of them were hospitalized.
COVID-19 is a respiratory illness that presents with fever, shortness of breath and coughing. It is especially deadly for the elderly, for those with compromised immune systems and those with chronic health conditions. Anyone in Natrona County — or elsewhere — who believes they may have contracted the virus is asked to not rush to the emergency room or their primary care physician's office unless they're really having trouble breathing.
Officials have told Wyomingites not to panic, even as the case number rises. When he announced the ban in Natrona County, Freel urged people not to flood grocery stores and hoard supplies. He said such panic-buying makes the situation worse.
"What we are really wanting to do is to educate the public that, should you suspect you have been exposed or you have coronavirus, one, do not freak out because 95 percent of the time you're going to be just fine," Dr. Ghazi Ghanem, an infectious disease physician in Casper, said at a news conference last week. "And, two, help us not spread this around."
Anyone who is concerned they may have it is asked to report to WMC's respiratory clinic, located at 245 S. Fenway in Casper. Patients there will be evaluated for the flu. Not all patients who report there will be tested; because of a shortage of supplies, only those patients who will be hospitalized or who are at high risk of severe illness will be tested.
A local hotline has been established to answer COVID-19 questions and provide guidance for Natrona County residents who feel they may have the disease. Those without primary care physicians should call the line, while those who already have a regular doctor should consult that provider. The hotline is 307-577-9892.
Officials have urged all residents to practice social distancing, which means minimizing close contact with others to cut down on the spread of the highly contagious COVID-19.
"We understand this is a new, rapidly evolving and at times confusing situation for all of us," Freel said. "This community is like no other in the world, and we will rise above this and get through this together."
Closing 3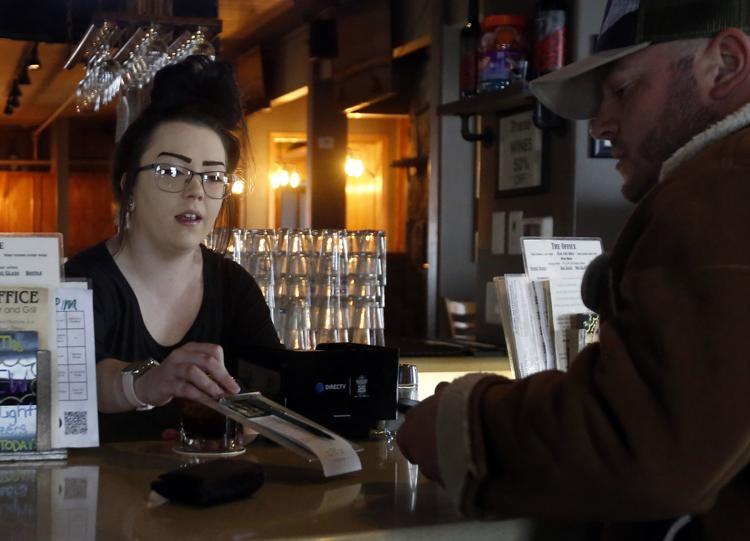 Pick-up order at HQ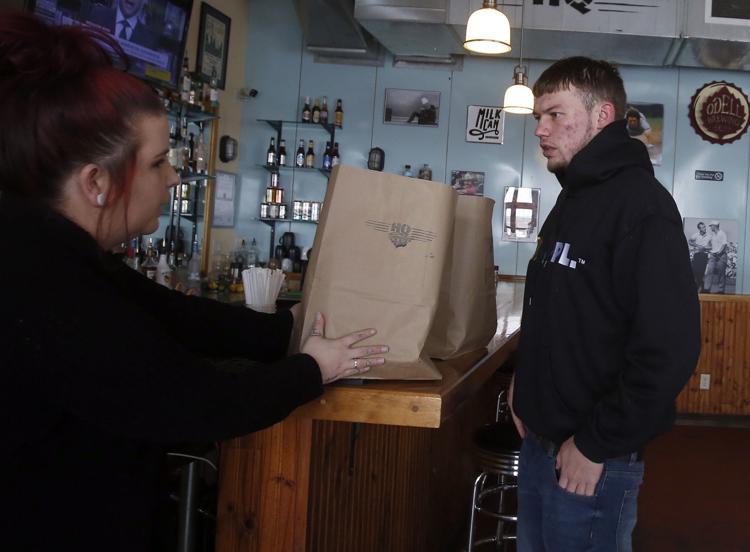 Wyoming Medical Center clinic Andy Dunn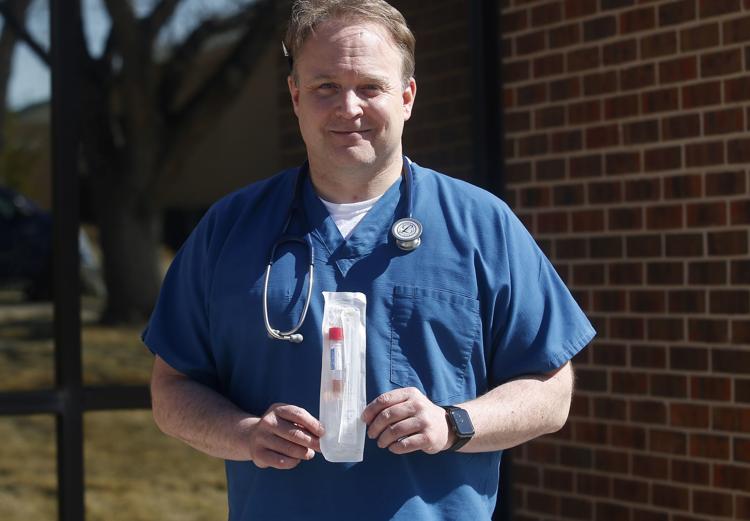 Wyoming Medical Center respiratory clinic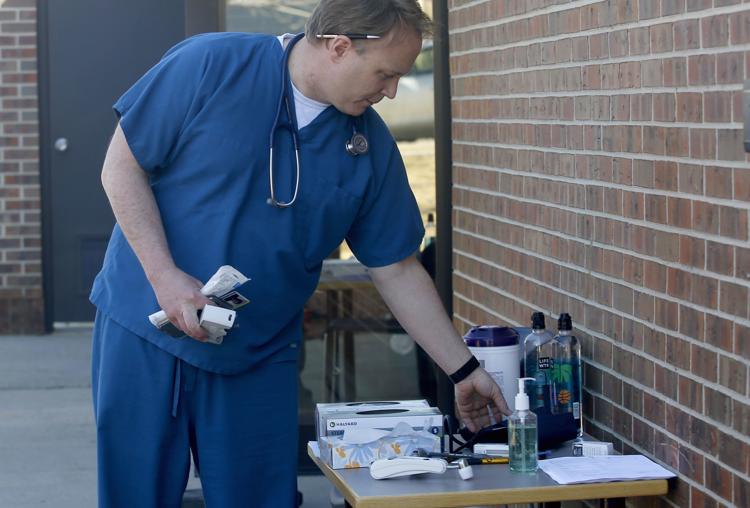 COVID-19 response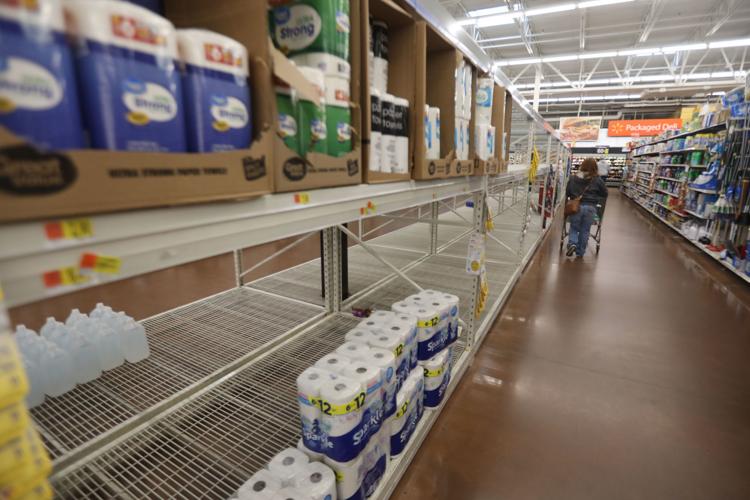 Press conference 5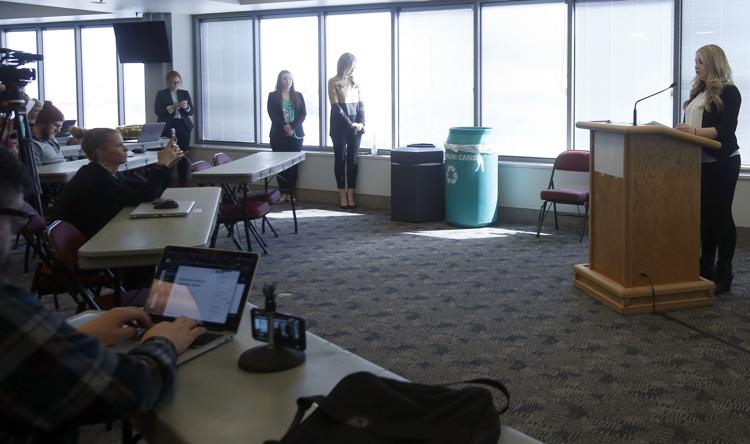 Respiratory clinic
Press conference 3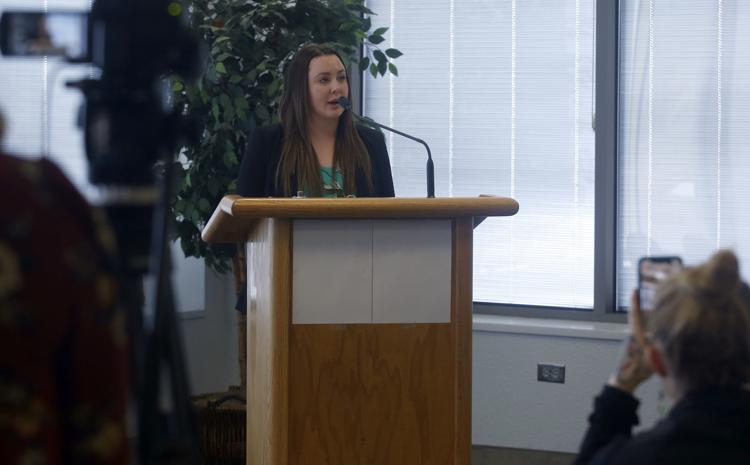 Respiratory clinic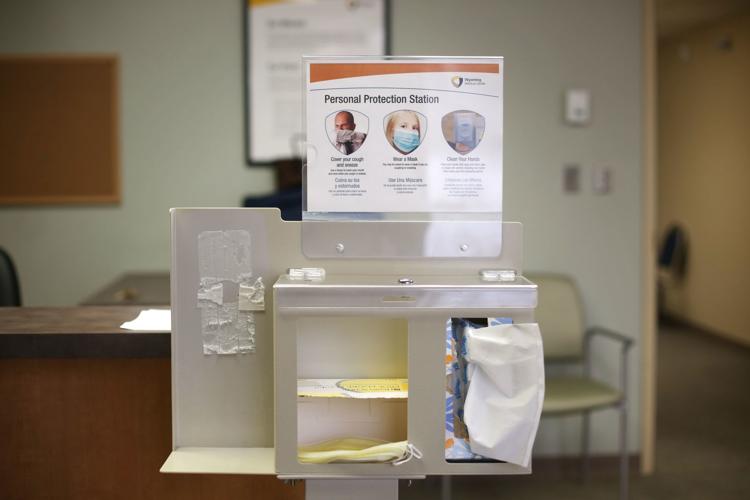 Briefing 5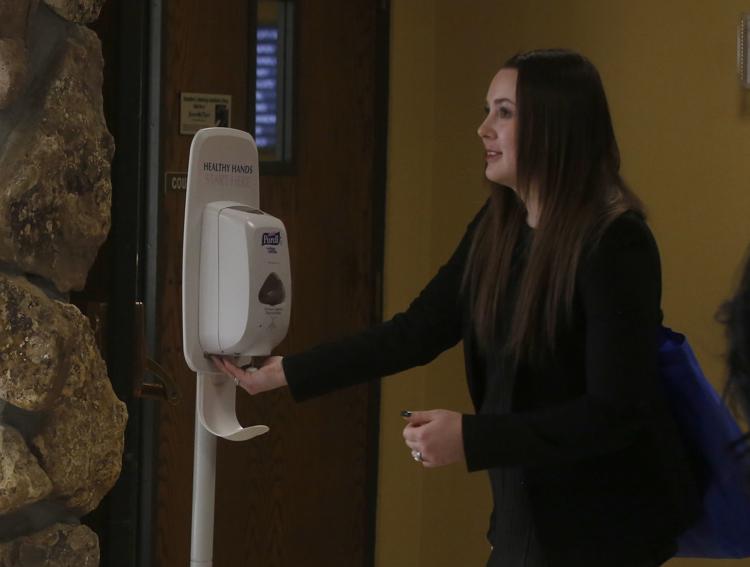 Briefing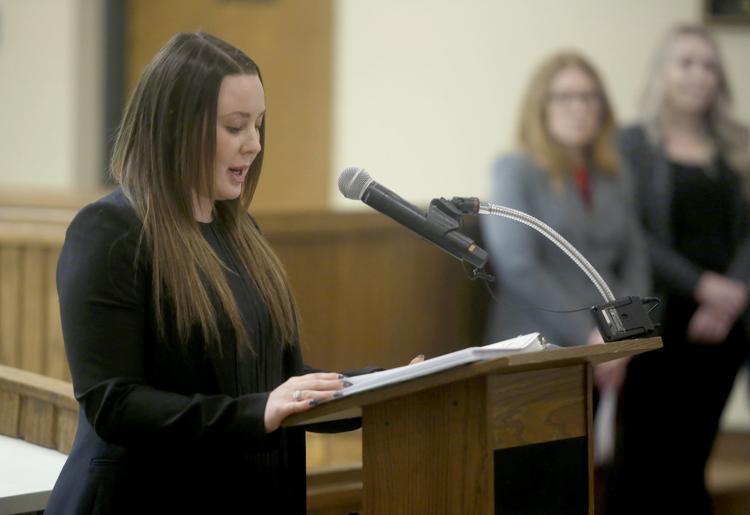 COVID-19 Press Conference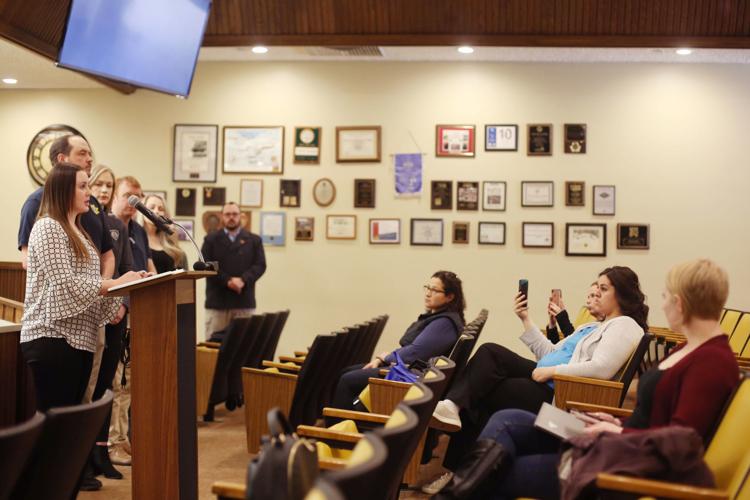 Respiratory clinic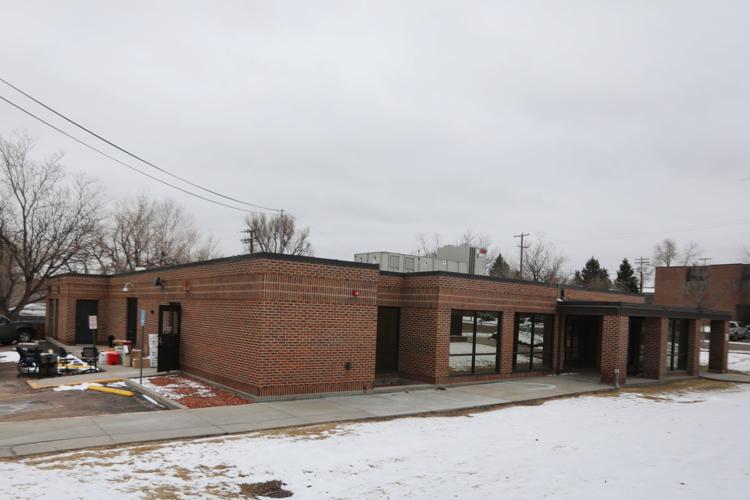 Respiratory Clinic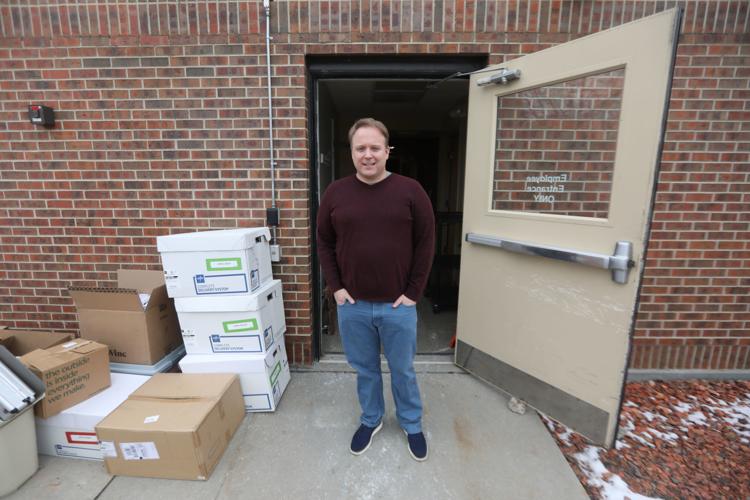 SageWest in Lander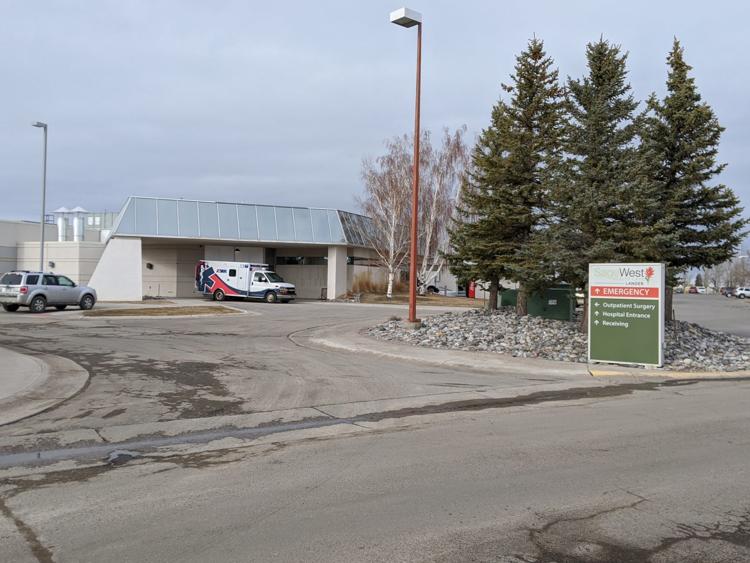 Showboat Retirement Center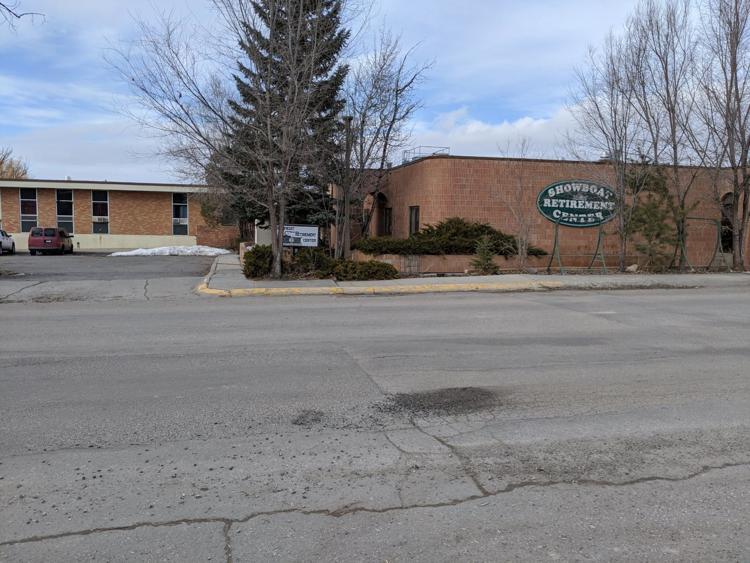 COVID-19 response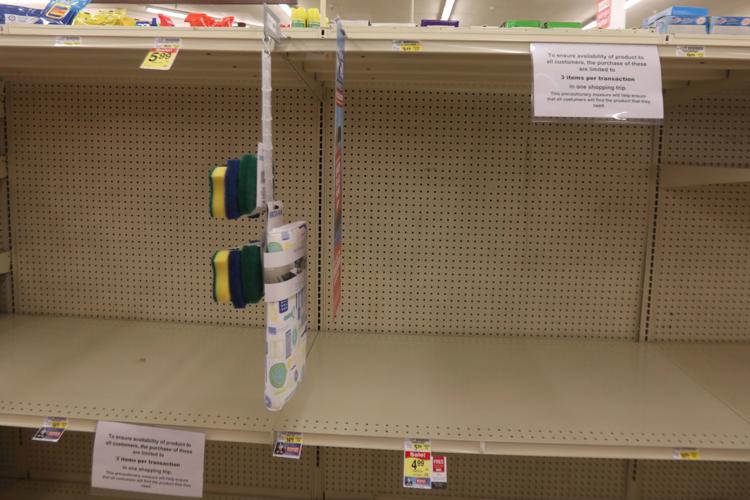 COVID-19 response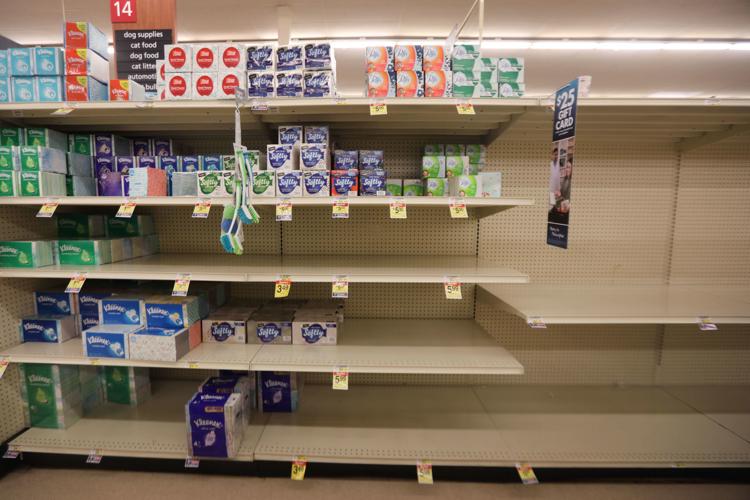 COVID-19 response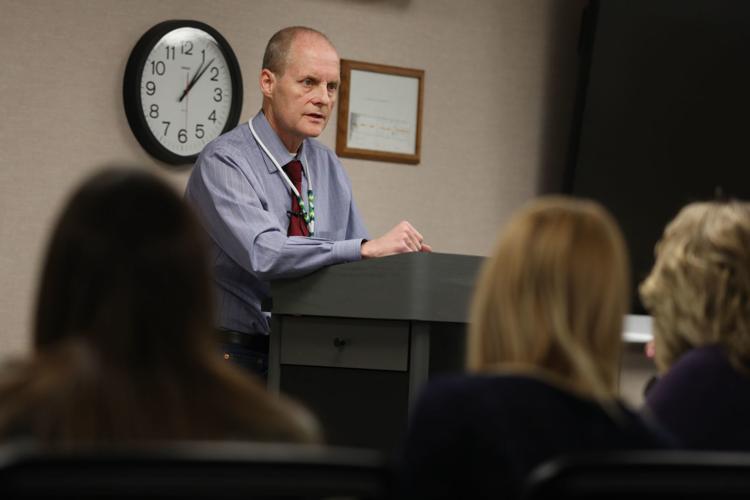 COVID-19 response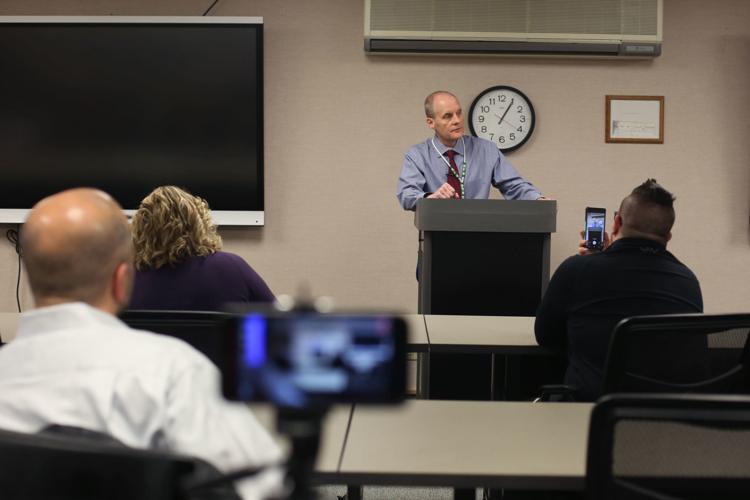 COVID-19 closure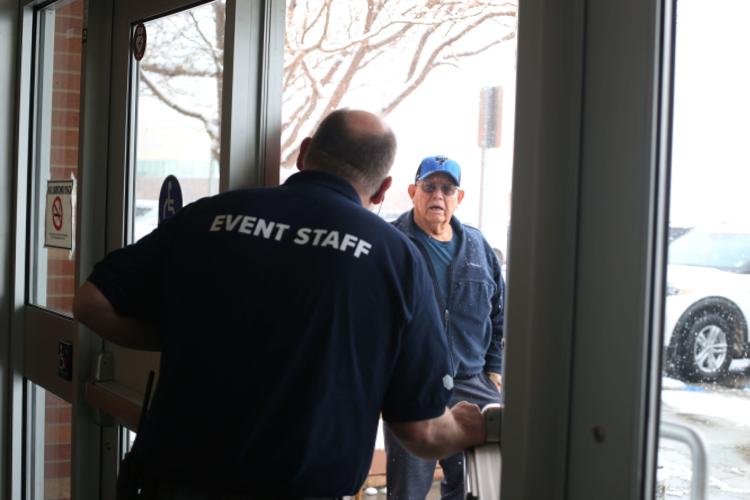 COVID-19 closure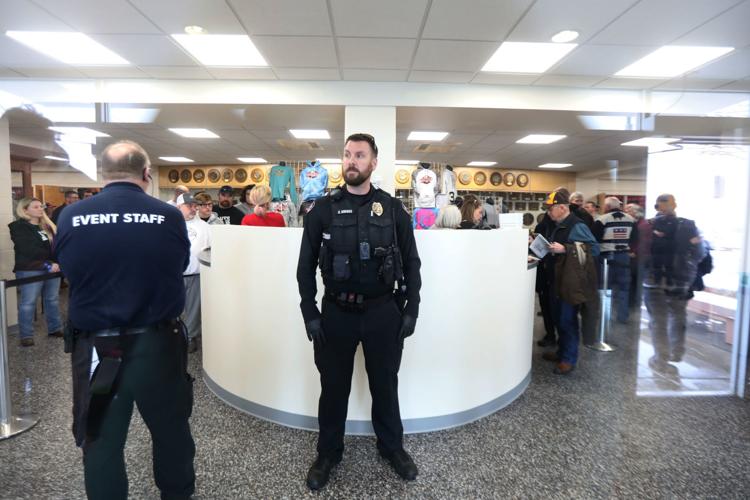 COVID-19 closure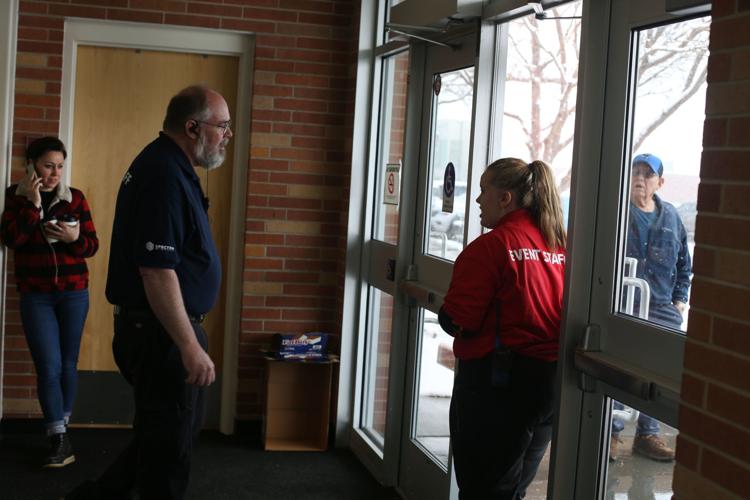 COVID-19 closure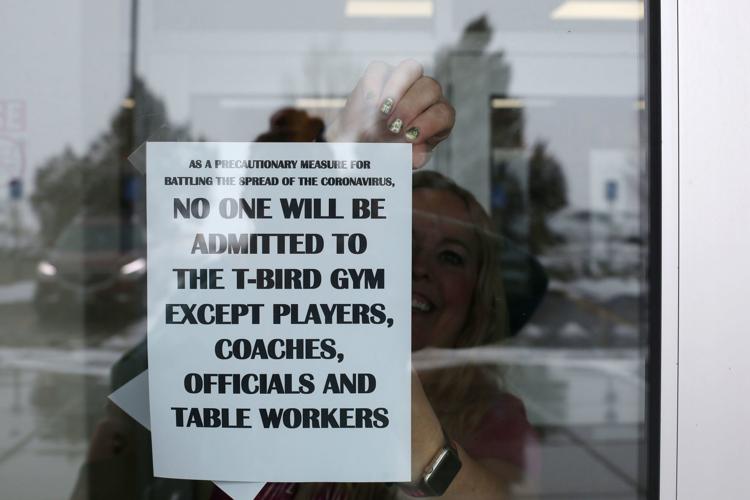 Covid 19 Press Conference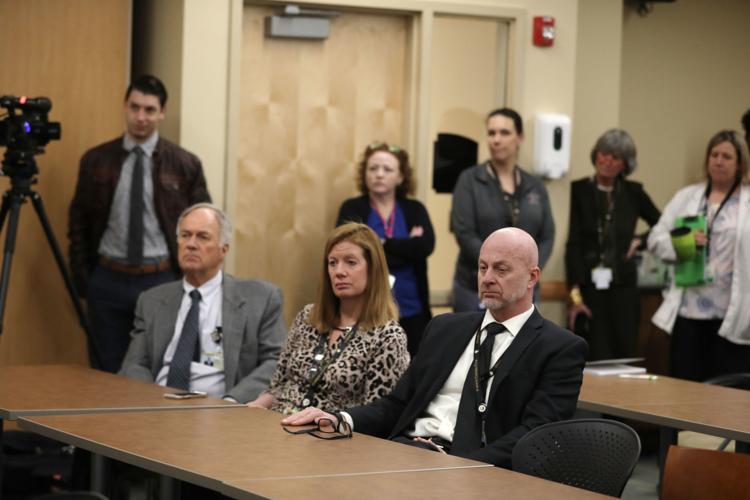 COVID-19 Press Conference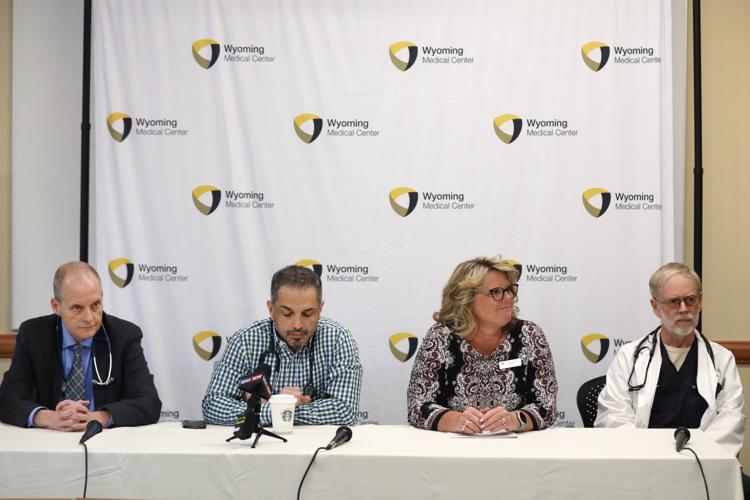 COVID-19 Press Conference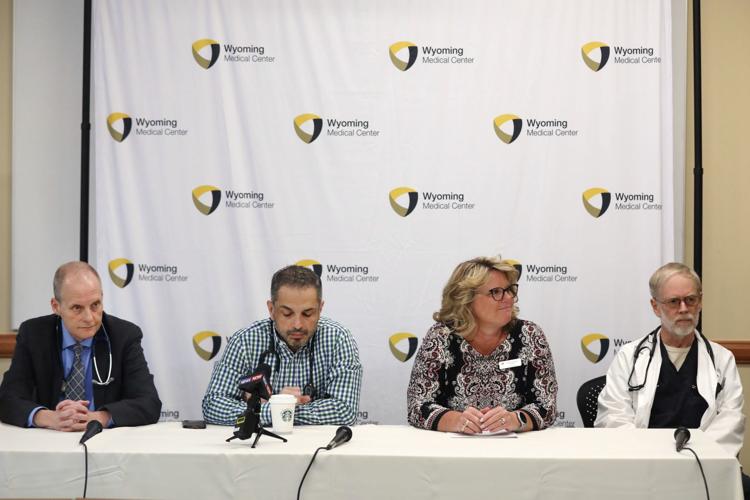 Covid 19 Press Conference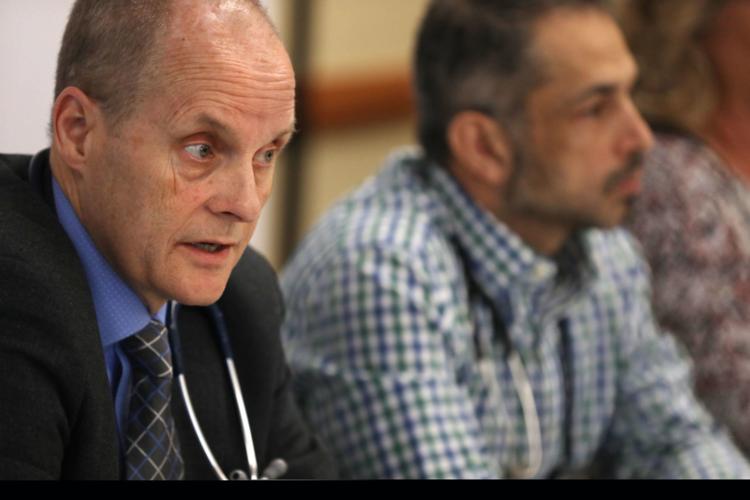 Mark Gordon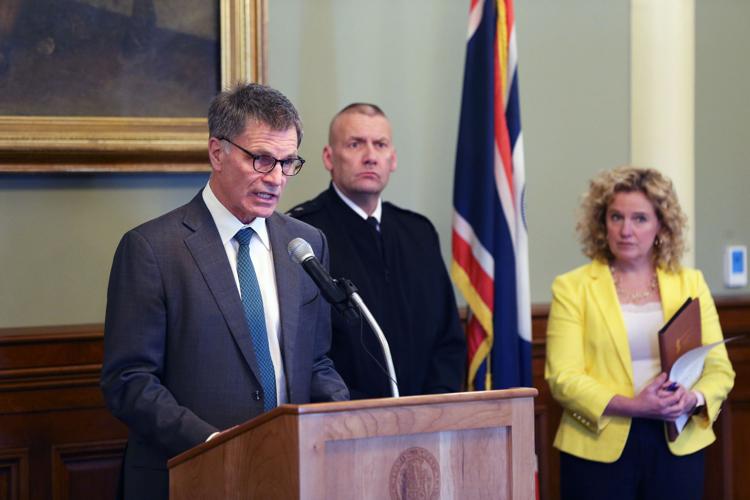 Closed sign at The Office Bar and Grill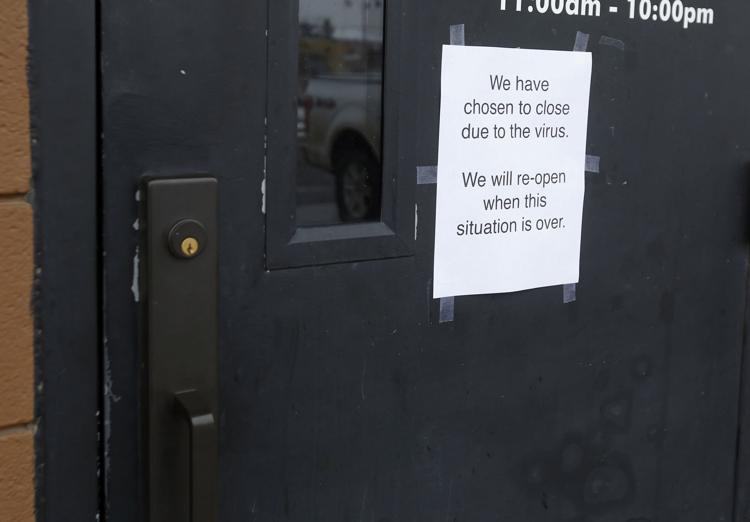 Concerned about COVID-19?
Sign up now to get the most recent coronavirus headlines and other important local and national news sent to your email inbox daily.