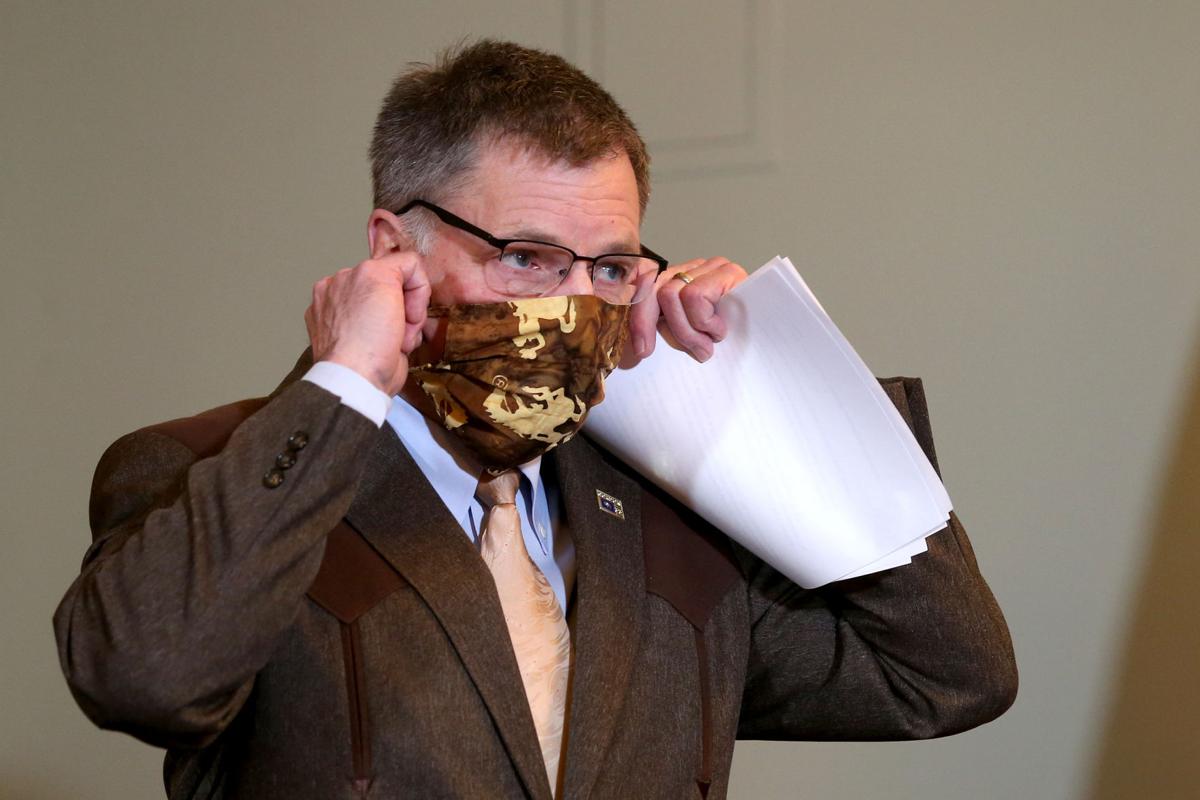 A visibly angry Gov. Mark Gordon urged Wyomingites on Wednesday to wear face masks and to not minimize the deaths and dangers facing the state's most vulnerable residents from the coronavirus.
"When somebody sends me a note that says, 'Well these people are gonna die anyway, they're just dying sooner,' I gotta say, I'm offended," he said at a news conference. "And as an American, I think most people are going to be offended by the notion that people should just get this COVID-19 and get out of the way. I'm sick and tired of that."
Gordon then urged people to be "conscientious" and to be "mindful of our neighbors." His emotional speech came a week after a member of the Natrona County school board uttered a comment nearly identical to the email Gordon quoted: "Most of (Wyoming's coronavirus fatalities) were people with preexisting conditions or in old folks homes. They were going to die. They just died sooner."
Gordon said later that he was referencing emails he'd received, not board member Kevin Christopherson's comments. (Christopherson apologized in an interview Monday.) But the governor repeatedly became more animated and frustrated as he talked about Wyomingites dismissing as trivial the deaths of older Wyomingites. It was his most emotional press conference — briefings that he's held almost weekly for months — in weeks; in early April, he chastised the media for covering the medical community's desire for a shelter-in-place order. A week later, after a Johnson County man became the first coronavirus fatality in the state, Gordon grew emotional and said the deceased was a friend.
"It's just amazing to me, if somebody has diabetes, does another individual have the constitutional right to make sure they die prematurely? I don't see that," Gordon said.
He referenced another email, in which the writer told him that people needed to be ready "to meet the Lord."
"I'm not sure you need to assist me meeting the Lord," the governor said.
"Our Constitution was designed to make sure that we ensure the common good, and that's been tested time and time again," he said as he began to hit his hand on the podium to emphasize his words. "Rights do not mean that I don't have any responsibilities. Rights — you can see this in the Federalist Papers, you can see that in the writings of the founders — rights imply responsibilities, and people need to take responsibility."
Christopherson's comments, which drew significant heat from within the county and on social media, were made during a school board meeting in which board members and health officials were discussing the reopening plan for Natrona County schools. The majority of that meeting was focused on the reopening plan's call for students and staff to wear masks when they couldn't maintain a 6-foot distance. Christopherson and others expressed opposition to the masks.
But at his news conference Wednesday, Gordon said masks would be an important part in keeping schools open. He noted that the virus would not disappear by the fall and that the situation had changed so rapidly in other states that predicting the situation even six weeks from now is impossible.
"I will say that masks probably have a place in schools' reopening," he said. "I just want to make that clear. Masks will help those schools stay open. Masks will help our kids get back to those classrooms where they need to be. And masks will help them get back to education."
Gordon said he wasn't considering a statewide face coverings order, as other states — including Colorado — have instituted. As he has said since the beginning of the pandemic four months ago, the governor repeatedly called on Wyomingites to take responsibility for themselves and don masks without being ordered to.
"Last week I got a question that said, 'Well, we've seen pictures of you not wearing a mask,'" Gordon said. "And I have occasionally not worn a mask. And I have occasionally worn a mask. I am wearing a mask much more conscientiously now, especially as I see these cases tick up."
He defended the businesses who have mask requirements and the businesses' constitutional rights in enforcing them.
"There is no constitutional right to go infect somebody else," he said. "There is no constitutional right that says you can put others in harm's way. Let's behave and let's be mindful of our neighbors. That's the country I grew up in. That's the neighborhood I grew up in."
The number of confirmed coronavirus cases has climbed steadily throughout July; 700 new cases have been identified in the past month alone, Gordon said. Dr. Alexia Harrist, the state's health officer, noted that one night at a Uinta County bar where social distancing guidelines weren't followed led to scores of cases, businesses and health care centers closing, and those infected becoming ill.
As of Wednesday afternoon, there have been 1,605 confirmed cases of the novel coronavirus in Wyoming, alongside 380 probable cases. Of the confirmed patients, 1,211 have recovered; of probable patients, 295 have recovered.
Twenty-two Wyomingites have died from the virus, including two in recent days.
Concerned about COVID-19?
Sign up now to get the most recent coronavirus headlines and other important local and national news sent to your email inbox daily.