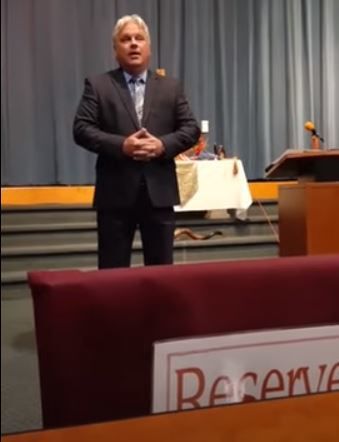 A Wyoming Department of Health doctor questioned the legitimacy of the COVID-19 pandemic and called the forthcoming vaccine a biological weapon at an event held last month in Loveland, Colorado.
The Nov. 10 event, held by the group Keep Colorado Free and Open, was meant to gather people who disagreed with health restrictions imposed to limit the spread of COVID-19. Dr. Igor Shepherd, readiness and countermeasures manager for the Wyoming Department of Health, spoke at the event.
"It's kind of (a) strange and questionable situation about (the) covid pandemic," Shepherd said, calling the current global crisis a "so-called pandemic," that had been invented by Russia and China as a tool to spread communism across the globe.
Shepherd, who was introduced at the event as a health department employee, went on to share a debunked conspiracy theory about the forthcoming COVID-19 vaccine, saying it had been developed as a biological weapon and would reprogram a person's immune system.
Health experts around the globe have disproved the claim Shepherd referred to.
The Wyoming Department of Health has declined to comment on the situation.
Department spokesperson Kim Deti said the department did not have a response to the doctor's remarks, which go against information shared by the health department and medical experts across the globe.
When asked if the department had a comment on the safety of the COVID-19 vaccine or the legitimacy of the virus' risks, Deti said the department declined to comment.
"We again decline to discuss this situation in any detail," Deti said via email. "All of the things we've ... been saying about the pandemic for months and the thousands of hours of dedicated work from our staff and our local partners on this effort and our excitement for the hope the vaccine offers makes our position clear."
Shepherd did not respond to an email or phone call seeking comment.
He has worked for the health department since 2013, according to department documents. He has been a part of the state's team responding to COVID-19.
"In his role with the department he has certainly been involved" in the state's COVID-19 response, Deti said, "but has not had what would be considered a leadership role in Wyoming's response."
The doctor's remarks come as two companies await U.S. Food and Drug Administration approval to distribute emergency quantities of their COVID-19 vaccines. Federal officials have estimated some communities may be vaccinated against the virus before the end of this year, though most of the public will need to wait until spring 2021.
Shepherd's concern with the vaccines is their use of messenger RNA, which has not previously been used in an approved vaccine. However, Shepherd shared incorrect information during his talk. He said messenger RNA, also called mRNA, had never been tested, which is not true. The substance has been tested for decades in the U.S., according the the Centers for Disease Control and Prevention, and has been used in early stage clinical trials for new Zika virus and influenza vaccines, among others.
New technology and deeper research, helped by unprecedented global cooperation, has made mRNA vaccines contenders in the fight against COVID-19, according to the CDC. None of the research suggests mRNA can alter DNA structure or reprogram a person's immune system.
Leaders in Wyoming and across the U.S. have reassured the public the COVID-19 vaccine will go through the same testing and safety protocols as any other vaccine.
Wyoming Gov. Mark Gordon has continually referenced a vaccine as something to look forward to, not be skeptical of.
"Those that don't want to take a vaccine don't have to do that," Gordon said in a press conference last month. "But we have the opportunity to be able to build herd immunity with a vaccine."
"It's been developed quickly, so I understand people's reluctance to get there, but we do know what this COVID-19 can do. It can really cause permanent problems," Gordon continued.
White House Deputy Chief of Staff Dr. John Fleming told the Star-Tribune last month the coronavirus vaccine will be safe and effective, and that "there's absolutely no scientific or factual reason" for the public to be skeptical about its use.
Despite reassurances from government and health officials, the Wyoming public has grown more wary of a potential vaccine, if Wyoming Survey and Analysis Center polling is any indication.
In March, more than 80% of respondents to that survey said they would be very or somewhat likely to get the vaccine once it became available. In a November poll asking the same question, just over 62% of respondents answered similarly.
Trust in a vaccine is up from its lowest point, though; in September, less than 57% of poll respondents in Wyoming said they would likely accept a vaccine.
Researchers have worried for months that politicized skepticism of the COVID-19 vaccine could hurt it's efficacy, as vaccines are more effective if most of the population is inoculated.
Researchers at Johns Hopkins Bloomberg school of public health and Texas State University's anthropology department wrote a paper in July stressing this exact concern.
"If poorly designed and executed, a Covid-19 vaccination campaign in the U.S. could undermine the increasingly tenuous belief in vaccines and the public health authorities that recommend them — especially among people most at risk of Covid-19 impacts," the researchers wrote.