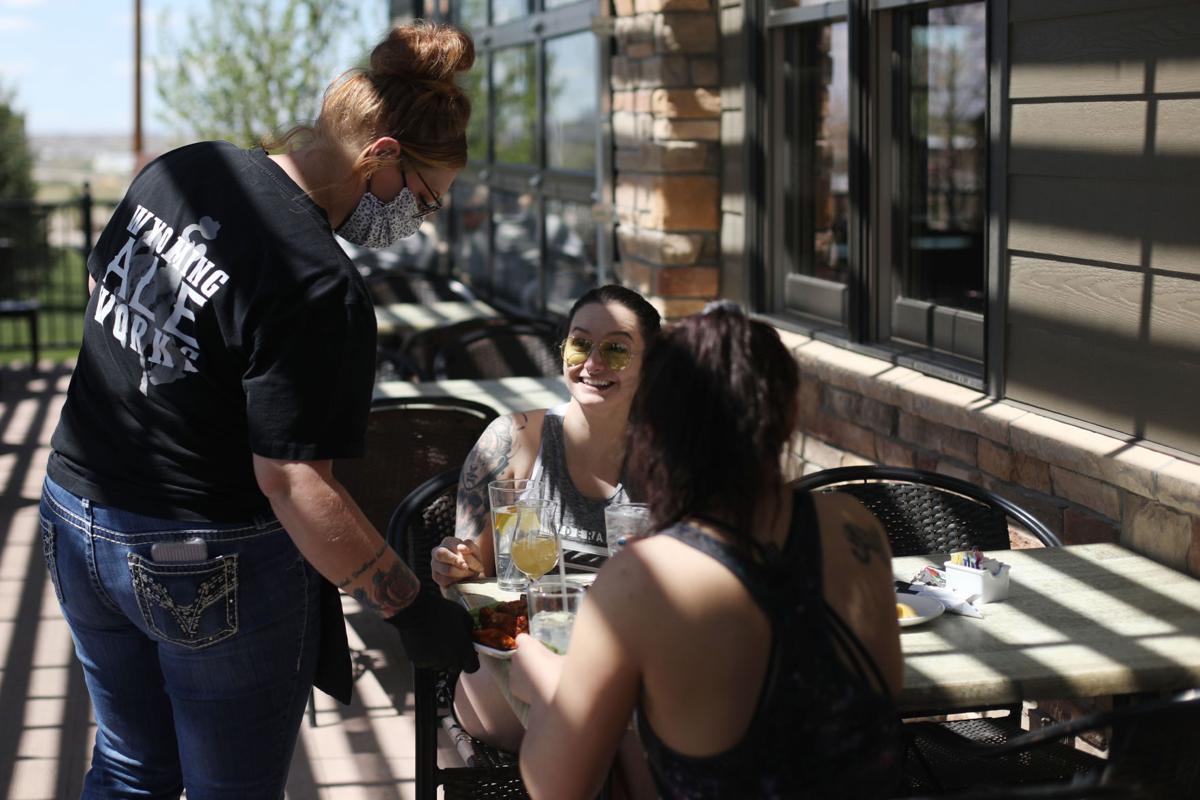 Gov. Mark Gordon said Thursday that Wyoming's current spike in COVID-19 cases can be attributed to a wide range of environments.
"We have transmissions occurring in long-term care facilities, through extracurricular school activities, businesses and social gatherings, both in public and in private," the governor said at a news conference livestreamed from Cheyenne.
Restaurants, however, have not significantly contributed to the spread of the coronavirus, Gordon said.
That's why, even as the number of cases continues to increase at a record-setting clip, Wyomingites can expect of a loosening of restrictions on indoor dining when the state renews its health orders next week.
"We are looking at expanding the seating capacity of restaurants," Gordon said. "We want to ensure those businesses can adjust to the coming fall and winter when outdoor dining will be more difficult if not less possible."
The current health orders, which expire Sept. 30, limit restaurant tables to six people unless they all live in the same household. Tables have to be positioned so patrons at different tables are at least 6 — preferably 10 — feet apart on all sides. Restaurants are required to limit capacity to account for these changes. All patrons have to be seated at tables or booths, and self-serve and buffet options are prohibited, as are drink refills when using the same containers.
State Health Officer Dr. Alexia Harrist said she couldn't get into the specific changes she and Gordon plan to announce next week.
"We're still working to finalize that legal language, but essentially the intention is: Can we seat more people inside in a restaurant and still do it safely?" she said. "We certainly recognize that restaurants have been hit hard by this pandemic and that some of the options they've had over the summer for outdoor seating are not ... going to be available in the upcoming weeks and months. So we do think that there are ways to sit more people inside and still in a safe way without the need for restaurants to make big modifications or changes to their operations."
Harrist said that the state will soon loosen another of its orders: the requirement for K-12 students to quarantine if they have come in contact with a coronavirus patient at school.
"To date, we are not aware of significant transmission in classrooms or other school settings where both the case and the close contacts were wearing face coverings," she said.
Therefore, students will no longer be required to quarantine if both the infected student and those in contact with them were wearing face masks.
Masks are only required in schools when social distancing is not possible, with some exceptions.
"Transmission has occurred in school settings where face coverings are not being worn, most notably in connection with school athletics," Harrist said. "Quarantine of close contacts will still be necessary in situations where there is exposure and face coverings can't be or aren't worn. We continue to emphasize physical distancing of at least 6 feet whenever possible in schools. While we know that masks are effective, distancing is still our most effective tool."
Harrist said there have been nearly 100 positive COVID-19 tests over the past month between students and staff in the K-12 system, but no schools in the state have had to close because of a coronavirus outbreak.
The state has added more than 900 new cases over the past 10 days, when including probable cases. Thirteen of Wyoming's 50 coronavirus deaths have been announced in September — the most in a single month so far.
The state's six highest single-day totals in confirmed coroanvirus cases have all come in the last week and a half, and the number of total active cases in the state has increased by more than 90% in the last 10 days.
However, it does not appear that state officials will be imposing any of the stricter health orders that Wyomingites faced earlier in the pandemic.
"I am not interested in imposing additional health orders," Gordon said, "because we know that things are working and that taking simple steps can help prevent transmission and protect our residents.