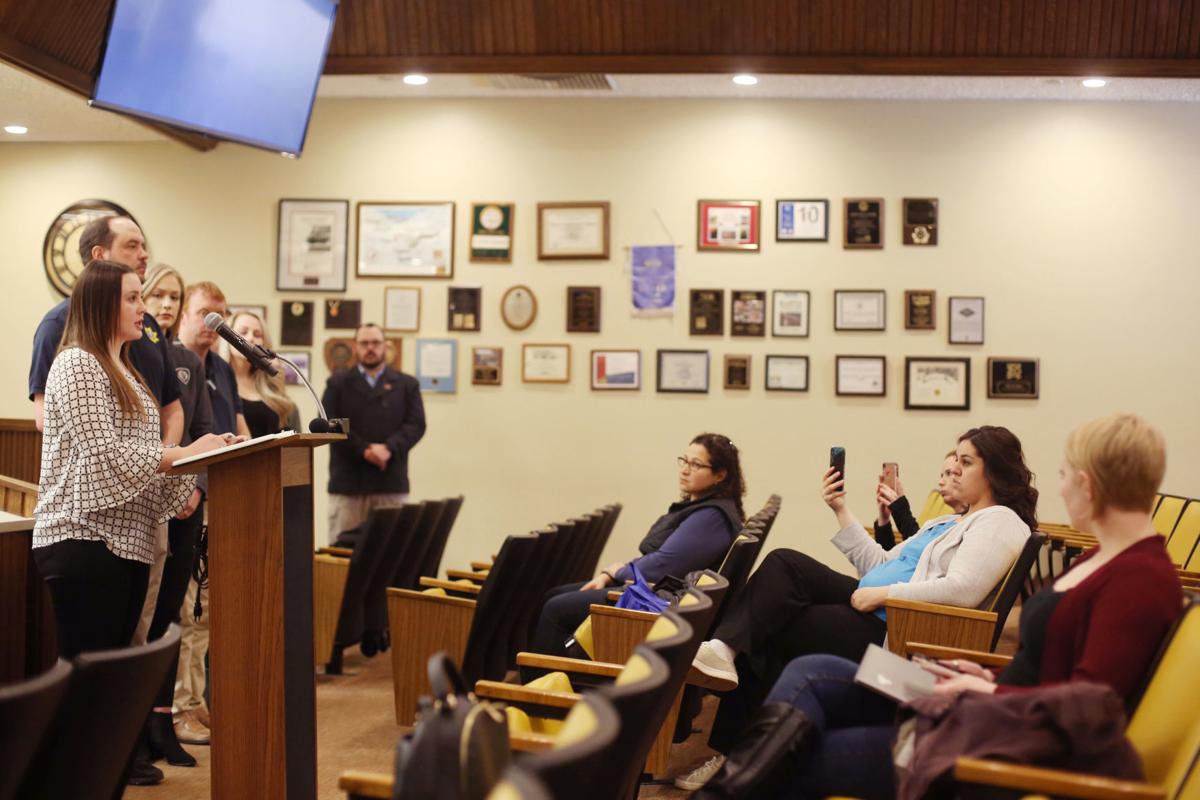 "We have been preparing and watching this since December when it broke out," said Anna Kinder, the executive director of the Casper-Natrona County Health Department. "There are things we're learning, but this is stuff we've drilled on and practiced for years and years and years. Now we're having to use it in real life."
As of Saturday afternoon, there have been three confirmed Wyoming cases of COVID-19, the disease caused by the novel coronavirus that's swept across Asia, Europe and increasingly across the U.S. Officials here describe their actions thus far to be largely proactive. Gov. Mark Gordon, for instance, declared a state of emergency Friday, before the second case was confirmed; he said it wasn't an "escalation" of state efforts, but rather a move to unlock federal funding and have the state ready should the situation accelerate rapidly.
In that same vein, the University of Wyoming and nearly all of the state's community colleges have announced that they'll extend their spring breaks and prepare to move all classes online. Sheridan College has a patient and a staff member under self-isolation after they were potentially exposed to the virus.
Thus far, no school district in Wyoming has canceled schools. State Superintendent Jillian Balow has said repeatedly that each district will make that decision independently, after consulting with the Health Department.
Preventative measures have been taken in Casper, too. On Thursday, Dr. Mark Dowell announced the state basketball tournament here was canceled. There have been no confirmed or suspected cases in Casper, but Dowell said the decision was a precaution to prevent against any possible spread that the physician could stop with one quick action.
Dowell and Gordon, as well as Dr. Alexia Harrist, the state's health officer, have all said the cases here weren't unexpected and that the state has been preparing to deal with it. Testing protocols have been put into place and were tweaked as the week wore on. Initially, the state required local physicians get state permission before submitting tests. That's no longer the case. Broadly, physicians are still advising to test people who've traveled to virus hot spots or have been exposed to the illness by an infected person.
There are still no concrete plans to begin mass testing of the community, as other states and nations have begun undertaking.
Agencies have been proactive, too, in communicating with each other and communities. Dowell and the local health department held press conferences (and another impromptu gaggle) within 30 hours. Gordon held three in the span of a week. Cheyenne Regional Medical Center and Wyoming Medical Center each held information talks last week. The city of Casper, in a joint event with representatives from across the county, gave a brief update Friday. Kinder said a joint emergency operations center was active in Natrona County and that there would be daily press briefings if needed.
On Monday, WMC will open a specialty clinic exclusively for respiratory cases and for potential COVID-19 patients. Health officials have repeatedly urged people who have symptoms — fever, cough, shortness of breath — to not go to the emergency room and to not even show up at their primary care physician's office. Instead, they've asked that patients call first. This clinic, headed up by the hospital's chief of staff, is intended to provide a physical location for concerned patients; the goal is to not only quickly identify patients but to also ensure WMC's facilities aren't overwhelmed with panicked Casperites.
As of Friday afternoon, WMC spokeswoman Kristy Bleizeffer said that while WMC had attempted to have several patients tested, the state Health Department had rejected them because they didn't meet the criteria.
Bleizeffer and Dowell have said the hospital has the capability and infrastructure — intensive care beds and ventilators — to deal with severe cases (more than 80 percent of people will have mild or no symptoms).
"We have 18 ventilators with appropriate intensive care equipment and trained staff to care for acutely ill patients," Bleizeffer said. "Whether or not that is enough depends on how many of our most vulnerable residents get sick and require advanced medical treatment, but as of today, we believe we are prepared to handle any severe cases that require treatment at Wyoming Medical Center."
A CRMC physician said that facility also has a number of ventilators and feels prepared.
Officials across the state have repeatedly said that this situation is fast-moving and that things are changing constantly. Much is still unknown about the virus, though it's clear that it's highly contagious and can be spread by respiratory droplets or by having close contact — like being within six feet — of an infected person.
While shortages of test elsewhere in the U.S. have hampered and frustrated public health officials, leaders here say the state Health Department is capable of weathering the storm, at least for the near-future. The Casper department hasn't had its own kits, but Kinder said they should arrive — via FedEx — by Monday. Hospitals and private labs have had their own capabilities.
Kim Deti, a spokeswoman for the state Health Department, told the Star-Tribune on Saturday that there have been more than 50 patients in Wyoming tested. Forty-four of those were handled by the state health lab, one was processed by the Centers for Disease Control and Prevention, and eight more — all negative — were submitted to the state lab by private companies. Three people — two in Sheridan County and one in Fremont County — have tested positive. (The third came Saturday afternoon, after Deti's comments.)
Nation copes with spread
The spread of the disease has been much more pronounced elsewhere. President Donald Trump declared a state of emergency on Friday, which unlocked $50 billion in funding for state and local governments. Colorado, which had the fifth-highest number of patients in the U.S., had also declared a state of emergency. So, too, had Montana and South Dakota, where at least one person has died.
Overall, more than 2,900 people have been diagnosed in the U.S. as of Saturday morning, a sharp increase in just the past five days. Schools — both K-12 and colleges — have been closed in at least 12 states; many universities have moved coursework online.
Private industry has also responded. Apple has said it will close most of its stores worldwide. The stock market in the U.S. has oscillated wildly between cratering and rebounding as the government has scrambled to respond. The S&P rocketed up 9 percent Friday. That came one day after it plummeted by 9.5 percent, its worst day since the 1980s.
The market dropped so sharply within minutes of opening one day last week that trading was temporarily suspended.
Several states are experiencing severe outbreaks. In Washington state, where there has been a significant cluster of cases and multiple deaths, health care workers are struggling to find the equipment they need.
The federal government has sent Washington state tens of thousands of respirators, gowns, gloves and other protective gear for health care providers, but it's not enough, said Clark Halvorson, assistant secretary of health for Public Health Emergency Preparedness and Response.
Nearly every state in America has a reported case, with only West Virginia holding out as of earlier this weekend. New York has reported its first death. Trump previously restricted travel to most European countries. On Saturday, he extended that to the United Kingdom and Ireland.
Dr. Anthony Fauci, the nation's top infectious disease expert, has warned that the situation nationally is going to get worse. He told a House committee last week that the country needed to get ahead of the situation.
"You skate not to where the puck is, but to where the puck is going to be," he said.
He said Wednesday that COVID-19 is 10 times "more lethal" than the seasonal flu.
"I can say we will see more cases," he told another House committee, "and things will get worse than they are right now."
Reporting from the Associated Press, NBC News and the New York Times contributed to this report.
Concerned about COVID-19?
Sign up now to get the most recent coronavirus headlines and other important local and national news sent to your email inbox daily.