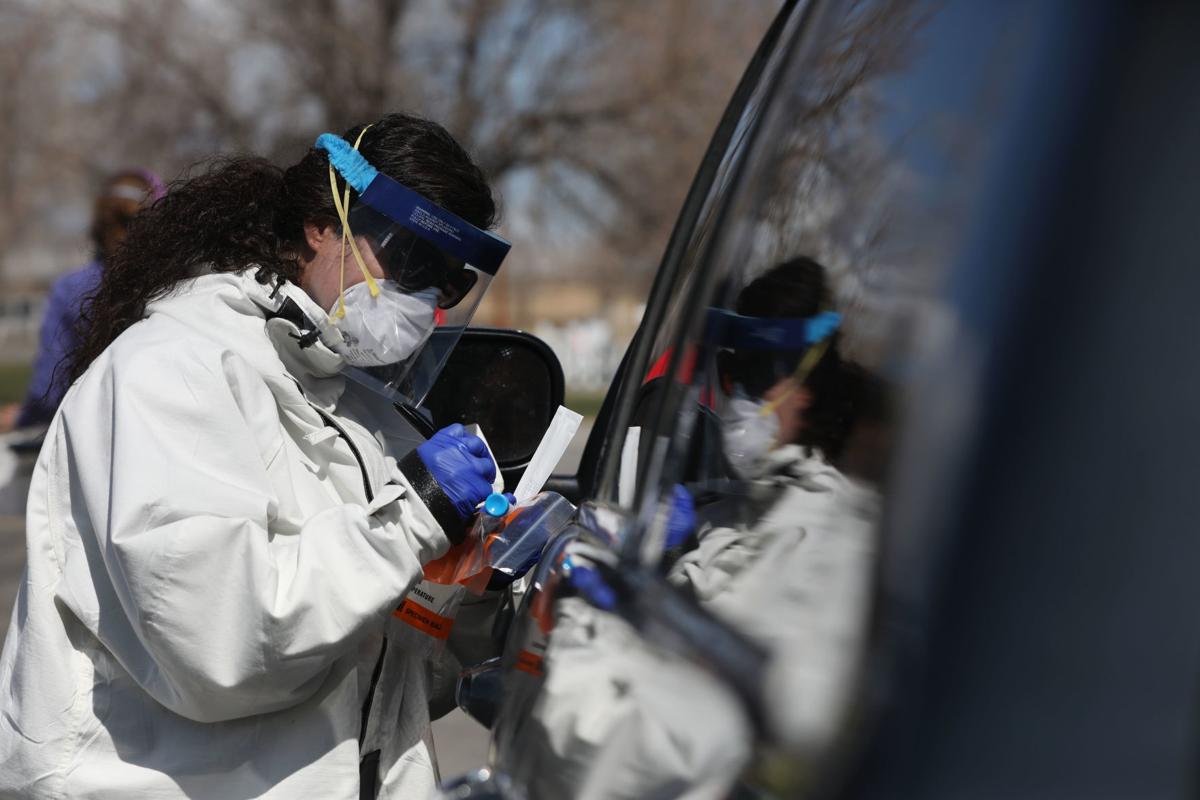 Wyoming topped its single-day high mark for confirmed COVID-19 cases on Thursday, with 36 new identified cases. Previously, no more than 27 confirmed cases had been announced in one day, a number last reached Monday.
The numbers come amid a resurgence of the virus in Wyoming and several other states, including Arizona and Texas. Montana also reported its single-day high in lab-tested cases on Thursday, with 37.
The state is averaging 14.4 confirmed cases per day in June; its previous high was 9.8 over the course of April.
The surge in cases hasn't so far brought with it a surge in hospitalizations. As of Thursday, seven COVID-19 patients were being treated in Wyoming hosptials.
While testing capacity has increased statewide since the pandemic began, the number of tests collected has not spiked alongside the surge in cases, according to data made available by the state Health Department. As of Monday, the state had averaged 539.2 total tests per day over the past 10 days. (Total tests include numbers from both the Wyoming Public Health Laboratory and outside labs.) That pace is similar to the rate at which tests were being collected in late May, when the state was reporting new cases at a far lower clip.
The state's highest recorded 10-day testing average, which culminated on June 4, was more than 200 tests per day higher.
During the early months of the pandemic, many of Wyoming's coronavirus cases could be attributed to Fremont County, which responded to an outbreak there by ramping up testing. The recent surge, however, has not primarily come as a result of the county, which has averaged fewer than three new confirmed cases per day during the last two weeks.
In a news release Thursday, the county's public health officer Dr. Brian Gee said that the percent of positive tests in the county has declined to 1.26 percent over the past month. The county had no coronavirus patients currently hospitalized, Gee said, and the county's availability of intensive care unit beds and ventilators is "very good."
"Public Health is working with the school nurses and pediatricians in the county to help with planning for the fall," Gee said in the announcement. "This includes looking at plans for classes and sports. A priority of the planning process will be to determine the best way to manage cases of COVID-19 if they do occur in these settings.
"... Fremont County Public Health continues to recommend physical distancing and mask use when in close proximity to people not within your household. These measures, in conjunction with excellent personal and environmental hygiene, are known to be helpful to prevent the spread of the virus."
At one point, the percentage of Fremont County patients who were fully recovered was drastically lower than any other county in the state. Now, more than 80 percent of the county's total patients — both confirmed and probable — have fully recovered. (By comparison, 75.1 percent of all patients in the state have fully recovered.) Still, Fremont County has experienced more deaths attributed to coronavirus than any other in Wyoming: nine of the state's 20.
The state's uptick in cases this month had largely been paced by Uinta County, which began June with nine confirmed cases and now has 128. Over the last week, however, the county has added 30 confirmed cases, a number equaled by its eastern neighbor, Sweetwater County. Beginning the month with 22 confirmed cases, Sweetwater County now has 66.
Sweetwater County officials recently announced they had seen the county's largest one-week increase in cases, attributing some of the growth to bar patrons failing to social distance. Officials there also announced this month that an employee at a Green River Taco Bell had tested positive, which resulted in the restaurant temporarily closing.