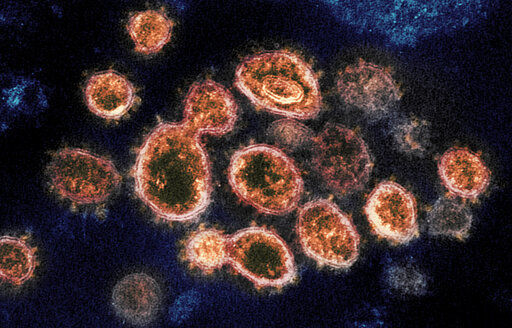 Another nine Wyomingites have died after contracting COVID-19, the Department of Health announced Tuesday.
With the latest deaths, there have now been 691 coronavirus-caused deaths in Wyoming since the pandemic arrived here in March 2020.
The state does not include a death in its COVID-19 count unless the virus is listed on the patient's death certificate as either the cause of death or a contributing factor. There is often a lag between when deaths occur and when deaths are reported because of the time it takes for death certificates to be processed.
Five of the newly reported deaths occurred in February, and one occurred in January. The rest happened in March. Seven of the new deaths were people with health conditions putting them at an increased risk for severe COVID-19 illness. Six of the individuals were hospitalized before their deaths and one was a long-term care resident.
Park and Campbell counties each recorded two new deaths. Carbon, Converse, Johnson, Laramie and Lincoln counties each added one.
Deaths have fallen considerably since cases soared here in November and December. The state is recording deaths at the same pace it saw in October, with fewer than 10 deaths occurring in the weeks of Feb. 14, 21 and 28. Deaths take time to be added to the official count, however, so it's likely the numbers from the last few weeks will still change. The week of Dec. 6, 55 Wyomingites died from COVID-19, the most in a single week.
Cases have improved to the point that Gov. Mark Gordon's office announced Monday the state will lift the existing face mask mandate.
As cases soared through November — at one point there were nearly 12,000 active cases — more than half of Wyoming's counties implemented mask orders. The state followed, imposing a mask requirement in early December. COVID-19 cases plummeted after those orders went into effect and hospital capacity has fallen to pre-surge levels. Local officials have voiced support for the state's decision. Natrona County Health Officer Dr. Mark Dowell said he's beginning to feel optimistic for the first time since the pandemic began and he doesn't plan on requesting his own local mask order.
He did say residents should continue to wear face masks in public.
Several counties have also recorded low enough transmission levels to receive variances to the state's remaining public health orders. More than 100,000 residents have received at least one dose of a vaccine.