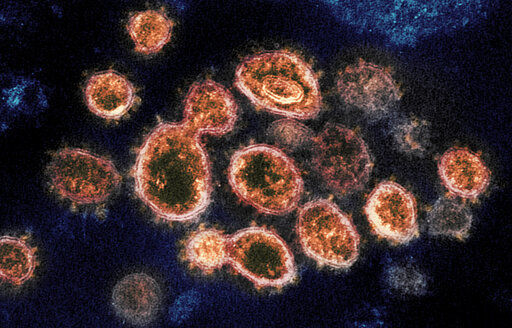 Another two Wyomingites have died after contracting COVID-19, the Department of Health announced Tuesday.
With the latest deaths, there have now been 707 coronavirus-caused deaths in Wyoming since the pandemic arrived here in March 2020.
The state does not include a death in its COVID-19 count unless the virus is listed on the patient's death certificate as either the cause of death or a contributing factor. There is often a lag between when deaths occur and when deaths are reported because of the time it takes for death certificates to be processed.
Both deaths reported Tuesday occurred earlier this month.
One of the people who died was an older Goshen County man. The other was a Fremont County man who had underlying health conditions. Both men were hospitalized prior to their deaths.
Deaths are declining in the state. Since mid-February, Wyoming has recorded fewer than 10 deaths per week. While it does take time for the state to process death certificates, and those numbers may change, it's still a dramatic turn from this fall and winter, when the state was recording more than 50 deaths per week.
The death toll and hospitalizations soared through November, leading more than half of Wyoming's counties to implement mask mandates. The state followed, imposing a mask requirement in early December. COVID-19 cases have plummeted since those orders went into effect and hospital capacity has fallen to pre-surge levels. The mask order has now been lifted. Restrictions on restaurants, theaters, bars and gyms are also gone. Schools are discussing whether to seek exceptions to the education mask rule.
Health officials warn that residents should still mask and socially distance, but that this spring is much more hopeful than the last.
Wyoming has however emerged as one of the most vaccine hesitant states in the nation, with certain counties here reporting a higher rate of hesitation than anywhere else in the U.S.
Nearly 26% of the state is fully vaccinated against COVID-19, and more than 180,000 people have received at least one dose of a vaccine.