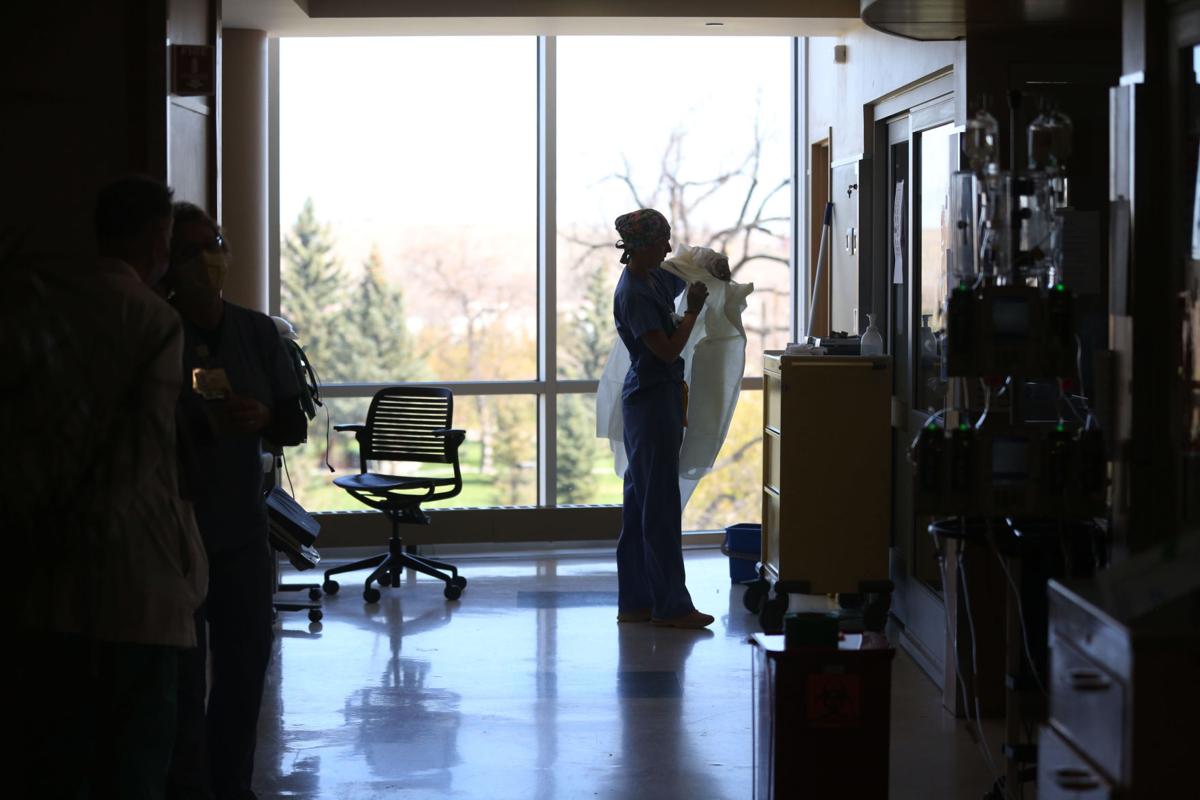 The situation surrounding the coronavirus outbreak continues to develop quickly. To keep you up to speed, the Star-Tribune will update this page with the latest news regarding coronavirus in Wyoming.
The numbers:
Hospitalizations
178 up from 172 on Monday
17 of 19 ICU beds at Wyoming Medical Center are full
No ICU beds available at Campbell County Memorial Hospital or SageWest in Lander according to state-compiled data.
Latest updates:
COVID-19 hospitalizations set new high again
4:15 p.m.
COVID-19 hospitalizations reached 178 Tuesday, the most of any point since the pandemic emerged. Virus hospitalizations in the state have surged since late September, with new highs set each of the last five days. A month ago, 52 people were hospitalized statewide, and in late September, that number had just surpassed 20 patients. 
The Wyoming Medical Center, the state's largest hospital, had 56 virus patients Tuesday. A month ago, there were 11. The exponential surge nearly confirms a prediction made by an official at that hospital last month, that the facility would soon surpass 60 COVID-19 patients at the facility. 
At Cheyenne Regional Medical Center, 41 patients are hospitalized. A month ago there were six. 
Health officials have warned that as hospitalizations rise, so will deaths, and that non-COVID-19 patients could soon struggle to access emergency care because hospital staff and space are stretched thin. 
Mask requirement in Natrona County buildings approved
Visitors to many Natrona County buildings will need to wear masks.
The county commission approved the requirement Tuesday following a brief discussion. 
The decision applies to the following county buildings:
the Natrona County Courthouse;
the Townsend Justice Center;
the Road and Bridge and the Parks departments;
the coroner's office; and
the Agricultural Resource and Learning Center.
Wyoming women's basketball, volleyball programs pause activities because of COVID-related issues
12:45 p.m.
Women's basketball and volleyball are the latest teams at the University of Wyoming to pause athletic-related activities because of coronavirus-related issues.
The pauses in women's basketball and volleyball now make it six athletic programs at UW that have had to take similar action at one point for the same reasons.
Wyoming Department of Corrections announces new cases, testing in facilities
11:45 a.m.
The Wyoming Department of Corrections Monday provided an update on COVID-19 in state penal facilities. The Wyoming Medium Correctional Institute in Torrington has had 13 inmates and 29 staff members test positive for the virus. So far, six of those residents and 22 of those staff members have recovered. 
The Riverton Wyoming Honor Farm reported 46 inmates and 11 staff members have tested positive. So far 12 inmates and four staff members have recovered. 
The Wyoming Honor Conservation Camp in Newcastle has had 141 inmates and 21 staff test positive. As of Monday, 61 inmates and seven staff members have recovered. 
The Department of Corrections will also be conducting "100% surveillance testing" at the three sites listed above, as well as the Wyoming Women's Center. The Wyoming State Penitentiary will undergo 20% surveillance testing to sample the building's population for infections. 
Latest stories:
Have a question about coronavirus that you want answered? Send us an email at editors@trib.com.