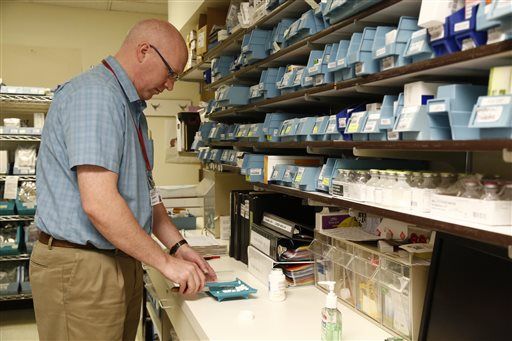 Wyoming's 570,000-odd residents are covered largely by a patchwork of small hospitals. Only four facilities have more than 100 beds. One of those is the VA Medical Center in Sheridan, and another is the state hospital in Evanston. Roughly half of the state's hospitals are critical access facilities, meaning they have — at most — 25 beds.
Across the United States, there's been widespread concern about the ability of the country's health care system to absorb the crush of patients that are feared to come with the novel coronavirus, the bug that causes COVID-19 and is deadly to older people. As of Friday night, more than 17,000 people have been infected in the U.S., with more than 200 deaths.
In Wyoming, as of Saturday afternoon, there have been 23 infected in eight counties.
An analysis by Harvard University shows that "many parts of the United States will have far too few hospital beds" if the coronavirus continues its wide march across the country. Under some of the scenarios laid out in the analysis, which looks at how many adults will be infected over what period of time, Wyoming does relatively well. But if a significant share of adults get sick within the next year to 18 months, the Equality State — likely nearly every other state in America — will face a significant shortage of hospital beds.
But some of Wyoming's smallest, most rural facilities who spoke to the Star-Tribune this week say they're as ready as they could be for what the coronavirus may bring. Those facilities — 12-bed Weston County Health, 22-bed Star Valley Health, 12-bed North Big Horn Hospital and four-bed Niobrara Community Hospital — are some of the smallest in the state.
Between them, they have only a handful of intensive care beds and more than a dozen ventilators. They typically ship serious patients to Billings, Montana; Casper; or Salt Lake City. But that might not be possible, if beds in those cities fill up. The hospitals' administrators have been forced to prepare for the possibility that the coronavirus spreads to their community.
All four of the hospitals say they've been preparing for some time and have been paying close attention to the guidelines put forth by the federal Centers for Disease Control and Prevention. They've stockpiled what protective equipment they can get their hands on. They've stepped up conversations with other facilities. Several have instituted various screening procedures to catch potentially ill patients before they walk through the hospitals' doors.
Kody Nelson, the chief operating officer at Lusk's Niobrara Community Hospital, said they've "implemented the highest level of infection control policies." Only the hospital's essential staff are working in the facility. Patients are screened before they come in.
Emily Nebel, who handles infection control at North Big Horn Hospital District, described a similar process in Lovell.
"Any single person who walks into the facility, which includes staff, patients and vendors, all have to be screened," she said. "It's a series of questions, we take their temperature and then triage appropriately. If they hit our criteria, we're asking them to wait in their car while we get ready."
The hospital also has two mobile care units specifically for possible COVID-19 patients.
The nursing homes attached to some of the hospitals have been similarly locked down. In Star Valley, spokesman Joel Johnson said the residents' families aren't allowed in and they'll have to Skype their loved ones. Access is even restricted to staff, who are regularly screened for any respiratory issues — calling cards for the novel coronavirus.
The nursing home restrictions are in keeping with federal guidelines, which have tightened around visitation. The elderly are the most at risk of dying from the virus; in Washington state, for instance, more than 100 people tied to a nursing home there have tested positive. There have been more than 20 deaths linked to that facility.
Overall, the message from the hospitals' leaders is that they're prepared for the spread of the virus here, unless it causes significant problems. The facilities are banking on the data that shows many patients won't need hospitalizations; more than 80 percent of those who contract COVID-19 will have only mild symptoms.
But that still leaves 10 to 20 percent who will need hospital services. In Wyoming, of the 23 patients confirmed to have coronavirus as of 3 p.m. Saturday, at least four have been hospitalized.
"Lovell is very, very small," Nebel said. "So, if you look at the statistics of the percentage of people — 80 percent of people have very mild symptoms ... the people who need to be hospitalized, who are in critical condition, can be dealt with case by case. We're prepared for cases like that, but it's not like we're going to have 100 patients run in all at the same time."
"Oh gosh, we would probably reach our capacity if we had about a handful of people that required hospitalization," said Maureen Cadwell, the CEO of Weston County Health. "I'm not concerned as of yet, but we're keeping track of that, so if it does happen, we can see that shift and prepare for what else we need to do."
Availability of beds is "a stress nationwide," said Tori Probst, Star Valley's chief nursing officer. Indeed, the Wyoming Department of Health put out an advisory last week informing hospitals they should prepare a plan in case there's a "surge" of patients.
"We've never been through this before," Johnson added. The Star Valley hospital is in talks to shuffle providers from its various clinics, to use those clinics as hospital wards and to use school rooms if there's too much overflow.
"We really feel with our current facilities we can handle what we're anticipating," Johnson said. But if there is overflow and these hospitals need to use other buildings, it will be a strain — on the staff of small facilities and on equipment that's already limited.
Cadwell said that if the Newcastle hospital had to enact a surge plan — moving patients to schools and the senior center — it wouldn't have the staff, supplies or equipment to handle it.
"That would be a significant stretch for us, and if everybody else in our surrounding areas, i.e. Campbell County (Health) in Gillette or Wyoming Medical Center … if they're stressed as well, it could — potentially — could be very difficult for all of us," she said.
In Lusk, Nelson said almost any number of coronavirus patients needing hospitalization would require him to transfer patients to larger facilities.
"Honestly, what I would say is we are prepared to deal with the situation, but to be able to handle all of those patients, we're going to have to be working with Wyoming Medical Center, with Cheyenne and all that," he said. "I only have five beds, and I have to control who comes into those beds. If I have five patients with confirmed coronavirus, right now I've got 15 people in here. I'm putting them at risk."
"I have concerns about the employees, the health care providers," said Eric Boley, who heads the state's hospital association. "They're going to be under a huge, tremendous strain."
He said supply chains were his chief concern. There has been a national concern about a shortage of protective equipment, like gowns and masks, in addition to widespread shortage of testing materials.
The hospital administrators again said they felt ready with the supplies they have now. Several said they'd been ordering as much as they can for weeks. But all still said they were rationing their equipment and using it carefully. Johnson in Star Valley said they're preparing to turn to other businesses in the area for more masks and gowns if they need.
Most facilities in the state have said they're holding off on elective surgical procedures for now, to preserve supplies and hospital beds. Nebel, from Lovell's hospital, said the facility has "a pretty decent stock" of protective gear.
What if there's an influx of patients?
"It just kind of depends," she said. "We're following CDC guidelines on what to use, and so it just depends on who's here and who's caring for those patients. As of right now — we're trying to limit what's wasted. But we're using it appropriately."
Cadwell said her facility has about two weeks' worth of equipment. She said that's typical for how much it keeps on hand. But this situation is not typical, and hospitals across the country are clamoring for the same equipment Cadwell is.
"That would be the unknown that we're having to deal with now, is prior to this, with any other outbreak that we would have, we would still be able to obtain supplies," she said. "Unfortunately, now everybody is short, so everybody's got back orders out there. I mean, that's the biggest issue because it's so much more widespread than any other year."
The best way to keep people out of the hospital and stop the virus from spreading, health officials have said for weeks now, is to use "common sense." Wash your hands. Stay home if you're sick. Limit your trips away from home and practice social distancing. Call ahead if you're coming to hospital with symptoms. Don't panic.
"We need to take this thing seriously, and we need to do things that are being recommended," Boley said. "We need to take it seriously. We can't go the cowboy way this time. We need to take it seriously. Too many people think this is going to be a flash in the pan. But we need to gear up for a long process.