In Laramie, Matthew Shepard's legacy left a trail of educators
Nicki Bondurant already knew she wanted to be a teacher when Aaron McKinney and Russell Henderson left Matthew Shepard for dead on a fence east of Laramie.
"But it pushed me to be the type of teacher I am," said Bondurant, who now teaches English at Laramie High School, "where so much of my curriculum is based on acceptance and finding your own power and finding your own voice and knowing that you're supported."
When Shepard suffered the beating that ultimately cost him his life 20 years ago, it happened on the outskirts of a college town. Laramie is home to the University of Wyoming, the state's only four-year university.
It is no surprise, then, that education became a calling for a number of UW students who lived through the aftermath of perhaps the biggest news event in Wyoming history.
***
Bondurant was among 11 counterprotesters who wore giant angel wings at McKinney's trial to block the Westboro Baptist Church's anti-LGBTQ message. To distract herself from the hate group's invectives, she directed her focus on a tree near the Albany County Courthouse.
"I couldn't tell you where I stood," Bondurant said, revisiting the spot on a recent weekend morning, "but I can tell you what those leaves looked like."
She was 27 when Shepard was killed, studying at UW for her second of three bachelor's degrees. Bondurant has spent 17 of her 19 years as an educator at Laramie High School, where she teaches English. She is also the sponsor of the school's S.A.L.L.Y. (Safe Area for Laramie LGBTQIA Youth and Allies) club, the school's gay-straight alliance. She has helped with the school's PeaceJam and Amnesty International groups and is currently the school's sponsor for Sources of Strength, a suicide-prevention organization.
"I think the reason I've always been drawn to doing those kinds of things ... stems from that goal that (came) from what happened to Matt," Bondurant said, "and wanting to create that sense of acceptance and of support in whatever way kids need it. Maybe that would've come anyway, but I can count that as kind of as that moment that was the epiphany moment for me. It might have been a different moment later otherwise, but I definitely think that sent me on my path and kind of woke me up from where I was before.
"I don't think you can live in a community this small and close-knit and have something like that happen and it not change you and make you want to do more."
Bondurant teaches a class called "Communication for change" that focuses on civic responsibility. The first unit deals with an atrocity such as genocide — "something that everybody's going to agree, 'Well, that's bad,'" she said — and moves into forms of discrimination that aren't as universally denounced.
"We work on: 'How do we solidify what we believe?'" she said. "'How do we make informed decisions with that, how do we respectfully disagree with others?' And then the ultimate idea is to come up with a policy project or something like that for something that you personally are passionate about and want to change. So, because of that, I think I hit on the Matthew Shepard stuff most semesters."
Shepard's murder comes up only occasionally in classes like World or A.P. Literature, though it has been discussed more this year because of the anniversary. It still colors the way in which she teaches.
"Say you're studying a famous poet like Walt Whitman," Bondurant said. "When I was growing up, people would skip over his sexual orientation. Well, that's a part of his identity, so as much as we acknowledge the death of his brother and some of the other things that he went through, acknowledging his sexual orientation instead of skipping over it is part of always keeping that in the curriculum.
"But I've been thinking maybe I do need to acknowledge what happened to Matt as well more straightforwardly."
Bondurant only met Shepard once or twice, but she expects they would have become friends because of their shared passions for social justice and multiculturalism.
"And a lot of my colleagues, whether they were here then or not, I think just living in Laramie has made them want to teach from that perspective, too," she said.
***
Rachel Watson and Christi Boggs had only recently begun graduate school in Laramie when Shepard was murdered.
"We were at that time graduate students and had to ask the hard question of, 'Is Laramie a safe place to be?'" asked Watson, who attended Denver University as an undergraduate.
What persuaded Watson and Boggs to stay in Laramie — besides nordic skiing, which the two coach at UW — was the university's response to the Westboro Baptist Church's protest.
"A lot of faculty were like, 'This is not OK,'" said Watson, who is now the director of UW's queer studies minor program, among other things, "which sounds like a strange thing to say, that they would (have to) say it's not OK. But in that moment in the world, it was a world in which you didn't really even talk about being gay that much in a place like this. That wasn't even really a thing. So the fact that they would come out and say, 'This is not OK at all' was actually something. Like, it was really something."
"Watching how the town and university, which were kind of an insular community, this kind of idyllic college town, and how they came to grips and grew as just a university and the community because of that was really important," added Boggs, who now holds numerous titles at UW, including co-chair of the Shepard Symposium on Social Justice. "And I think there's a lot of things that are different about Laramie now and the university now because of that."
There was one LGBTQ organization at UW at the time of Shepard's murder: the Lesbian Gay Bisexual Transgender Association (now Spectrum), of which Shepard was a member. The number of resources available to LGBTQ students has grown since then, not just online but at the university itself.
The Rainbow Resource Center, for example, has since been established and moved to the Student Union. The university, which added sexual orientation to its nondiscrimination policy in 1999, offers free counseling and legal services to students. The Queer Resource Council meets once a month.
More than a decade ago, one of Watson's students had to do a thorough dig through her scholarly writings before finding some sort of indication she would be safe to speak with about LGBTQ topics.
"What I can say is that that would never happen now," Watson said.
UW has a safe zone program through which faculty can become certified allies of the LGBTQ community, receiving a certificate that faculty can display on office doors. Many have done so, Boggs said.
But there is still room for improvement, she added.
"There's a lot more resources," she said. "There's a lot more openness. There's a lot of positive things. But there's a lot of (LGBTQ students) that don't feel comfortable, that don't feel like they belong here for one reason or another. They feel like the climate is decidedly chilly in a lot of ways."
Just recently, Tim Nichols, a UW instructor and the husband of UW president Laurie Nichols, sent Watson an email saying a student had come to Nichols believing himself to be "the only gay man in Wyoming."
"I'm like, 'Oh, wow,'" Watson said. "So still there are some who don't know. But at least Tim … could immediately connect."
For as much as Shepard's murder changed UW, it also changed Boggs and Watson as people.
"For many, there was an identity-creating moment," Watson said. "And at the time, I definitely did not consider myself an activist in any way, and I remember thinking, 'What could I possibly ever do?' And so now, with hindsight, what I see is how that built us into a community of not just activists but scholars, and the way in which it knit into the scholarship for all of us."
Boggs and Watson cite Cathy Connolly, who was a women's studies professor at UW at the time, and Beth Loffreda, then the faculty adviser to LGBTA. Connolly went on to launch Wyoming's queer studies minor and become the Wyoming Legislature's first out gay lawmaker, while Loffreda authored "Losing Matt Shepard" in 2000. All four of them are now listed on the university's Queer Studies Advisory Board.
"It became inextricably linked to your scholastic identity," Watson said of Shepard's murder. "And now the way that queer studies, and queer theory moreover, forms and shapes who I am as a scholar, it's impossible to detangle that event from identity. It just became a piece of identity for all of us."
That's true for Watson, even though her fields of microbiology and biochemistry would not seem to be obvious overlaps for LGBTQ topics.
"Essentially, (queer theory) is the notion of looking at where everyone disaligns from the norm," she said. "... There's a niche of, it's really environmental chemistry, called discard studies, where you re-envision trash and the value that trash has. Like, give it value. We can re-envision plastic islands as (something that) could have value to someone. Just like with people, right? There are people pushed to the margins and seen as valueless. You re-envision them as having value. It's applied in all kinds of ways.
"... And then of course that affects thousands and thousands of students."
***
Jim Osborn has become the go-to interview for many seeking information about Shepard.
"When it comes to Matt, I'm kind of the guy," he said, "because so many people have come and gone now, and a lot of the quote-unquote usual subjects, some of the folks who were portrayed in 'The Laramie Project' and things like that, a lot of them are tired of talking these days and have kind of moved away from that."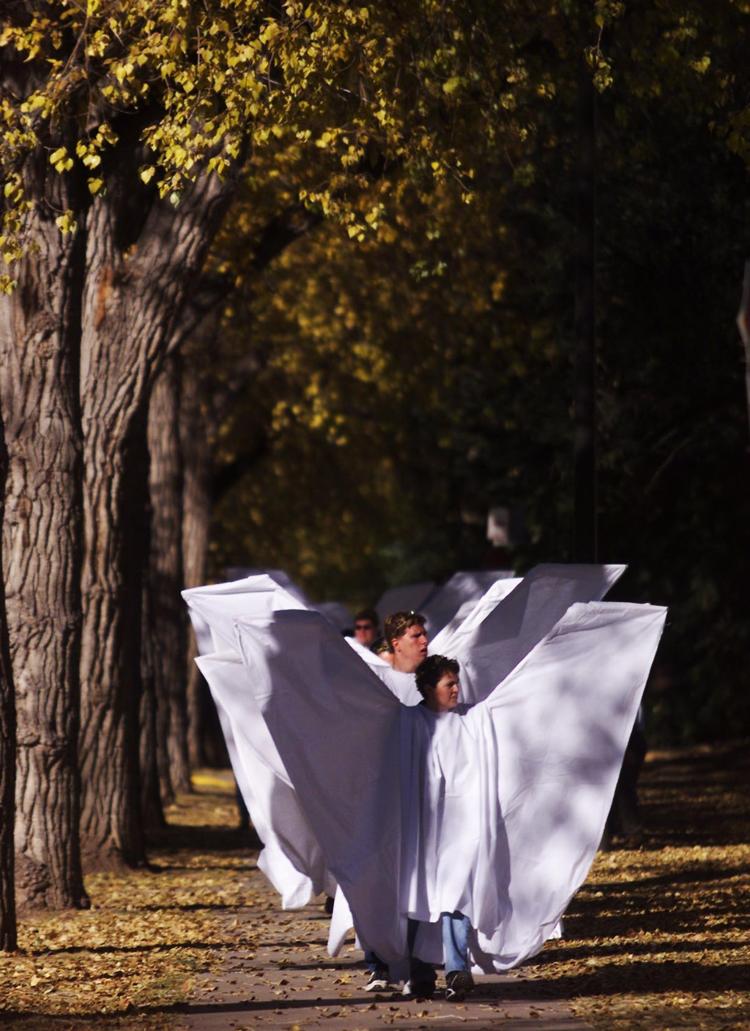 Osborn, like Bondurant, was an "Angel Action" counterprotester and has been at UW ever since.
In 1998, he was the chair of LGBTA. He was finishing up classes at UW in preparation for graduation. He was Shepard's friend.
Osborn was working in information technology at UW as he finished up classwork at the time, and that work turned into a full-time job. He has spent 10 years in UW's Diversity in Employment Practices Office and is now the university's Title IX coordinator.
"I think the biggest change that we saw was that after Matt's murder in 1998, I think there's just been a lot more conversation both on campus and around town in general," Osborn said. "And I think that that's true of individual homes and churches and communities across the country as well. I think that what we learned in '98 was that we just didn't talk about the issues as much as maybe we needed to. It wasn't that there wasn't some level of support here. It's just that people weren't having very open conversations. It was mainly between individuals."
Osborn is also the go-to source for UW classes holding a discussion about Shepard. He says students have become more accepting over the years.
"The youth of today and the kids who are in college today — diversity isn't as much of a dividing line for them," he said. "Because, in the digital age, it's been broken down a lot, those barriers of types of discrimination is foreign to them. And that's really encouraging, when they don't understand why gay marriage was ever a problem. They don't understand, 'What do you mean there are places where you can be fired for being gay? That's stupid.' That's kind of a more prevailing attitude that I see."
He has to explain to more and more students — some of whom were born after Shepard was killed — who Shepard was. Increasingly, Osborn also has to answer questions about the alternative narratives surrounding Shepard's murder — primarily that drugs, not hate, motivated the murder.
"So, that's been one change," said Osborn, who says the facts of the case support it being a hate crime. "But in general I still think that there's a drive for students to move towards progress, to look at inclusion."
He plans to continue being a part of that.
"I made a promise to Matt that I would always talk about it because his voice was silenced," Osborn said. "I'm trying to pick up where he left off."
Follow managing editor Brandon Foster on Twitter @BFoster91