CHEYENNE — The first time he screamed at her, spit sputtering from his lips and eyes blazing, Ruthie Johnson blamed it on the gin.
He had never raised his voice before, but he usually stuck to Pabst Blue Ribbon, she says. He apologized. Johnson brushed it off. It was a weak moment for the quiet, thoughtful man she had been dating for six months. It wouldn't happen again.
The two met at a backpacking class in Denver, where they were both living in 2011. She was 34. He was 39. He was tall and handsome with bright blue eyes and a cowboy quietness. She was an athletic environmental consultant with dark hair and an outgoing, adventurous spirit. They started dating. Six months later, he moved in.
They were happy, she says. They talked about living sustainable lives, about becoming self-dependent. She had no way of knowing that they would move to rural southeast Wyoming, that he would twist the relationship, that she would become afraid of the quiet, thoughtful man she loved, that he would cause her to cower in closets in her own home.
There are no nationwide statistics on rates of domestic violence in rural versus urban communities, though a number of regional studies have found women in small, isolated towns and in rural areas experience domestic violence at an equal or higher rate as their urban peers. And those experiencing abuse in rural spaces have less access to resources, often endure more severe physical attacks and are more likely to be killed by their partner, according to a 2015 report by the National Advisory Committee on Rural Health and Human Services.
"Due to high rates of poverty, transportation barriers, a lack of affordable housing, and telecommunications barriers in rural America, rural women may face both significant barriers to leaving an abusive situation and establishing a new life once they have left," the report states.
In Wyoming, where about a third of the population lives in areas considered rural by the U.S. Census, many victims of domestic violence navigate the additional barriers and complexities created by wide open spaces and long dirt roads. Law enforcement is farther away. Telephones don't always work. There aren't any neighbors to hear commotion or notice irregularities. Trained counselors and shelters are few and far between. 
For women like Johnson, the empty, rugged landscapes so beloved by many residents of the Cowboy State become oceans of isolation in dangerous times.
Six months after the couple moved in together in Denver, Johnson bought a condo in Steamboat Springs and they relocated on a whim to the mountain town. The day she closed on the condo, her boyfriend got down on one knee and asked if she would marry him. She happily accepted.
But life in Steamboat wasn't working out, she says. Johnson was commuting to her job at a consulting firm in Wyoming. By April 2013, they were looking for a house closer to her work.
They found a foreclosure in rural southeastern Wyoming, not far from Interstate 80. In June 2013, they bought their rust-colored home on about three dozen acres, not far from where her fiancé grew up. Miles of private and barely-maintained county roads led to their abode on the rolling high plains, subject to some of the most extreme weather in the state. 
Despite her concerns about living 40 minutes from the nearest population center, Johnson was excited to live off their land as much as possible. They planned a garden and a greenhouse, a chicken coop and a well. They planned a place to grow. 
He felt like he was returning home.
She was about to lose hers.
Intimate partner violence is, by definition, an on-going process where the batterer employs a pattern of coercion, intimidation and violence to gain and maintain control in the relationship. The effects of such a pattern are cumulative. About one in three women and one and four men have been physically abused by a partner in their lifetime, according to a report by the Centers for Disease Control and Prevention.
Abusers will employ a number of non-physical tactics to gain power and control over their victims, to keep the victims quiet and to justify the violence. They destroy their victims' property. They undermine self-confidence through name calling and humiliation. They play mind games. They minimize their victims' feelings or blame them for the violence. They'll control their victims by controlling the couples' finances or limiting their ability to get a job.
"Any of those tactics can be compounded by the experience of living in a rural or frontier space," said Tiffany Eskelson-Maestas, advocacy and resource director at the Wyoming Coalition Against Domestic Violence and Sexual Assault.
Abusers often isolate their victim from friends and family, or from forming other meaningful relationships. It can seem innocuous at first: a request that a partner check in regularly, or suggesting that a partner quit activities so the couple can spend more time together. An abuser can also use jealousy to separate a victim from friends and family by acting envious of any time spent away from him. He can insert wedges in relationships by insinuating a friend or a family member can't be trusted.
Then, if the emotional and mental abuse becomes physical or sexual, the victim feels like they have nowhere to turn.
"It doesn't just happen overnight — it's a process," Eskelson-Maestas said.
In a rural space, it becomes that much easier to isolate the victim, both physically and emotionally. It can be difficult to form meaningful relationships — especially in a new place — when the nearest neighbor is miles away and the closest town is a 30-minute drive.
For Johnson, it meant nobody would hear her scream.
Johnson leapt from the moving truck as soon as it hit the dirt road.
Her husband had started screaming at her as they drove home from an event in a nearby town, she says. She doesn't remember what they were fighting about, but she knew she had to escape. In their home she could retreat to another room, or a closet. But in the car, at 80 miles an hour down Interstate 80, she had no escape.
She waited until the truck slowed enough. She jumped out into the warm summer night.
They made up later that night but, a year into their marriage, the screaming was only getting worse. At least once a week, he would scream at her, push her up against the walls of her home, hold her there by her throat or shoulders, she says.
The issues that sparked the arguments were mundane: finances and housework. But he was becoming increasingly violent.
She suggested couple's therapy, but he refused to participate. He sat silently through the expensive sessions. She bought him anger management books, but never knew if he was reading them.
Johnson never considered calling the police. They wouldn't be there in time to stop anything. In the winter, the miles of private and county roads leading to their home were sometimes impassable. He hadn't actually hit her. They wouldn't be able to do anything, she thought. Plus, it would just make him more mad.
Then, she says, the physical attacks began.
In January 2016, she says he followed her upstairs where she was waiting for him to cool off after another fight. He attacked her, she says. She heard her ribs crack. 
"I was in disbelief," she said. "In hindsight I should have called 911, but I only know that now."
The next day she lied about her injuries. She said she slipped on ice. Nobody questioned her story. Months later, she could still feel the soreness in her ribcage as she reached for high shelves at her job in a nearby town.
In April, she says he tried to strangle her. She screamed as loud as she could through her constricted airways. Nobody would have heard her anyways. 
In May, he followed her to where she hid in a closet after a fight and beat her, she says. She snapped photos of the injuries this time. They show bruises on her jaw and neck. He burst a vessel in her left eye, the blood pooling in the corner.
When contacted by a reporter, Johnson's former husband declined to comment on the record regarding Johnson's allegations that he physically attacked her or caused her to jump from a moving truck and referred the reporter to his attorney.
"During my representation of (Johnson's former husband) I found nothing to substantiate the allegations made by Ms. Johnson," said Mary Elizabeth Galvan, the Laramie attorney who represented the former husband during divorce proceedings.
"Clearly, I wasn't a witness to any of the allegations that Ms. Johnson makes," she said. "But I found nothing to substantiate her credibility on this or other issues." 
Galvan said she and her client discussed the allegations of domestic violence during divorce proceedings and that her client always maintained his denial. Galvan did not represent the former husband during his eventual criminal case. 
"I'm comfortable with my client's version of events," she said.
After the incident in May, Johnson went to work and played it off, saying she woke that way. She covered the bruises with makeup, but couldn't hide her bloodshot eyes. Those around her accepted her weak explanations. The charade continued.
Johnson knew something had to change. She shouldn't have to hide in closets and under desks in her own home. She wanted to leave, but had invested so much money in the property. So much time in her marriage.
Outside of a few close friends in Colorado, she didn't tell anybody.
"I was stuck in the middle of nowhere with no friends," she said. "I had nothing else."
There's the chance that the abuser could retaliate. Or that he'll use the same charm and charisma that he controls his victim with to win the police over to his side. Or that the victim will get arrested for defending herself, if she did so. Or that the police will blame the violence on the victim, or simply won't believe her.
Women in rural areas also run a higher risk that the responding officer — or someone else on the force — knows her abuser, or knows somebody who does. News travels fast in Wyoming's small towns.
"In general, Wyomingites know everyone's business," Eskelson-Maestas said. "This can really impact whether a survivor reaches out."
Sometimes that connectedness can be a positive factor, she added, and can help a victim find help and a support system. But it also means a victim could worry about confidentiality should she disclose the abuse. What if the person she tells mentions it to someone else? What if that information gets back to her abuser? How mad would he be?
Counselors, therapists and medical professionals are often few and far apart in rural spaces. One 2011 study found that more than a quarter of rural women in the U.S. live more than 40 miles from the closest program dedicated to intimate partner violence, compared to 1 percent of urban women.
To add to the difficulties, providers at such facilities in rural areas are often less likely to be educated in batterer dynamics or have specific training regarding domestic violence, Eskelson-Maestas said.
In that absence, women often turn to other members in their community for help: a pastor, a bartender, a trusted hairstylist.
"But they don't always have the information to react in a helpful way," Eskelson-Maestas said.
How the first person reacts when a victim discloses her abuse often has a great impact, she said. 
When Johnson told her friend in Colorado about her husband's abuse, the friend worried that he'd kill her, that she'd end up a Dateline special. 
"I thought I would be one of those people," Johnson said.
On the last day of June 2016, they argued again — about money and a potential divorce. She didn't know what else to do, so she posted pictures from the incident in May and vented to her hundreds of Facebook friends.
Johnson removed the post after an hour, but by then a friend in San Francisco had seen the pictures. When the friend texted, Johnson said she told her that her husband had been physically abusing her for months.
The worried friend called 911 just after midnight on July 1, 2016.
An hour and 20 minutes later, sheriff's deputies arrived at the remote home. The deputies interviewed the two separately.
Johnson told the deputy that her husband had been abusing her since January 2016, the deputy's report from that night shows. She said that on the night that she took the pictures — May 4, 2016 — her husband came home drunk. She said that she hid in the closet because she was scared. Eventually she came out of the closet and tried to calm him down. But as soon as she stepped out of the closet, he attacked, she told the deputy. The report describes the photos: both of her eyes bruised and swollen, the bruises on her shoulders and arms, the pool of blood in her eye.
Her husband, sitting handcuffed in the back of a patrol vehicle, denied knowing anything about Johnson's injuries from May. He denied causing them and said he did not know how she became injured, the report shows.
"I did not believe (the husband's) statements to be truthful," one of the deputies wrote in his report, "because it is not likely that his wife would sustain those types of injuries without (him) at least having some knowledge of it."
The deputies arrested her husband on suspicion of domestic battery. 
Johnson spent the remainder of the night in the home, just her and the cats.
The next morning she knew. "This is it," she told herself. She packed up some essentials and fled.
"I didn't know what he would do when he got out," she said. 
He bonded out the next day. She spent the next night surrounded by strangers in a women's shelter in Cheyenne for those experiencing stalking, domestic violence or sexual assault. 
"I came out alive, but I guess that's all I came out with," she said.
Each of Wyoming's 23 counties have a local domestic violence and sexual assault program with trained staff, though not every office is open daily, Eskelson-Maestas said. The Wyoming coalition also maintains a 24/7 hotline and many national resources exist online, though abusers sometimes track their victim's phone and internet usage.
The coalition has been creative in focusing on solutions for those living in rural places. One of the important components for progress is to educate entire communities about the dynamics of abuse and work collaboratively to identify the unique needs of different groups in each community, Eskelson-Maestas said.
"I've always been an advocate for thinking about how the community at large thinks about domestic abuse and battering so they can be meaningful others in each other's lives," she said. "I truly believe the most effective models are built in and work with communities."
Part of the coalition's effort has been to educate non-traditional first responders who might come in contact with a person experiencing domestic violence: hairstylists, bartenders, coaches, faith leaders. With some training, these people can be better prepared to help.
"Not everyone sees themselves as first responders," she said. "The first step is building awareness so that if somebody discloses, you're ready to respond in a meaningful way."
When victims do report to law enforcement, help is often far away, said Bob Vines, victim/witness coordinator for Washakie County. Vines helps victims of crimes navigate the criminal justice system and access available resources.
"When they finally do have the courage to call for help, you can wait 30 minutes before law enforcement arrives," he said. 
If their abuser is arrested, the legal process weighs extra heavy on survivors who live in rural areas. Vines' office works with a number of agencies and organizations in Washakie County to help give rides to survivors to court hearings or other meetings if they don't have reliable transportation. 
"When you're working and doing what we do in small, rural communities, we often lean on each other," he said.
Beyond community training, there are a number of laws and policy changes that could also help survivors in rural Wyoming.
Tara Muir, public policy director at the coalition, said a state law requiring that all law enforcement receive annual in-person training on the dynamics of domestic violence, stalking and sexual training would be helpful. County attorneys, victim witness and community advocates could also use the training, she added, so that the larger community can review how it keeps survivors safe and holds offenders accountable.
She also said that the state legislators should fund necessary programs for both victims and offenders, like mental health treatment and substance abuse services. Offenders should also have access to counseling programs.
"In rural communities where this is done well, batterers are held accountable and victims are safer," Muir said in an email.
Communities could also create response teams that can help victims access resources in the criminal justice system, the Department of Family Services, the medical services and the civil legal system.
Ultimately, Eskelson-Maestas said, any solution has to incorporate the voices of the survivors.
"They're the expert of their lives," Eskelson-Maestas said. "They're the expert in what manipulation looks like."
Johnson and her sister struggled as they heaved the king-sized mattress into the small U-Haul. They lifted it on their backs, bending under its bulk.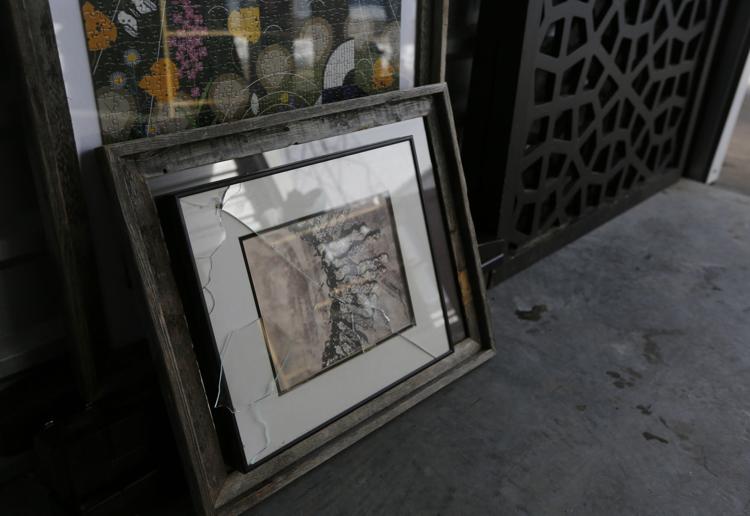 They paused, breathing heavily. Then, beneath the weight of it all, in the gray of a late January sideways snow, they broke into giggles.
"This is the worst game of Tetris I've ever played," Johnson said.
Johnson moved back to Colorado in July to be closer to family while she rebuilt her life. The divorce became final in January. The judge granted her ex-husband the property they had lived in. 
All that was left was to collect the rest of her possessions that she had left behind after fleeing. She had been slowly collecting her things in the months that followed his arrest. She'd call his work and, if he answered, she would hang up and dart into the home for a few more items. The two have not spoken since that night, though she tried to contact her husband in the few months after his arrest.
Her former husband pleaded guilty to a reduced charge of simple battery in March 2017. A circuit court judge sentenced him to pay $490 in fines and fees. He continued to deny the crime, stating in divorce paperwork filed after the guilty plea that he did not "engage in any act of family violence."
Now, Johnson is trying to find stable footing, to find "a place to be," she said. She's tried dating other people, but now it's hard to trust anybody. She used to feel that she had answers, that she knew who people were.
"I try to trust people, but it's always in the back of my mind: Really? Is this really who you are?" 
Her ex had left Johnson's remaining items in a storage unit south of Cheyenne. She had requested each item individually in the divorce paperwork, a clinical list describing the remains of a household. The storage unit held her snowboard, a bike helmet, two sets of patio furniture, a framed puzzle, a case for a fishing rod and the couple's king-sized bed, among other things.
After about an hour, Johnson and her sister had packed the last of her Wyoming life into the U-Haul. Johnson turned to face the broken furniture left in the storage space. A frame with cracked glass. Dilapidated shelves. A dead houseplant.
She paused, facing the remaining items. She snapped a picture. Then she pulled down the unit's door, locked it tight and hopped into the U-Haul.
She pulled out of the storage facility and pointed her van south.
Then Ruthie Johnson left Wyoming and all of those broken things behind.