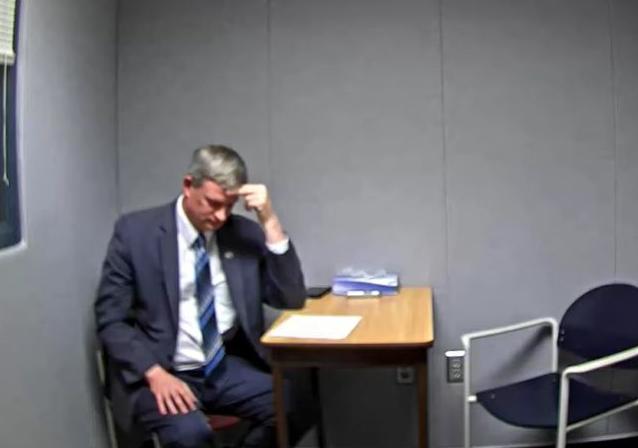 If he was paying attention, the South Dakota attorney general should have been able to see the pedestrian before, during and after he fatally crashed into him in September, investigators said in interview videos released this week.
Joseph Boever was walking with a flashlight, crashed head-first through Jason Ravnsborg's windshield, left behind broken glasses in his car and then came to rest near the side of the road next to the light that remained illuminated, they told the attorney general.
"They're Joe's glasses" an investigator said of the broken glasses found in Ravnsborg's car. "That means his face comes through the windshield," he said as the attorney general sighed and looked to the ground.
Boever's flashlight remained on when it came to rest next to him less than two feet from the shoulder of the highway, an investigator said. Boever was also stripped of his clothes during the crash, making his body quite visible.
"After the crash did you see that light in the dark?" he asked. "It's pitch dark. If there's something glowing, it would make sense for you to see it.
"We turned the flashlight on at night at the same spot it was found and it's hard to miss. I mean it's truly hard to miss when you're out there," the investigator said.
"That flashlight was like a beacon," a second investigator said.
These allegations were revealed in two video recordings of interviews Ravnsborg had with two agents from the North Dakota Bureau of Criminal Investigation. One video is an hour-long interview from Sept. 14, two days after the crash, and the other is a two-hour long interview from Sept. 30.
Ravnsborg repeatedly insisted he was driving within the lane, wasn't on his phone during the crash and never saw Boever until he found his body the next morning.
"I know how some of this looks, but I did not see a man until the next day," he said. "I did not see a flashlight, I didn't see him in the face. No, I did not. I did not. I did not know it was a man until the next day. No."
"I'll swear on a stack of bibles" and "I'll go to my grave saying that," Ravnsborg said.
Ravnsborg is charged with unsafely driving outside a lane and careless driving in relation to hitting Boever. He's also charged with using his phone while driving before the crash occurred. All three charges are Class 2 misdemeanors, each punishable by up to 30 days in jail and/or up to a $500 fine.
Other key parts of the videos:
The agents appeared more skeptical of Ravnsborg's driving and story about not seeing Boever the night of the crash than prosecutors. Prosecutors said they didn't find evidence to prove that Ravnsborg acted in a way that meets the legal definition of "reckless," a fact needed to secure a second-degree manslaughter charge. "We have no reason to dispute their information," a prosecutor said of Ravnsborg and the sheriff
.
Ravnsborg logged into his email and visited political websites shortly before the crash;
The attorney general expressed anxiety about the investigation and media coverage while also trying to defend himself;
The Hyde County Sheriff reported the discovery of Boever's body to the Division of Criminal Investigation — which is part of Ravnsborg's office — instead of calling Highway Patrol, the main South Dakota agency that handles fatal car crashes.
AG's story
Ravnsborg said the crash happened after a Spink County Republican Party event at a Redfield restaurant, where he said he didn't drink any alcohol.
An investigator said he spoke with multiple people at the Sept. 12 event who all backed up Ravnsborg's statement.
Ravnsborg left the event around 9 p.m. to head back to Pierre and said he slowed down through Highmore before starting to accelerate once he saw the increased 65 mph speed limit.
"And then quite frankly, 'wham!'" Ravnsborg said as he slapped his hands together. "I hit, you know, the incident happened. I never saw anything until the impact. I immediately jump out of the car and call 911 within seconds."
"What else would it be" but a deer, Ravnsborg said. "I would not expect a man to be on the side of the road in dark like it was. I did not think that a person would be out there at that time."
Ravnsborg said in the second interview that he had put his phone down on the console, turned the radio off and then looked at the speedometer right before the crash, something he didn't mention in the first interview. He said he never checked his email or visited websites before the crash.
After the crash, Ravnsborg said, he looked around his car and walked toward Highmore and back to his car — scanning for the deer along the way — before meeting Sheriff Mike Volek back at his vehicle.
He never mentioned Volek searching the area in the first interview but said in the second one that the sheriff, who he couldn't remember if he was carrying a flashlight, "looked at the car itself and I know he looked at the wreckage and I believe he was looking in the ditch."
Ravnsborg said the sheriff joked with him as he accepted an outdated insurance card before saying he would call a tow truck, which would take an hour to arrive. He said Volek drove him to his nearby home to let him borrow his personal vehicle so he could drive back to Pierre.
On the drive home, Ravnsborg said, he called his father, the head of DCI, and Tim Bormann, his chief of staff/spokesman, to tell them about the crash and text them a photo of his wrecked car. He then called Volek to tell him he'd return the car in the morning.
He said Bormann met him at his house around 8 a.m. the next day to caravan back to the sheriff's house to return the car. They stopped in Highmore to get gas and Ravnsborg then suggested they stop by the crash site.
"I didn't go back to look at him because I thought I hit a man, I went back because the debris was still there," Ravnsborg said. "I said let's look for the deer, I was just curious of how did it play out."
He said he found Boever's body on the side of road around 9:30 a.m. and called over Bormann.
"We did leave the site without calling 911 but my thought was this was the quickest way I can get the sheriff, is to go to his house, it's right there," Ravnsborg said.
Once the sheriff saw the body he told Ravnsborg to drive home and said he would call DCI, the attorney general said.
Cell phone use
"What would you think though if I told you that when they did the phone extraction, they found some internet activity on your phone around that time?" an investigator asked Ravnsborg, who continued to deny using his phone before or during the crash.
He said data shows Ravnsborg used his work phone to check his email — which takes multiple steps to open — and visited several political websites — including an article about "some conspiracy about Joe Biden and China" — up to one or two minutes before calling 911.
"It's reasonable to say that there was a minute or two minutes from impact to when you were actually on the phone" since you slowed down, stopped, calmed down, looked around the car and began walking before calling 911, the investigator said. He suggests the attorney general therefore could have been on his phone during the crash.
"But I was not doing it at the time of the impact. I set the phone down, I know I did," Ravnsborg said as he slapped his thigh.
A prosecutor provided a different timeline that said Ravnsborg's phone was indeed locked more than a minute before impact. However, Ravnsborg had two phones in his car — his work and personal one — and it's unclear if the prosecutors and investigators were talking about the same phone.
Per Beadle Co. SA Moore, cell phone show that night, Sept. 12:
10:22:22 pm - phone locked
10:23:37 pm - struck Boever
10:23:52 pm - Car stopped
10:24:06 pm - phone unlocked
10:24:22 pm - 911 call made
10:44 pm - Ravnsborg walked area, right by Boever, was using cell flashlight

— Jeremy Fugleberg (@jayfug) February 18, 2021
"We know Jason that you weren't in the middle of the road. You were on the shoulder" at the time of the crash, the investigator added. Boever's bone fragments were found in the rumble bar between the road and shoulder, he said.
An investigator said he knows the attorney general has been called out before for texting and tweeting on his phone while driving.
"Well yeah … obviously I'm political, I get called out on lots of stuff," Ravnsborg responded. "And it doesn't look necessarily how it looks."
Boever's glasses, flashlight
The investigators said they videotaped a reenactment where people walked along Boever's path while holding his flashlight at night.
The light was "pretty apparent" which means "it's pretty apparent that you were not looking at the road when that happened," they said.
Even if you didn't see Boever walking, he then crashed head-first into your windshield and left his broken glasses behind, the investigators said. They said Ravnsborg would have been nearby the glasses when reaching over into the glove box to retrieve documentation for the sheriff.
"It pains me tremendously to hear that his face went through the windshield," Ravnsborg said. "But I didn't look over. I was trying to stay alive myself at that point and get over (to the shoulder). And I looked at the car and I didn't see any blood."
"I would describe it as tunnel vision" and "I did not see the glasses" while looking in the glove box, he said.
But then "you had to walk by him" since you said you walked toward Highmore and phone data shows you passed him while your phone flashlight was on, an investigator said.
"I might have walked by him, but I didn't see him," Ravnsborg responded.
"But you also had to walk by the light. That's the really confusing part," the flashlight was right on the edge of the grass and shoulder, the investigators said.
They said Boever's body was less than 100 feet away from Ravnsborg's parked car, contradicting a prosecutor who said they were hundreds of feet apart.
"I can see how you say I should have seen him, but I didn't see him" and I "had not even fathomed" that I hit a person, Ravnsborg said.
"I'm a military guy, you do not leave people in the battlefield, you do not leave people behind," said Ravnsborg, a combat veteran and lieutenant colonel in the Army Reserves. "If I had any thought that he was a man, I would have tried to" render aid, call an ambulance, tell the sheriff and ask for a DUI test.
'I'm not a liar'
The investigators told Ravnsborg the crash was a serious mistake, he should have been able to find Boever that night and suggested that he panicked and decided not to tell the truth.
"I want you to be really honest right now" an investigator said. "If you look at it from our perspective, things haven't been straightforward by any means. In fact, some people would call you a liar."
"I'm not a liar," Ravnsborg responded.
"Some people, I'm not calling you a liar. I'm saying there's some mistakes made here though," the investigator said. "It sure appears to be a problem here and we want to get ahead of it just like you do."
"I think you had an idea it was something other than a deer" and "part of me has some belief that you maybe saw something the night before," an investigator said. "This is your opportunity to help straighten things out … I told you my concerns, and whether you think they're bogus or not, it's going to be a hard thing to get past."
"I don't know what else I can try to help straighten out for you … I'm obviously not as observant as I should be," Ravnsborg said.
"You're in a tough spot," an investigator said. "I'm in an extremely tough spot," Ravnsborg responded.
Ravnsborg expressed relief when he learned the BCI report will be sent to Highway Patrol and the prosecutor, not to Noem.
"The governor says she's going to put" a report out but I'd like to know what's happening with my case before the media does, he said.
"I think (the state) wanted to make sure that it wasn't, I mean as one of the cousins said, 'another big cover-up,'" the investigator said about Noem's call for transparency and independence in the investigation.
"Well he's, I won't say anything," Ravnsborg said about Boever's cousin Nick Nemec, who has been outspoken about the crash and investigation.
The attorney general joked about the Argus Leader reporting on his history of speeding and how he used to read South Dakota media "until this happened."
Ravnsborg also stood up for himself and highlighted his role as attorney general.
"I believe I did not do anything wrong, and I obviously replayed it in my mind about a thousand times," he said.
Ravnsborg tried to put a positive spin on him being the one to find Boever's body in the morning: "I guess to my credit, you know I'm also like, well if I didn't find him, how long would he have laid there?"
"Jason, you're a good guy. You're not used to being in this pickle," an investigator said. "I am a good guy!" Ravnsborg responded.
"We're not leaving anything uncovered," an investigator said. "Well, I get it that I get strict scrutiny because of who I am," the attorney general replied.
"Well I think this would happen no matter what," the investigator said. "I think your guys would be sitting in these chairs if it was someone else" who hit Boever this way.