Jim Angell never really got upset.
The former executive director of the Wyoming Press Association was known for his smiling and boisterous nature. The only time that slipped was, perhaps, when passionately defending freedom of the press.
"He took it personally when people voted against newspapers," said Robb Hicks, president of the Wyoming Press Association Foundation and publisher of the Buffalo Bulletin.
Angell, who dedicated his life to helping Wyoming journalists, died Wednesday. He was 64.
Angell loved telling stories, said Toby Bonner, general manager and advertising director of the Powell Tribune. Before his tenure at the Wyoming Press Association, he was a reporter and editor for the Associated Press. His coverage focused on state government and politics.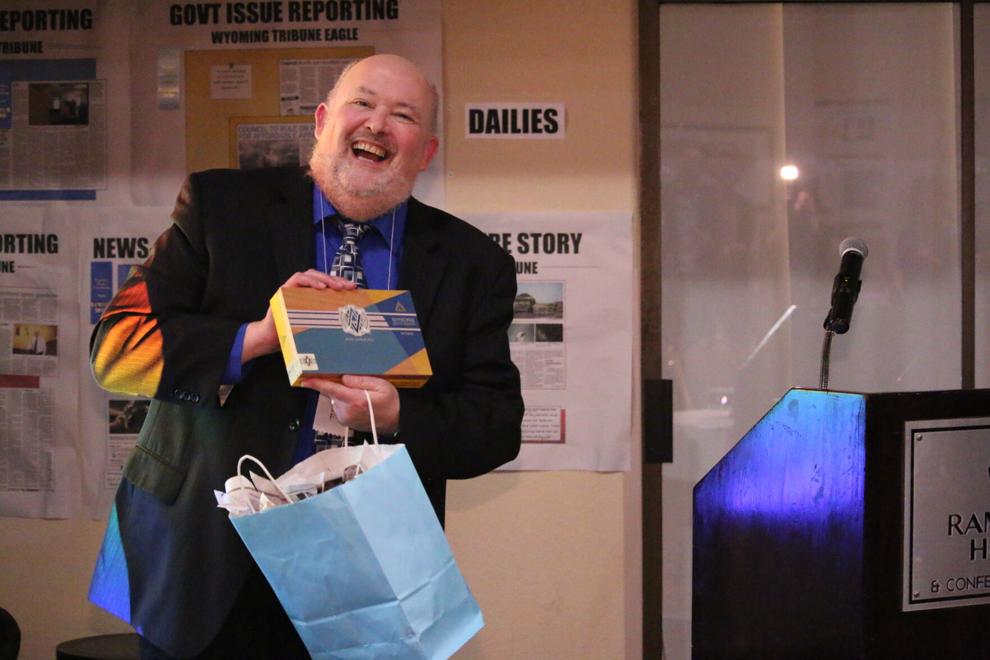 His reputation at the Association Press led him to be be tapped as leader of the Wyoming Press Association in 1996.
Angell lobbied in favor of public records and open meeting laws in Wyoming — and called out government officials who violated them.
Transparency laws outline what kinds of government documents must be available to the public, and what kinds of meetings must be open-door. They can be confusing, and officials don't always know how they work.
Angell worked hard to raise awareness about the laws, Hicks said.
If a newspaper was kept out of official city council meetings, for instance, Angell wouldn't hesitate to drive across the state to host a free workshop for the council members. He'd spend hours going over the laws with them and answering questions, Hicks said.
In 2017, Angell helped start the Wyoming News Exchange. Over the past decade or so, news wire services' presence in the state has sharply declined. The exchange stepped in as an alternative way for Wyoming news outlets to share their content.
Angell spent the next five years running the Wyoming News Exchange with his wife, Mary. Every day, they'd send out good-morning emails to members of the exchange with a movie quote as the subject line.
Even during their retirement, Angell and his wife, Mary, continued to organize the Wyoming Press Association's annual awards ceremony.
"Nobody was prouder of Wyoming newspapers than Jim Angell," Hicks said.
Angell was known for wearing kilts to Wyoming Press Association conventions — a nod to his Scottish heritage.
A talented musician, Angell often competed in songwriting and singing competitions, Bonner said. He started closing out the Wyoming Press Association's award ceremonies with a late-night jam session.
Angell would break out his guitar, and start taking requests.
"He knew about 99% of the songs out there," Bonner said.
It became a tradition: other members of the association started bringing their own guitars, and they'd all sing into the early hours of the morning.