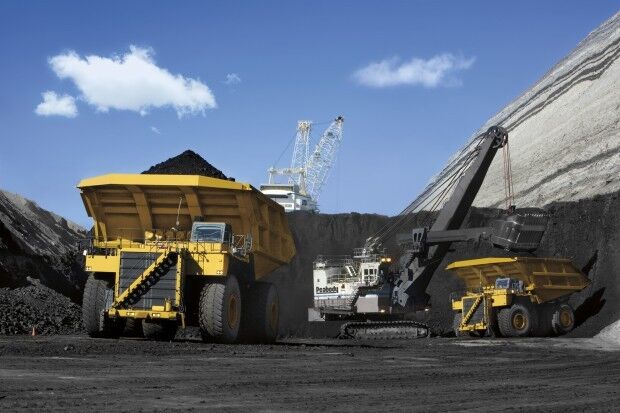 Leading coal company Peabody Energy announced it will write down the value of the nation's largest coal mine by $1.42 billion, as conditions for thermal coal production continue to weaken, according to a second quarter report published Wednesday morning.
Plummeting demand for coal, due in part to low natural gas prices and the forthcoming closure of several coal-fired power plants nationwide, has compelled Peabody to take a non-cash impairment charge of $1.42 billion for its North Antelope Rochelle mine in Wyoming.
Peabody reported $6.52 billion in total assets in 2019, according to its annual report.
"Over the past quarter, we have remained committed to the health and safety of our employees and communities in which we operate, while also taking further action to improve our cost structure," President and Chief Executive Officer Glenn Kellow said in a statement Wednesday morning. "Our U.S. thermal operations have done a tremendous job of adapting to significantly lower demand, while our seaborne operations have remained pressured by the economic impacts of the COVID-19 pandemic. Continued uncertainty in global markets requires us to further improve our operating performance and ensure we have a scalable structure that can respond to market conditions in the months ahead."
Demand for coal has been tumbling for several years. Utilities have been transitioning away from coal toward less expensive natural gas and renewable energy sources to save ratepayers money.
Peabody's North Antelope Rochelle mine produced just under 14 million tons of coal during the second quarter, 28% less than the same period in 2019, according to data collected by the U.S. Mining, Safety and Health Administration.
"There are no surprises," Travis Deti, executive director of the Wyoming Mining Association, told the Star-Tribune in response to the quarterly filing. "It's a tough time for the industry and we're seeing the customer base shrink in the U.S. That means lower production numbers for Wyoming producers. That trend shows no signs of abating now. And as the industry contracts we'll produce less coal."
According to Peabody, electricity generation in the country this year is 4% lower than last year at this time. Coal now contributes to just 17% of the nation's electricity portfolio, down from 31% a year ago.
"While Peabody's mine operations were not materially impacted by the COVID-19 pandemic during the quarter, the company has responded to weaker demand by lowering production across its operations to meet demand," the report stated.
In April, Peabody laid off 170 workers at the North Antelope Rochelle mine.
"But coal is still going to be around for awhile," Deti added. "There will just be a new normal."
The state needs to act now to adapt to the declining revenue sources dependent on minerals, said Shannon Anderson, staff attorney for the Powder River Basin Resource Council, a landowners group.
"This is a clear signal that Powder River Basin coal production isn't coming back and the multi-year decline that was prevalent before the pandemic will continue long after the virus is gone," she said over email. "It's time for Wyoming leaders to think about what comes next for our communities, coal miners, and our revenue streams."
Peabody Energy's quarterly report comes amidst its ongoing battle in federal court against the Federal Trade Commission over the company's proposal to combine operations with fellow coal firm Arch Resources.
In February, the FTC filed a preliminary injunction to stop Peabody and Arch's attempt to combine their coal operations under one roof. The two companies operate five coal mines in Wyoming and hoped to join ventures and reduce costs. But the FTC, charged with protecting consumers, is concerned the move could stifle competition and hurt the public by hiking up prices for coal.
"While the value has been reduced, announcing it now may also be a move timed to influence the FTC decision-making," University of Wyoming economist Rob Godby explained. "(The write down) suggests the coal market is very weak ... reinforcing their argument that they would not have market power to exercise in the coal market."
The two coal firms control about two-thirds of the southern Powder River Basin's coal reserves, making them the biggest players in the basin. Wyoming's governor and attorney general have thrown their full support behind the proposed venture, saying it would provide greater certainty and stability for the state's economy and people.
"It is concerning what we're seeing happen to coal," Gov. Mark Gordon said on Wednesday during a press conference. "Coal continues to be heavily, heavily pressured, and it's not a surprise that we saw that write down."
"Coal does have a future," he added. "We're working on (that) on a wide range of fronts, including carbon capture and sequestration."