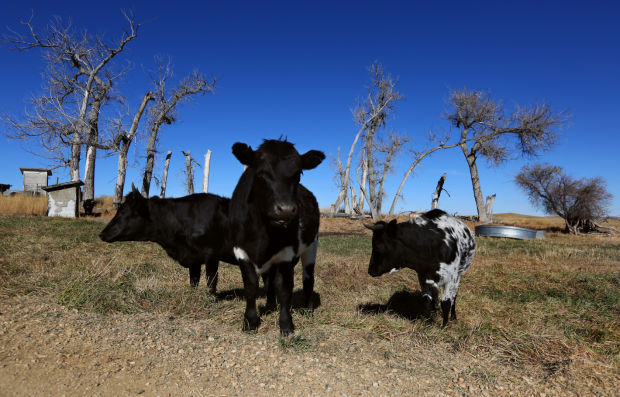 The Ridenours at Meadow Maid Foods in Yoder were forced to alter their 2020 plans when a bull got loose last year. What was supposed to be a calm spring into a May-June calving season has instead resulted in a few early deliveries.
That's been their biggest worry for the past two weeks while the rest of the world's been thrown into upheaval as the coronavirus pandemic continues to spread throughout the United States, now the country with the most infections of the virus.
"The nice thing about living on a ranch is that most of the inhabitants on our ranch don't know how crazy the world has become," Cindy Ridenour said. "We're operating as usual, hoping to sell the coming yearlings if back-to-grass auction is open. We take it one week at a time here."
Cindy and Mike operate the small-time family farm that centers around year-round pasture-fed beef. They've used an owner-operated USDA facility to help them sell their food at home in Goshen County as well as at a few farmer co-ops in Fort Collins, Colorado. Because their operation is smaller and exclusively produces 100 percent grass-fed, grass-finished beef, those animals eat only mother's milk and grass.
Instead of joining the larger-market operations, Meadow Maid Foods primarily sells through farmers markets and custom beef markets. While there's been a dependable market for higher-priced, locally-grown beef, the current economic crisis begs the question: How long can consumers continue to pay the higher price as unemployment rises in Wyoming?
"How many people will have money to buy custom beef?" Cindy asked. "It's a problem for people to buy the highest quality of food that they can get. It's more expensive to buy fresh foods and vegetables and meats."
Cindy mentioned that it's been easy to practice social distancing while trying to help stock shelves at the Torrington Food Bank. Mike was also approached by a grocery store in Fort Collins that said it needed Meadow Maid Foods beef as soon as possible. Cindy said she wouldn't know how soon that will be considering the time and effort in raising, shipping and processing.
Kevin and Keri Schilthuis have largely operated Fort Causeway the same in Lovell. They've mostly depended on local customers for their organic beef and lamb, although Keri did mention they went up to Billings, Montana, a few weeks ago and sold at the highest lamb prices they'd ever gotten in Montana.
"That was a change for sure, not sure if it's related to the virus or not," Keri said.
They've stopped directly selling to consumers, however. They've got some product in the freezer and haven't faced the same panic as other local operations because they're more dependent on the lamb market, which has been largely untouched by the massive fluctuations in the beef market. In the past they've taken their animals to USDA facilities in Stillwater County, Montana, and nearby Cody. Since those plants service more mass-produced operations, it's no longer feasible for Fort Causeway to use due to their limited quantities of specialty product.
"It's kind of shut us off from what we have processed and what we're able to sell," Keri said. "We called around and if some of those plants are looking for lambs or meat or pork, we're willing to sell, but as far as all that stuff we're just not doing that any more. It just hasn't worked out."
With just the family around they've already started preparations for lambing in April "and those lambs are going to come no matter what," Keri chuckled.
There's also smaller, more locally sourced operations like Broken Spokes Yaks in Afton, Prairie Monarch Bison near Laramie and Touchstone Angus near Lusk that continue business as usual: serving Wyomingites with Wyoming-raised agriculture. And they'll continue to try that as long as they can.
Editor's note: An earlier version of this story contained incorrect information about Meadow Maid Foods. This story has been updated to accurately reflect the farm's operations.
Follow sports reporter Brady Oltmans on Twitter @BradyOltmans
Concerned about COVID-19?
Sign up now to get the most recent coronavirus headlines and other important local and national news sent to your email inbox daily.