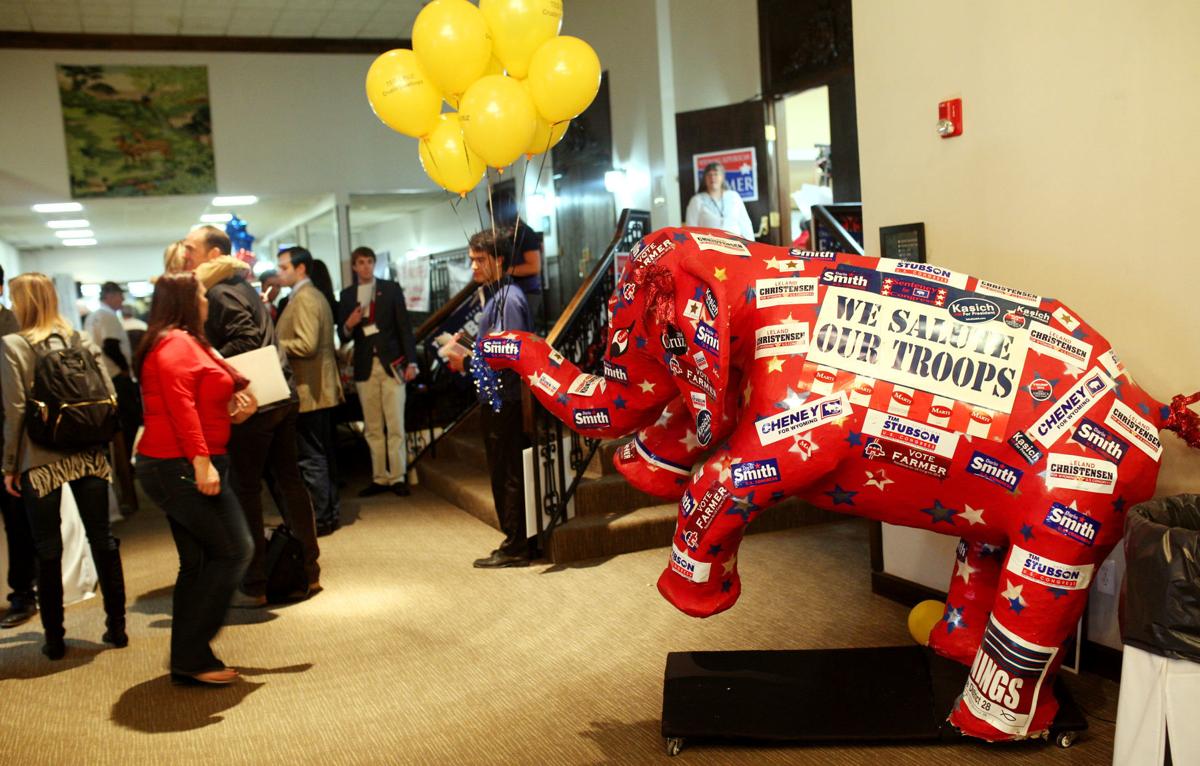 As the first session of the first virtual Wyoming Republican Convention came to a close late Saturday night, dozens of members logged out with a feeling that they had been the victims of something the party has long fought to eliminate: an illegitimate election within its own ranks.
Incumbent National Committeeman Corey Steinmetz, a favorite candidate of party leadership, was soundly reelected over challenger Sam Galeotos, a former Republican candidate for governor who entered the convention with endorsements from top Wyoming conservatives like financier Foster Friess, former Congresswoman and current U.S. Senate candidate Cynthia Lummis, GOP power player Diemer True and former Wyoming Senate President Eli Bebout.
On the other side of the ballot, the attorney and long-time fixture of statewide Republican politics Harriett Hageman — another favorite of party leadership — easily defeated former U.S. Congresswoman Barbara Cubin in the race for National Committeewoman, despite Cubin having backing from several establishment Republicans like U.S. Sen. Mike Enzi, True, Bebout and retiring Wyoming Rep. Hank Coe.
Heading into the June conventions, the final result was a resounding first victory for the party's far-right wing, which has been embroiled in a bitter struggle with party moderates over the future of the party for months now. However, dozens of delegates at the convention were quick to cast doubt on the final tally.
By the time voting closed in the race for National Committeeman and Committeewoman, just 268 people out of a total of 463 eligible delegates had filled out and submitted a ballot in what was arguably the day's most significant vote. Some said their votes were never counted.
Others said they improperly received ballots, or never received ballots at all. And, despite the demands of numerous individuals on the call, the meeting was ended before the situation could resolve itself, with the rest of the business on the day's agenda to be picked up at a later date.
It had been a recurring problem throughout the day's virtual convention, with concerns raised throughout the day by numerous delegates on how to vote via their computer, for example, or how to cast separate ballots for two people sharing a single computer. Vote totals were often variable as well: Participation in each of the day's votes had fluctuated wildly, with anywhere between 300 and 400 delegates voting on a single issue at any given time.
Those backing the winning candidates — as well as party officials themselves — stated that it was merely a quirk in the process, arguing that the vote was merely a consequence of challenging circumstances and the difficulty in conducting a virtual meeting remotely. GOP officials also said that any type of undervoting was an issue that was simply out of their hands and that the lack of submitted ballots for their chosen candidates was the responsibility of county party officials — not state party leadership. Some may have simply missed the vote, fatigued by 13 hours of debate that lasted well into Saturday night. A number of party members, in the meeting and in conservative Facebook groups, argued that it was simply a matter of the losing side being bitter in defeat following a hard battle to reseat the Natrona County GOP's 62 delegates at the convention after allegedly violating party bylaws at their state convention last month.
Others, however, were quick to point out flaws in how the vote was carried out. Conducted via secret ballot over the platform Survey Monkey, which had been successfully deployed in the Laramie County Republican Conventions, according to a Republican source, the poll lacked an ability to determine who had cast a vote, with the only identifying marks being a user's IP address — a piece of information the party did not collect prior to the vote.
This, in turn, made it hard to verify whether eligible voters had actually cast a ballot or if a specific voter had neglected to vote for one candidate or another.
One individual to experience this was House Majority Whip Tyler Lindholm. An alternate to the convention, Lindholm said he was never actually registered as a voting delegate yet still received a ballot.
"I was an alternate but never registered because my delegates were all going to show up," Lindholm wrote in a text message. "Still got the ballot. I didn't vote, but I opened the link and I definitely could have, as it was the full ballot. How many others did, and did they vote?"
"As soon as the convention host team has some time to rest and see their mothers and family we will reconnect and go through the weekends processes and results," Wyoming Republican Party Chairman Frank Eathorne said in a text Sunday afternoon.
While the Wyoming Republican Party has railed against remote voting methods like mail-in voting over election security concerns — and forbids the use of non-partisan officials like county clerks to conduct its elections — Lindholm argued that the party could likely have used a more effective and secure means of tallying the votes.
"What a wreck and absolute failure," he wrote. "The sad part is we have some great tech companies in the state that could have developed something for them. Instead, they opted to use outside services. That's how Survey Monkey works. No authentication, no (password), nothing. Someone could have sent the link to any number of people."
Results like Saturday's, Natrona County Republican Party Chairman Joe McGinley said, were the reason his party decided to enlist the help of the local county clerk's office — a decision to break with party bylaws in the age of COVID-19 that almost cost the party their 62 delegates over the weekend.
"That's why we did the ballot the way we did in Natrona County," McGinley said Sunday morning. "Every ballot was verified as a valid, credentialed voter and then anonymously counted. I know they tried to criticize us on how we did our election, but we actually went through immense effort to avoid that exact problem that happened yesterday."
But the consequences could be even more dire for the state GOP. With its election now in doubt, the Wyoming Republican Party could lose its delegates to the national convention this summer without some sort of variance from the Republican National Committee, a black eye on the record of a state party representing some of the nation's most conservative voters.
In the coming weeks, McGinley — as well as others in the party — say they will be pushing party leadership to recast the vote.
"As Republicans, we believe in fair elections," McGinley said. "We believe in the voice of the voter being heard. So I would strongly urge we vote in a manner where all votes can be valid and accurate."
Concerned about COVID-19?
Sign up now to get the most recent coronavirus headlines and other important local and national news sent to your email inbox daily.