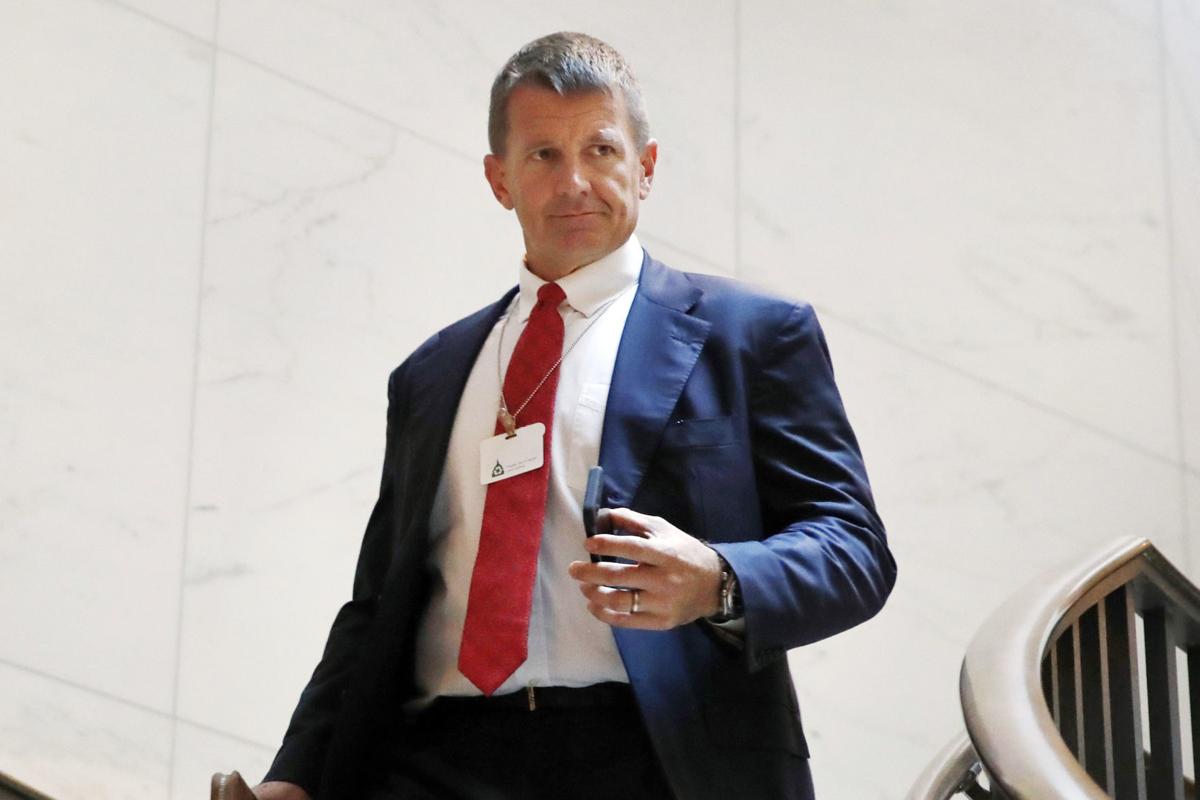 Erik Prince, a Park County resident and founder of the controversial private military firm Blackwater, is suing a national news organization in federal court in Wyoming after it published an article accusing him of soliciting contracts from a military contractor tied to the Kremlin.
The article, published by The Intercept on April 13, alleged that the former Navy SEAL met with a top official of Russia's Wagner Group to offer mercenary services to the company's operations supporting Russian government-backed forces in Libya and Mozambique. If the deal had gone through, the article claimed, it would effectively have set up Prince as a subcontractor of the Russian government.
Attorneys for Prince – who is the brother of Department of Education director Betsy DeVos and has his own ties to the Trump administration – vehemently denied the claims in a defamation lawsuit filed Tuesday in U.S. District Court, calling the allegations a "corporate scheme" to discredit him in efforts to "boost The Intercept's readership, gain notoriety and profit" at Prince's expense.
The lawsuit further alleges that The Intercept acted with "actual malice" – a key piece of defamation accusations – in publishing the story, the premise of which was based on allegations from two anonymous sources, the actual existence of whom is questioned in the lawsuit.
"Erik Prince is not a litigious person, and filing this lawsuit was not a step he took lightly," Matthew L. Schwartz, an attorney representing Prince for New York City law firm Boies Schiller Flexner LLP, wrote in an email to the Star-Tribune. "Over and over, Mr. Prince has turned the other cheek as publications, The Intercept first among them, have smeared him. But this story was different: The Intercept accused Erik Prince of being a criminal and a traitor based on dishonest and biased anonymous sources that it made no effort to corroborate. Mr. Prince had no choice but to defend himself."
While the lawsuit says that attorneys for Prince advised the article's authors that the accusations were demonstrably false, attorneys for Prince focused the brunt of their lawsuit on allegations of The Intercept's own bias, arguing it declined to engage directly with the subject of the piece in describing details of the meeting and noting numerous pieces of reporting by the outlet alleging past episodes of alleged misconduct by Prince.
"In truth, Mr. Prince did not meet with any representative of Wagner Group earlier this year, never offered his services to support Wagner Group's operations in Libya and Mozambique, and never sent Wagner Group a proposal to offer his services in those countries," the lawsuit argues. "In fact, Mr. Prince has never met with a representative of Wagner Group. Nor has Mr. Prince caused any third party to meet with or submit a proposal to Wagner Group on his behalf."
The Star-Tribune has reached out to First Look Media – the publishers of The Intercept – for comment.
Prince – who owns property in Wapiti and once weighed a primary challenge against Wyoming's longtime U.S. Senator John Barrasso – has been in the spotlight for his business activities on numerous occasions over the past decade, with many of the allegations receiving extensive coverage in The Intercept.
According to the Intercept's reporting, Prince is allegedly under investigation by the Federal Bureau of Investigation for converting a crop-dusting plane into an attack aircraft and has reportedly also been at the center of a governmental inquiry after allegedly lying to Congress during congressional investigations into Russian interference in the 2016 elections.
Prince has also been accused of recruiting former spies to spy on liberal organizations and news outlets alongside conservative organizations like Project Veritas, which rose to prominence using deceptively edited videos, hidden cameras and other means in attempts to expose liberal bias in news organizations and private business.
Be the first to know
Get local news delivered to your inbox!