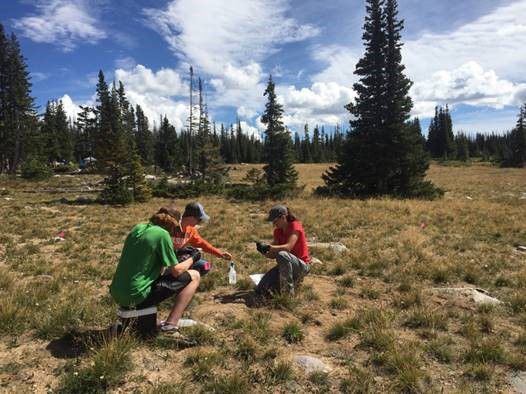 University of Wyoming researchers were given a $20 million grant from the National Science Foundation to research different fungi, bacteria and microbes — a living thing that is too small to be seen by the naked eye.
The research teams will take a close-up look at the microbes using technology including DNA sequencing and computational modeling with the aim of learning the ecological and distribution consequences of microbes. The discoveries may help address statewide challenges, from managing range land, forest and water resources, to improving crop productivity.
University Institutions Director Chad Baldwin said Wyoming was one of five nationwide grants because of "our terrain, we have both untouched and disturbed parts" to study.
With the grant, botany professor and leader of the microbe project Brent Ewers hopes the five-year project will improve how students think about ecosystems and how they are integrated with microbes while helping the university receive national recognition for ecology.
The university also hopes to stimulate business opportunities across the state and engage people from different walks of life, from children in elementary school to business leaders, in scientific discovery.
"This will enhance our research capacity and competitiveness along with the state's workforce and economy, creating intellectual property that can be applied to economic sectors relevant to Wyoming, including the fast-growing field of data science, which has an enormous range of applications," said Ed Synakowski, the school's new vice president for research and economic development.
The project will bring together researchers and educators from multiple UW colleges. Besides Ewers, the work will be led by principal investigators and botany professors Cynthia Weinig and Alex Buerkle. Associate professor of molecular biology Naomi Ward and Linda van Diepen, assistant professor of ecosystem science and management, will also be main figures.
"This is an age of discovery in microbiology," says Buerkle in a release. "Just as modern telescopes have given astronomers the ability to see the universe with amazing detail, our new genomic sequencing capabilities have opened a whole new world in the study of life."
Sampling of soil, plants, water and air as evidence will be done at hundreds of sites across the state, from locations ranging from mountaintops to basins. The "pipeline" of sampling and analysis will involve university and community college students, K-12 teachers and others.
"Once we know what organisms are there, including their genetic capacity, we can figure out how we can make use of them," van Diepen said in a statement.
The project will also train members of the Northern Arapaho and Eastern Shoshone tribes in sample collection and laboratory analyses of microbes from the Wind River Indian Reservation. Ewers hopes this work will increase the number of Native Americans interested in STEM (Science, Technology, Engineering and Mathematics) jobs. The work will also help improve reservation ecosystems and strengthen the relationship between the university and the tribes.
The grant will also fund equipment for the university's Advanced Research Computing Center, create new on-campus centers for biogeochemistry and data science and allow the hiring for new faculty members and researchers.
A pilot study began earlier this month, focusing on future sampling protocols and planning. Next summer, training for faculty, students and tribal members will begin on how to sample for microbial diversity.
Although the project is in beginning stages right now, Baldwin says the leaders are "ready to roll right away."