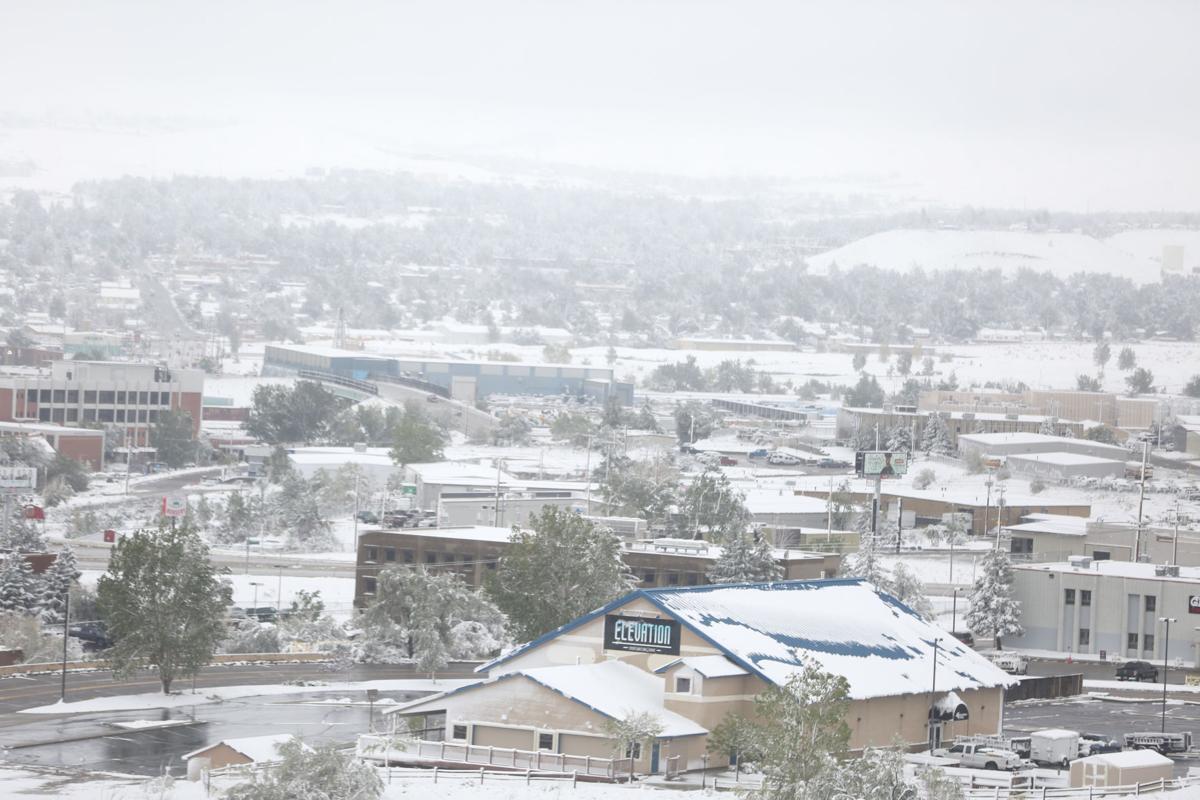 A heavy, wet snow fell over large parts of Wyoming on Tuesday as an unseasonably cold storm slammed the state.
Road closures and power outages were reported around the state. Here is the latest:
Highway closures
Blowing snow, icy roads and limited visibility have led to highway closures around the state. Here are the latest:
Interstate 80 is closed between Cheyenne and Rawlins and between Rock Springs and Evanston;
U.S. Highway 20/26 is closed west of Casper to Moneta;
State Highway 220 between Casper and Muddy Gap;
Outer Drive in Casper;
U.S. Highway 30 between Cheyenne and Rawlins;
U.S. Highway 287 between Laramie and Muddy Gap;
Wyoming Highway 28 between Farson and South Pass City;
U.S. Highway 191 between Rock Springs and Farson.
Interstate 25 remains open, though icy conditions have been reported.
Casper schools are open today, but bus service is running about 20 minutes behind.
Traffic accidents
No traffic-related injuries from the storm had been reported as of 9:20 a.m., according to the Casper Police Department. Spokesperson Rebekah Ladd said there had been four accidents causing property damage, and those all occurred between 7:45 a.m. and 9 a.m. Tuesday morning. No accidents were reported overnight. 
This is wet and heavy snow with ice in it. Take extra time this morning cleaning your vehicle - including all windows and lights - and that heavy pile on top. I certainly wouldn't want a heavy pile of snow flying into my windshield!. I'll be cleaning my truck again before work. pic.twitter.com/0aoSO9ovDf

— Jeff Goetz (@D2PIO) September 8, 2020
Power outages
Heavy snow can often damage trees and power lines.
A residential trailer in Mills was completely lost in an overnight fire, Fire Chief Dave North told the Star-Tribune on Tuesday. He said the fire was a "direct result" of a branch falling onto a power line. The fire did not result in any injuries, but North said it did displace the trailers' residents.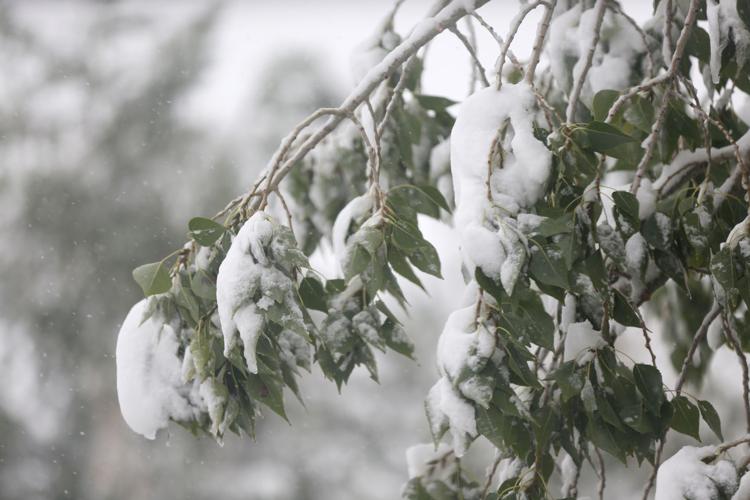 Casper Fire-EMS said firefighters had been responding to a number of calls related to downed power lines in Casper. Capt. Pat McJunkin, speaking for the department, said calls about outages or branches on power lines began coming in around 10:30 p.m. Monday. As of 9:30 a.m. Tuesday, the department had responded to 22 such calls within city limits. 
McJunkin said there had not been any "significant hazards" within the city, though there were a handful of very small fires caused by branches on power lines. Those fires extinguished themselves, he said. 
1,685 customers in Casper;
6,568 in the Rock Springs/Green River area;
1,340 in Evanston
453 in Glenrock;
317 in Douglas;
395 in Lander;
679 in Thermopolis;
511 in Guernsey.
Rocky Mountain Power in a statement advised customers to be prepared for prolonged outages with food, water and back-up batteries. The utility was grappling with large outages in three Mountain West states: Wyoming, Idaho and Utah due to high winds.
"We make sure we are well-prepared with crews and equipment for severe weather events," said Curtis Mansfield, Rocky Mountain Power's vice president of operations. "This storm is impacting thousands of customers across our six-state territory and we appreciate our customers' patience as we work to get everyone restored."
Snow and wind
Between 4 and 8 inches of snow were forecast to fall over Casper with higher amounts on Casper Mountain. Gusty winds reaching as high as 26 mph were also expected.
The storm began moving into Wyoming on Monday afternoon, starting with cooler temperature and rain. By Monday evening, snow was falling over parts of the state. 
This story will be updated throughout the day. Got a tip? Send it to editors@trib.com.
Be the first to know
Get local news delivered to your inbox!