FORT WASHAKIE — Pine cones sat on metal grates over a fire pit on a recent snowy Saturday morning, as coals and flames opened them just enough to expose their bounty: pine nuts.
A few yards away, inside Fort Washakie's Rocky Mountain Hall, about two dozen people took those pine cones — still warm — and tried to pry out the tiny seeds using tools like nails and knives while wearing gloves to keep the sticky pitch off their hands.
Eventually, those seeds would be ground up for flour or become a tasty, nutritious snack — one of many healthy meals the group was working to stockpile.
As some people worked to roast the cones or nudge the nuts from them, others separated dark red venison from a deer carcass. The effort was part of a community-led project on the Wind River Reservation to increase knowledge and consumption of traditional Shoshone foods while studying the health effects of the food Shoshone people ate generations ago, before reservation life and government policies forced them to abandon those practices and adopt Western diets.
The effort is also seen as a way to revitalize Shoshone culture and create a more cohesive community.
"Hopefully we get people with diabetes, cancer, heart disease and other afflictions so that we can see how well they do on our natural diets and how much healthier they can get," said group member and Eastern Shoshone citizen Jola Lebeau. "Another thing … I really like about it is it brings our community together. Food always brings our communities together."
The project, Restoring Shoshone Ancestral Foods, is just one of several on the Wind River Reservation — and part of a larger food sovereignty movement in Indian Country — that aims to increase awareness of traditional Indigenous foods or culturally appropriate, healthier and more sustainable food systems. Advocates say the movement can help reverse generations of negative health trends, partly due to a dramatic shift to the non-traditional diet that was imposed on tribal nations, while also protecting Indigenous cultural knowledge.
"We know that our traditional foods are a pillar of our culture and that they feed much more than our physical bodies," Valerie Segrest, a nutrition educator, Muckleshoot Indian Tribe member and food sovereignty advocate, said at a 2013 TED Talk. "They also feed our spirits, and this is because they're a living link with the land and with our legacy, helping us to always remember who we are and where we come from."
When Indigenous people across North America — including the Eastern Shoshone and Northern Arapaho tribes — were forced to live on reservations, their diets changed with the new lifestyle. They had less, or no, access to traditional food sources and wild game.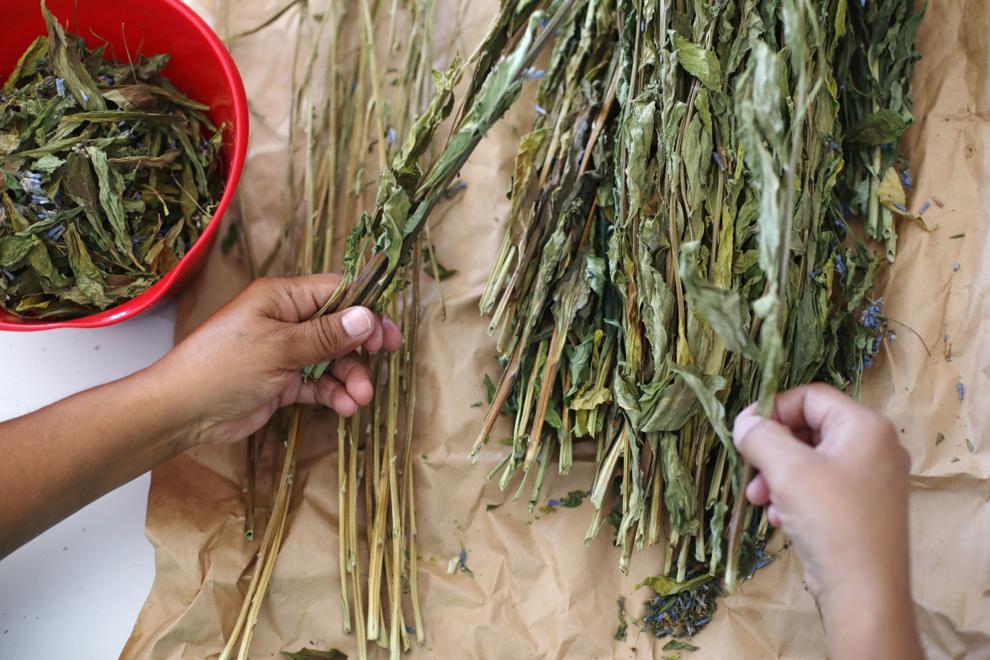 Instead, the U.S. government provided rations, which often included a lot of refined carbohydrates and fatty meats, said Jill Fabricius Keith, a University of Wyoming assistant professor of nutrition and researcher working with the group.
That's helped lead to high rates of health problems like diabetes and cardiovascular disease — problems that didn't exist among Native Americans before being introduced to a new diet, she said.
In fact, Native Americans have some of the worst health disparities in the U.S. American Indians and Alaska Natives suffer from, and die at, much higher rates of heart disease and diabetes, among other conditions, than the rest of the country, according to government statistics.
"From a nutrition perspective, the Western style of eating is not even as close to as healthy as an Indigenous diet," Fabricius Keith said.
Growing up, Lebeau said she doesn't recall as many tribal members dealing with health issues like today, a problem she attributed to the present-day diets of many on Wind River.
"When I was a little girl, I don't ever remember ever seeing any people that was limping, or people that was in wheelchairs, or people that was having a hard time. So I thought about how healthy we were in those days and what made the people healthy," said Lebeau, now 66. "They were all busy. They were busy all summer long gathering these special plants … They were following the animals; they were following the plants."
Restoring Shoshone Ancestral foods isn't the only initiative underway on Wind River to educate tribal citizens about traditional foods and improving diets.
The goal of Growing Resilience, another effort, is to encourage more gardening on Wind River, promote healthier diets and support families as they start up their own gardens.
Organizers, which include the University of Wyoming, Blue Mountain Associates, Eastern Shoshone Tribal Health and the Wind River Development Fund, hope to have 100 families start a garden and measure the health impacts, similar to the traditional foods group.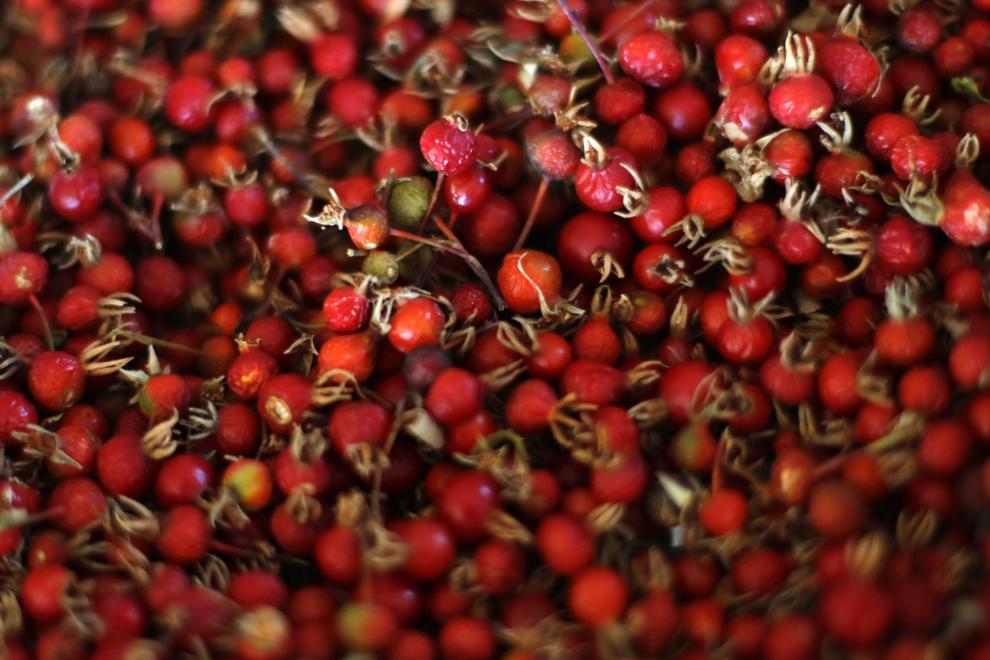 Some even view both tribes re-introducing buffalo to the reservation as a part of the food sovereignty movement and hope to someday see the herds grow large enough for tribal members to hunt and eat the large mammal as they once did.
"Today's food has changed. It is full of preservatives, fats and sugars. The food is bringing sickness to the people," Darrah Good Voice Elk, a Blackfeet, Northern Arapaho and Eastern Shoshone food sovereignty advocate on Wind River, said at a 2017 conference. "A new day eating healthy is beginning to take form on the reservation. Many don't want to be sick any more. We are changing step by step."
The Restoring Shoshone Ancestral Food group started as a grassroots effort and has evolved to include participation from the University of Wyoming, which is helping to facilitate a study of the impact a diet of half traditional Shoshone food has on health, cultural connectedness and overall well-being.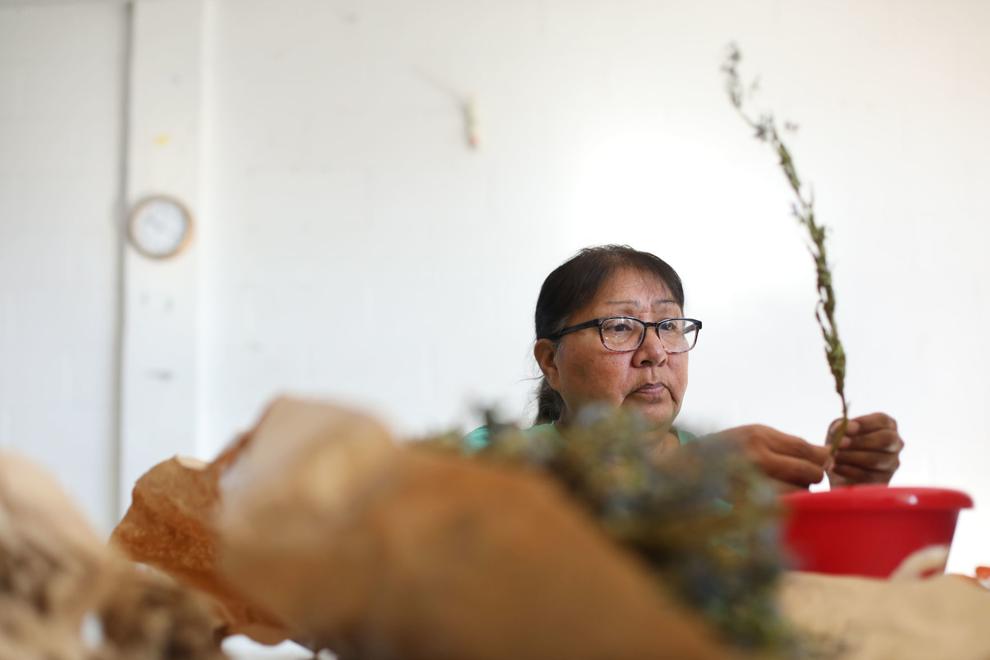 To study the effects of the traditional foods — which will be food and ingredients the group has gathered from the area or helped process — 20 Eastern Shoshone tribal citizens will eat half traditional foods for four weeks starting in January.
After the study, participants who follow the diet will have blood tests and take surveys to measure the diet's effect. They'll also have their blood tested before starting.
Even if the results of the study don't show any positive benefits, Fabricius Keith said, it will not have been a failure. Having community members involved in traditional food collection and preserving the knowledge is just as valuable, she said.
"If we don't see any very specific health impact … it'd still be successful," she said. "That is still a lot of information to share with the community."
The group has been busy in recent months stockpiling the necessary food. That process has meant trips off-reservation, to the mountains or near Fort Washakie, to look for rose hips or carefully pick hawthorn berries from trees with sharp twigs that protect the berries.
When the participants get their food, it could include ingredients or spices made using hawthorn berries, fire weed, juniper berries, pine nuts, chokecherries, elk, buffalo and venison, among others.
While many in the group may have had no or little knowledge about the traditional foods their ancestors once ate, elders and area experts have helped educate them on what is edible, where to find it and how to prepare the food.
With elders and many others with knowledge about traditional Shoshone foods aging or dying, Lebeau said the group's work came at the right time.
"We're hoping that after this study, that we still keep doing it and teach our children," she said. "A lot of people that have been doing it for years, they're dying now, they're passing on — the ones that really knew about the plants, to cut up the animals."
Still, Lebeau said she thinks there's interest among the youth to learn how to hunt or gather.
"A lot of the young people that was here today, they said that they didn't have anybody to teach them," she said. "They didn't know what to do, they didn't know where to go to hunt. They don't know how to hunt. They would like someone to teach them."
'It's important to learn'
For Laurie McLeod, the recent Saturday in Fort Washakie was her first time helping the group. As she pried pine nuts from their cones — competing against her third-grade niece to see who could collect the most — she said a family member convinced her to come try it.
While she said she had helped family members gather berries as a child, she had never worked with pine cones.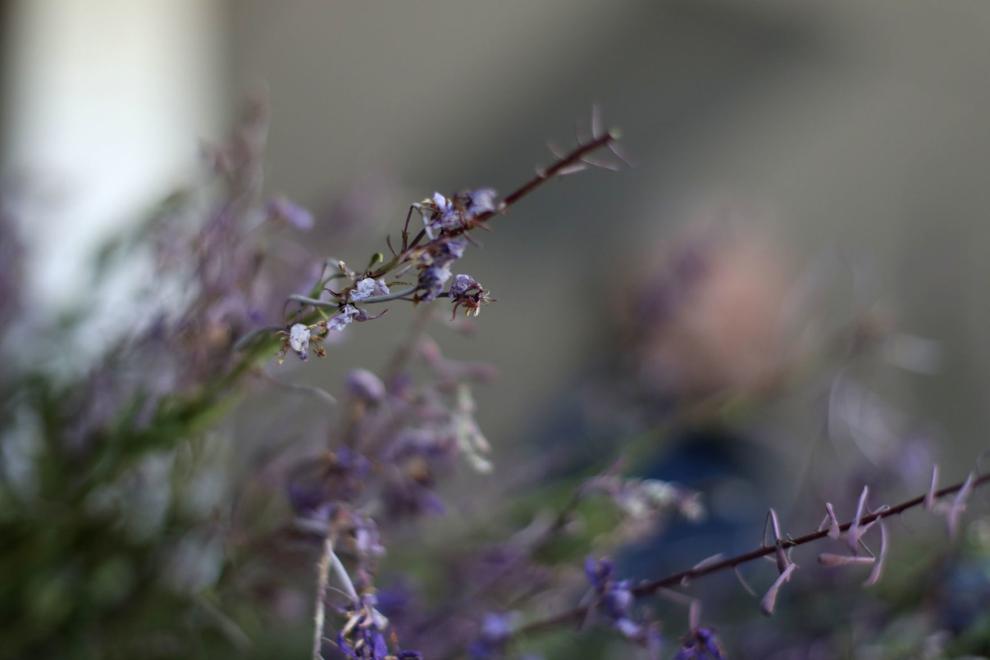 "I pretty much learned what I came here to learn," she said, adding that she'd like to continue to come back to learn more — and would like to see the group continue to hold classes or see more programs educate children about their traditional foods.
"It'd be neat to have these classes going on during the weekends so they can bring their grandparents," she continued.
After getting through the pine cones, those who showed up snacked on pine nuts, dipped vegetables in pine nut hummus or tried biscuits made with pine cone and bitterroot flour.
Group member and Eastern Shoshone tribal member Caroline Mills has been participating in the group's efforts since essentially its beginning. While she said she went up to the mountains with family members who were collecting foods like pine nuts when she was a young child, she didn't remember much of the process.
"I wasn't involved in the work. I was jumping on rocks," Mills said. "But I know going up there as a family, my mom, and all her sisters and all the kids, they'd gather pine nuts. But I wasn't paying attention because I guess I was too young. I was one of the rugrats."
While the work can be hard, it's rewarding to be contributing to be a part of a project that is drawing more attention while ensuring knowledge about traditional food lives on, Mills said. Her work with the group has inspired her to try to grow as many foods as she can in a garden, she added.
In the future, Mills said she'd also like to see Shoshone foods at feasts throughout the year.
"I wanted to learn because I enjoy doing hard work and I think it's important to learn what our people used to eat to pass on to the younger generation because (of) all the health benefits," she said. "But it's free. Go gather it when it's here and quit eating Doritos and Cheetos and all that stuff with preservatives."