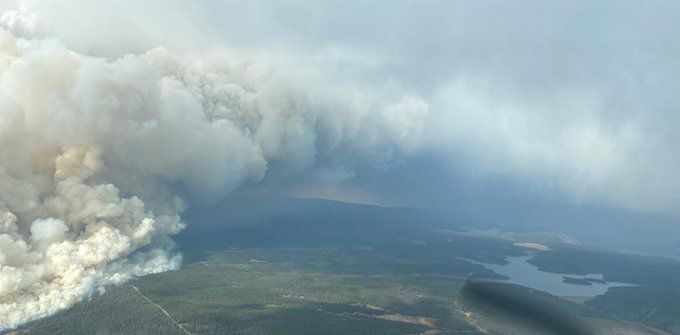 A fire burning in the Medicine Bow National Forest west of Laramie nearly doubled in size on Sunday to almost 14,000 acres and prompted multiple evacuations.
The Rambler, Rob Roy and Keystone areas have all been evacuated due to the Mullen Fire, Gov. Mark Gordon tweeted Sunday morning.
On Saturday afternoon, the fire had moved to within a mile of 25 summer cabins near Rob Roy Reservoir, Gordon wrote in a separate tweet.
The Mullen Fire has grown quickly since it ignited Thursday. On Friday, it increased to 644 acres. By Saturday, that number had risen to 7,500.
"This is a major fire, folks," the Medicine Bow National Forest posted in a tweet on Saturday afternoon.
Strong and shifting winds prompted crews on Saturday to pull back firefighting resources for safety reasons, authorities said. Those conditions also prompted officials to pull aerial resources from the fire.
In response to "extreme fire behavior," authorities issued a closure order that covered much of the southern Snowy Range in Albany and Carbon counties, according to a press release from the U.S. Forest Service.
The Mullen Fire on the Medicine Bow NF is now estimated at more than 10,000 acres. The Rambler, Rob Roy and Keystone areas have been evacuated.
Following extreme fire behavior, much of the southern Snowy Range in Albany and Carbon Counties are currently under a closure order. pic.twitter.com/5K1mXX6ccT

— Governor Mark Gordon (@GovernorGordon) September 20, 2020
Authorities on Sunday told residents in the Centennial Valley to prepare for possible evacuations. Those areas, according to a federal firefighting database, included: private land along Fox Creek Road, the communities of Albany, Centennial, extending northwest to the Snowy Range along U.S. Highway 130, and all areas west of Highway 11 in the valley.
Authorities have directed campers and hunters to stay out of the area.
In a statement, the Forest Service said it was actively investigating the fire's cause. Officials had identified the area where the blaze originated and found preliminary information indicating the fire might have been caused by humans.
Anyone with information is asked to contact the Medicine Bow National Forest—Laramie Ranger District anonymous tip line at 307-745-2392. People with information should select option 5 and "provide information about the date, time, location and any identifying facts about the activity."
Be the first to know
Get local news delivered to your inbox!