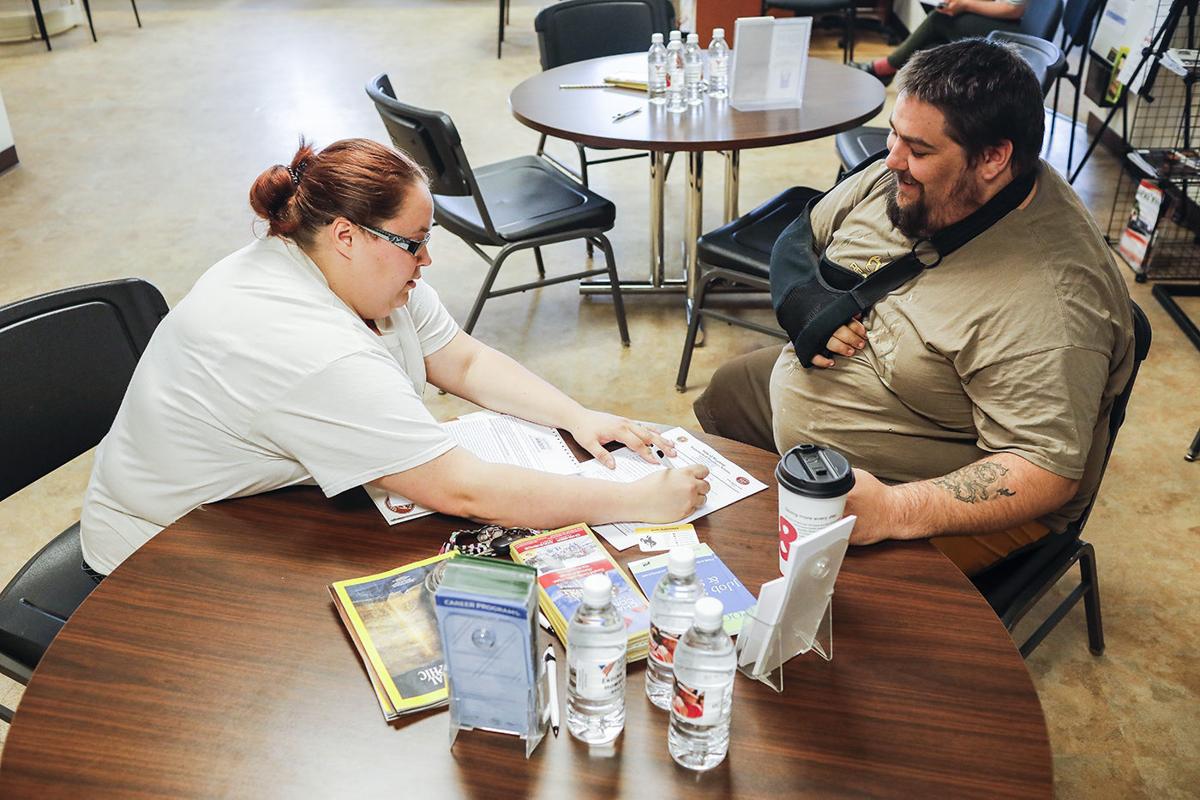 The precautions taken to stem the spread of the coronavirus have already left some Wyoming communities in a financial pinch. Several businesses, workers and families are wondering what comes next. The state has several resources to address these needs.
Here's a guide to where you can find relief — from unemployment benefits and rent assistance to health insurance or small business loans.
If you lost your job
You have options. The Wyoming Department of Workforce Services continues to offer its services at 20 locations across the state. If you need immediate assistance, you can file a claim online with the unemployment insurance program or call 307-473-3789.
"I encourage individuals who find themselves out of a job through no fault of their own to explore their options with our capable DWS staff," Director of the Department of Workforce Services Robin Sessions Cooley said. "DWS Workforce Centers are ready and willing to assist individuals who need help now."
Because of high call volumes and the need for social distancing, Workforce Services encourages individuals to file applications for benefits online at wyui.wyo.gov or call 307-473-3789.
Listen to Director Robin Sessions Cooley's message to Wyoming workers here.
If you need work
Visit WyomingatWork.com. This is a Wyoming-specific employment search engine. Department of Workforce Service specialists are available to help you navigate this, too. You can call them at 307-473-3789, but you may have to wait. Workforce Centers have been receiving a high volume of calls.
While many places of business are shutting down because of the coronavirus, grocery stores are seeing a need for new workers as shoppers stock up for self-isolation. Albertsons and Smith's have both announced they're hiring. You can apply at albertsonscompanies.com or smithsfoodanddrug.com, or visit the physical stores. Albertsons in the Hilltop Shopping Center is located at 2625 E. Second St., and Albertsons in west Casper is at 1076 CY Ave. Smith's is also on the west side of town at 2405 CY Ave.
If you need help paying rent or bills
While many communities are working to ease the burden on renters, there are several housing organizations around the state that can offer guidance in securing rent assistance. You can find some resources throughout the state at rentassistance.org/wyoming-programs.html. A list of housing counseling agencies approved by the United States Department of Housing and Urban Development is also available on the HUD website to help guide you through in the instance your bank or lender is not offering mortgage forgiveness or if you lose your home.
In Casper, local resources include:
Community Action Partnership of Natrona County, 800 Werner Court, Ste. 201, 307-232-0124. CAP will be open Friday from 9 a.m. until 1 p.m. for individuals to fill out or drop off applications. Staff will be available by phone to work with individuals on a case-by-case basis. Follow their Facebook page for the latest updates.
Casper Housing Authority, 145 N. Durbin St., 307-266-1388, chaoffice.org.
Wyoming House Network, 2345 E. Second St., 307-472-5843, whninc.org.
A number of resources across the state also provide emergency funds and other services to help offset costs for people without income. The Yellowstone Community Action Network, in the northwestern corner of the state, offers a number of leads for residents of Big Horn, Hot Springs, Park and Washakie counties needing help paying their utility bills, rent or for burials.
Other organizations around the state include:
Legal Aid of Wyoming is still open and providing services for low income people, including people who have been financially displaced during the pandemic. You can apply for these services by calling 877-432-9955 Monday through Friday, 9 a.m. to 4 p.m. or visit their website at www.lawyoming.org. Legal Aid of Wyoming has offices statewide in Cheyenne, Casper, Gillette, Cody, and Lander. The Lander office also serves southwest Wyoming residents.
Black Hills also asks that any customers with coronavirus-like symptoms wait 48 hours until they've passed to make non-emergency calls. Crews will respond to all emergency calls wearing protective equipment. Black Hills is making other adjustments for its employees' safety, including having many work from home and providing paid leave for those who test positive or are put under quarantine.
The company suggests people go to blackhillsenergy.com to see what their options are if they're struggling to pay their bills.
Some internet providers, like Comcast and AT&T, offer "essentials" packages at a significantly lower cost than traditional service providers.
Verizon Wireless is waiving late fees from March 16 to May 16 for customers experiencing hardships due to the coronavirus. It will not terminate customers who have been impacted by the virus during that time. (You should call their customer service team or visit verizonwireless.com/support if this applies to you.)
The company is also offering free international calling to countries identified by the Centers for Disease Control and Prevention as level 3 impacted by the coronavirus, through the end of April. Verizon is also waiving activation fees on new lines and upgrade fees.
Additionally, some municipalities, such as Evansville, are temporarily waiving late fees and water shut-offs for unpaid bills.
The Foundation for the Episcopal Diocese of Wyoming announced Saturday it has committed $1 million in relief to those negatively impacted by the COVID-19 pandemic in Wyoming. While the specifics of where the relief will go had not yet been decided, local Episcopal churches may have a role in its distribution.
ANB Bank is offering options that may help customers affected by the pandemic: Customers can contact their loan officer directly or call the customer care center at 1-866-433-0282.
"Ensuring that borrowers with floating rate, prime-based loans receive the full impact of the Federal Reserve Bank's two emergency rate reductions, which total 1.5 percent, by reducing ANB Bank's prime borrowing rate and temporarily removing interest rate floors through Dec. 31, 2020.
"Offering a three-month deferral of payments for all consumer and commercial term loans that require a monthly principal and interest payment. This includes installment loans, mortgages, home equity loans, commercial real estate loans, equipment loans, and any other loan that requires a monthly principal and interest payment. All customers are eligible; there is no fee or penalty; and there are no requirements to prove need or impact from the coronavirus.
"Working directly with our customers if they are experiencing financial difficulties and need assistance beyond the two actions noted above."
If you need health insurance
You can apply for health insurance on the federal marketplace at enrollwyo.org.
The federal Medicaid website offers guidance for anyone who may have lost their health insurance coverage, particularly for children. Log on to insurekidsnow.gov and see what suits you. Your local 211 is also available to help connect you with resources in your community.
If you own a small business
Own a small business? The Wyoming Small Business Development Center has a number of experts available to help guide you through the process of securing assistance, as well as a wealth of resources to help you find grants to bolster your finances during the COVID-19 crisis.
The Small Business Administration also offers a number of loans of up to $2 million at 3.75 percent interest rates over 30 years. (Nonprofits are eligible for the same deal at a 2.75 percent interest rate.) The breadth of the lending program could potentially be expanded with a new round of funding from Congress. You can learn about the various grant options at sba.gov, email the organization at disastercustomerservice@sba.gov or call 1-800-659-2955. One note: These do not operate in a similar fashion to traditional small business loans — they are forgivable, processed through private lenders and can be used to cover your employees salaries, rent or mortgage payments without incurring any debt.
Staying open during this time, but having trouble finding customers? Private businesses like Facebook are planning to offer up to tens of millions of dollars in business support and advertising credits to help companies extend their reach during social isolation periods. You can sign up for updates on that effort at facebook.com/business/boost/grants.
If you run a nonprofit
The Wyoming Nonprofit Network offers a number of resources to help identify funding resources and offer guidance during the crisis. There are also some organizations that can assist you in providing for clients in instances where there may be funding gaps. One such organization is the Wyoming Rapid Response Fund, which operates out of Sheridan but serves nonprofits in counties across the state. (Note: You need a referral from a case manager to access these funds.)
If you are hungry
The Natrona County School District has established a program to feed students while its schools are closed. Any person 18 and under can get a free lunch from 11:30 a.m. to 1 p.m. Monday through Friday, at any of the following locations: Verda James Elementary, Paradise Valley Elementary, Midwest School, Lincoln Elementary and the Casper Recreation Center.
For Natrona County residents whose jobs or finances have been affected by recent closures, the Poverty Resistance Food Pantry, Natrona County Community Action Partnership and Joshua's Storehouse are available to provide aid:
Poverty Resistance Food Pantry: 307-215-4732, 450 S. Wolcott St.
Natrona County Community Action Partnership: 307-232-0124, 800 Werner Court No. 352.
Joshua's Storehouse: 307-265-0242, 334 S. Wolcott St.
The Wyoming Hunger Initiative — the food security initiative helmed by first lady Jennie Gordon — also features a
for free meals for children on its website.
If you are sick
Natrona County residents who fear they have COVID-19 or another respiratory illness are encouraged to call Wyoming Medical Center's new clinic, which was established specifically for the issue. The clinic will only test those patients who do not have the flu and who physicians believe may have COVID-19. The clinic, which accepts walk-ins but asks you to call ahead, can be reached at 307-233-0291. It's located at 245 S. Fenway St. in Casper.
Patients who believe they're sick are asked not to go to the emergency room to avoid overwhelming the facility. They are asked to either call Wyoming Medical Center's clinic or their normal health care providers. Only patients who are having trouble breathing should go to the ER.
The Casper-Natrona County Health Department has established a local hotline that potential patients can call for information about COVID-19: 307-577-9892.
The state also has a hotline for those outside of Natrona County. That can be reached by dialing 211.
If you need a ride
Casper Cabs is providing free rides to seniors to shop for groceries  from 6 a.m. to 10 a.m. Call 307-577-7777 to pre-schedule a ride. The offer is restricted to grocery store trips.
More resources