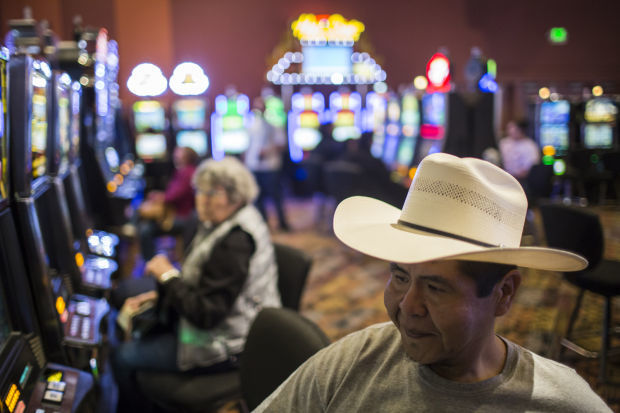 New leadership for the Northern Arapaho Tribe's gambling enterprise say their goal is to get as much money back to the tribe as possible, a change in philosophy from the previous regime's emphasis on job creation.
"The casino will be moving from a job provider to a revenue producer," new CEO Brian Van Enkenvoort said at the meeting. "The primary goal of the casino going forward will be to provide more revenue for the tribe."
It's unclear how the change in approach would affect jobs at the tribe's casino enterprise, Fremont County's largest employer. The three casinos — the Wind River Hotel & Casino, 789 Smokeshop and Casino and the Little Wind Casino — employ more than 500, about 80 percent of whom are Northern Arapaho Tribe members, according to an April report prepared by consulting firm Spectrum Gaming Group.
Van Enkenvoort said staffing levels would be determined by tribal leadership in the future.
Any job cuts, he said, would mean additional revenue for the tribe, which could be used to hire tribal members for non-casino jobs with the tribe.
Van Enkenvoort said he'll be examining, based solely on performance, Conrad's management team, though the business council had said in a public statement announcing Conrad would not return as CEO that no casino managers or employees would "be removed as a result of Mr. Conrad's departure."
Already, two former managers have sued the tribe's new law firm, accusing it of orchestrating their firings after Conrad's contract expired in retaliation for reporting misconduct committed by Spoonhunter and warning the business council about taking casino money and not counting it as part of its annual "drawdown."
Kilpatrick Townsend & Stockton have denied the allegations.
At the meeting, Spoonhunter said the reason for the change in operating style is to help pay for tribal social programs and services.
"We are going to move into making revenue, and revenue for all of you," he said. "It's time for us, as a tribe ... to take back what is ours."
The leadership team also announced several other changes to operations at the meeting. They include decreasing the number of managers who report directly to the leadership, increasing security, and improving internal controls and checks and balances in areas like purchasing procedures and credit card policies.
Van Enkenvoort and deputy CEO David "Ron" McElroy said more changes are likely to follow as the tribe and casino leadership continue to scrutinize past management and spending and get a better grasp of the internal workings of the enterprise. McElroy is a former casino employee and tribal citizen.
Other ideas discussed included turning the Buffalo Restaurant, which has been losing money, into an entertainment center for events like live music and making its Blue Sky Hall meeting room a bingo hall.
Many of the changes address issues brought up in Spectrum Gaming's April report on casino operations that were echoed in a separate May report prepared by Kilpatrick Townsend & Stockton. The Star-Tribune has obtained copies of both reports.
Spoonhunter said the tribe will be transparent and prepare reports about how much the casino transfers to the tribe and how the tribe spends that money.
Both reports noted how the casinos have an ability to meet financial obligations and low debt-to-equity, which would allow it to withstand economic downturns.
The Kilpatrick Townsend & Stockton report also found that the Northern Arapahos' gambling enterprise's expenses compared to revenue were lower than regional and national casinos.
The law firm was brought in to evaluate casino operations and soon replaced the tribe's former law firm, Baldwin, Crocker & Rudd.
However, casino revenues have decreased 4.25 percent while they have increased about 2.7 percent across all casinos nationwide, according to the Kilpatrick Townsend & Stockton report.
The Spectrum Gaming report showed that gaming revenues have fluctuated between about $36.8 million and $34.4 million between 2016 and 2018, averaging approximately $35.9 million. That's down from a high in 2014 of about $46.8 million, which the Spectrum report attributed to a downturn in the local oil and gas industry.
But the enterprise's profit margins — about 7.8 percent — are much lower than regional and comparable national casinos, which average between 30 percent and 36.5 percent net profit margins, according to the law firm's report.
The tribe's "drawdown" from the casino has been $2.5 million a year for the more than 10,000-member tribe, Stephen Fast Horse, a member of the Business Council, said at the meeting.
It's unclear how much those payments could increase. Van Enkenvoort said the number will depend on how restructuring and operational changes go and how quickly the transition takes. But he said he thinks the tribe could see an additional $3 million a year.
"We're moving forward … and we're going to be making a lot of changes," said McElroy, the deputy CEO. "Hopefully in the future we'll have great things."
Follow reporter Chris Aadland on Twitter @cjaadland
Be the first to know
Get local news delivered to your inbox!