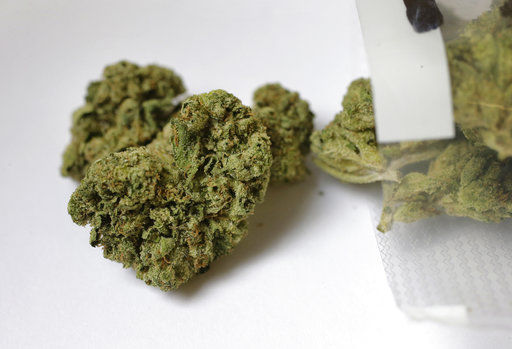 Nearly half of adults in Wyoming now support legalizing marijuana for recreational use – up from 37 percent just four years ago, according to a new survey.
The survey, conducted by the Wyoming Survey & Analysis Center at the University of Wyoming, found 49 percent of Wyoming residents support allowing adults to legally possess marijuana for personal use. The poll is the third of a series of biannual studies conducted by researchers since 2014 – two years after Amendment 64 passed in neighboring Colorado legalizing recreational marijuana there.
According to University of Wyoming researchers, support for legalization has risen steadily in that time, with a 12 percentage point boost in favor of legalization for recreational use. Support is particularly strong among people ages 18-24 (63 percent in favor), ages 25-29 (58 percent in favor) and ages 35-44 (53 percent). Also in favor of legalizing recreational marijuana were people between 55-64, who supported legalization at a rate of 61.2 percent.
Majority opposition to legalization was seen from those between 45-54 (64 percent opposed), 65-74 (67 percent) and those ages 75 and older (81 percent).
"Despite the increasing dangers of marijuana use, like addiction or drugged driving, young people in particular seem to view marijuana as a safe and natural alternative to alcohol or other illicit drugs," Rodney Wambeam, a senior research scientist at WYSAC, said in a statement.
Still, the issue has failed to gain much political traction in Wyoming, even after the release of a 2015 report commissioned by Gov. Matt Mead on the potential impacts of legalization and recent bills that sought sentencing reforms for marijuana crimes.
The report
Conducted by both cell phone and landline, the survey polled 607 random Wyoming residents from every county in the state over nine days earlier this month. That approach helped keep the results as close to the actual demographics of the state – including county of residence, age and gender — as possible, senior researcher Brian Harnisch said in an email.
"The final data required very little weighting," wrote Harnisch. "After weighting, the dataset nearly perfectly matched the actual distribution of voter affiliation in Wyoming as well – which gives us a very high level of confidence in the accuracy of these results for all other survey items."
While the report is headlined by record-high support for recreational marijuana, the 2018 update also shows overwhelming amounts of support for the legalization of marijuana for medicinal purposes and a steady level of support for easing penalties for those arrested for possession of marijuana.
According to the 2018 report, support for medicinal marijuana rose by 5 percent over the last two years, with support polling higher than 70 percent across all ages surveyed. Meanwhile, 69 percent of Wyoming residents – a slight decrease from the 72 percent reported in 2016 – said they believed that people convicted of possessing small amounts of marijuana should not serve jail time.
Support compared to other states
Though Wyoming's four candidates for governor have so far expressed opposition to legalizing marijuana for recreational use (and one – Republican Mark Gordon – expressing apprehension for medical marijuana, saying there were other pharmaceutical options available in lieu of prescription pot), the prospect of legalizing marijuana has gained traction in neighboring North Dakota, whose voters will be considering a ballot initiative for recreational marijuana in this November's election.
With four polls conducted of North Dakota voters so far this election cycle, only one – released earlier this week – showed a majority of voters in favor of legalization, at 51 percent.
Meanwhile, a ballot initiative for medicinal marijuana in Utah has seen wide variability in polling as well, with support ranging anywhere from 51 percent to 78 percent.
However, with similar, science-based methodologies used from year-to-year, Harnisch remains confident in the integrity of WYSAC's findings.
"I can't speak to those other states results that showed wide variability across different surveys — different surveys have different methodologies, sample populations, and varying levels of scientific rigor," he wrote. "I can say with confidence that our surveys, and this survey in particular, follow a strict set of protocols and scientific methodology in order to ensure reliability. The results for these survey items have shown a consistent trend since 2014."
Reactions
While support for legalization appears to be growing, some around the state are urging caution and a full consideration of what the legalization of marijuana for recreational use might entail.
Byron Oedekoven, executive director of the Wyoming Association of Sheriffs and Chiefs of Police and the spokesman for its anti-marijuana campaign "There Is No Debate," said that while the report does show a warming toward legalization that hasn't been seen before, it may overlook Wyomingites' attitude toward the consequences of allowing recreational consumption writ large.
Pointing to Colorado as an example, Oedekoven highlighted the state's trend of rising drugged driving deaths – 151 percent since legalization — as one negative implication to come from the passage of Amendment 64 and noted that since legalization, issues around the potency of commercially packaged "edible" products have been difficult to bring under control. According to figures provided by Oedekoven, today's high-potency marijuana can contain THC levels of up to 99 percent THC in edibles, compared to the 3-7 percent THC found in "Woodstock weed."
"The study is the study," Oedekoven said. "But my point is marijuana has changed over years. So to compare that now to what it was is totally different. The simple question of whether people support recreation is a different story than what Colorado is experiencing, especially when smokeables are used at a lower rate than THC-infused products."
He also noted while Colorado has one of the highest rates of usage for young people, Wyoming currently has the lowest.
"And we want to keep it that way," Oedekoven said.
Wyoming NORML, a legalization advocacy group, did not return emailed requests for comment, and several calls to numbers listed on their website were not answered.
Follow politics reporter Nick Reynolds on Twitter @IAmNickReynolds