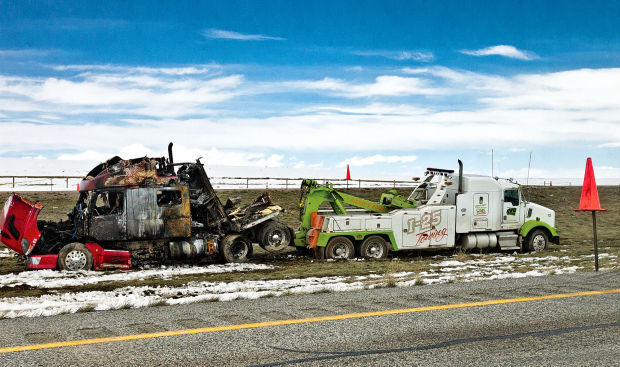 Commercial vehicles in Wyoming will soon be using an innovative technology intended to help prevent crashes on the Interstate 80 corridor.
The Wyoming Department of Transportation announced this week that it had received a grant to continue its deployment of connected vehicle technology. The technology uses short-range communication, and according to the agency, it will allow truck drivers and WYDOT fleets to "talk" with one another on the road and communicate with roadside infrastructure.
"I-80 is a very difficult corridor," said Vince Garcia, GIS/ITS program manager for WYDOT. "It has its own set of challenges, and we're trying to find ways to make it safer for the traveling fellow."
The new technology should in theory cut down on the crashes, as commercial drivers will have more awareness of hazards and situations.
"That's one of the things that we're excited about, being able to use this technology to really improve safety along the I-80 corridor," said Ali Ragan, project manager for WYDOT.
The three-phase project costs $5.7 million. The federal government contributed $4.4 million as part of the grant. According to WYDOT, Wyoming is one of only three locations around the country to participate in the Connected Vehicle Pilot Deployment Program.
Phase one, which focused on planning, is done. Phase two, which will include designing, building and testing the equipment, is estimated to take 20 months.
"We expect to have our snowplows and highway patrol vehicles (equipped with the technology) for the winter of 2017-2018," Ragan said. "And then for the winter of 2018-2019, that's when we expect to have commercial vehicles that we're partnering with outfitted."
Ragan does not believe that any Wyoming driver is now using this technology, but she believes it represents the future. Cadillac is releasing select 2017 models equipped with connected vehicle technology.
For WYDOT, it's important for commercial vehicles to be the first on Wyoming highways to use this new safety measure.
"Because they're in a different circumstance. It's their job. (Commercial drivers) don't have the option of looking outside and saying, 'It's snowing today, so I'm not going to travel,'" Ragan said.