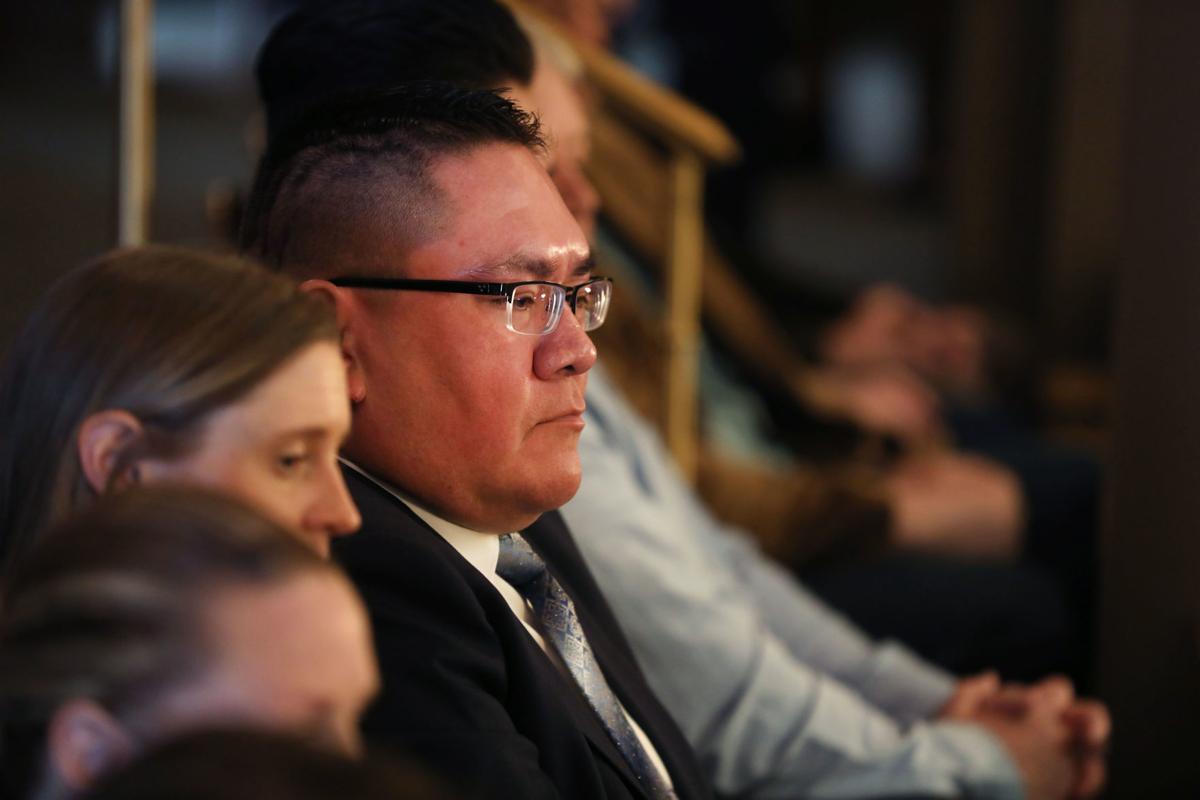 RIVERTON — Northern Arapaho tribal leaders have declared a state of emergency over methamphetamine use, calling for all tribal departments and citizens to work together to combat a worsening crisis they say threatens to permanently scar the tribe and its younger generations.
In declaring the state of emergency, the tribe's Business Council directed tribal programs and agencies to prioritize addressing meth use and distribution. Tribal leaders gathered hundreds of community members at the Wind River Hotel & Casino on Thursday morning to discuss the resolution and next steps.
The tribe's Business Council unanimously approved the resolution on Wednesday. In the resolution, it said it would locate and use "all available resources" to fight the problem while also saying it would create a task force to study the crisis. 
"The distribution and use of methamphetamines, specifically, on the Reservation is having a devastating impact on the Arapaho people," the resolution read. "(T)he Tribe has directed significant resources towards combating this issue but its harms have continued to persist … the situation regarding methamphetamine usage on the Reservation and its resultant harms on the Arapaho people has reached a crisis level and threatens to permanently damage the well-being of the tribe."
While not a new problem, and one the Eastern Shoshone Tribe also struggles with, Northern Arapaho leaders say better coordinated and aggressive steps are needed to stop a problem that not only is affecting those struggling with addiction and their families but also overwhelming tribal department budgets and employees. It's also not the first time the tribe has made declarations about the negative effects of drug and alcohol use, according to the resolution.
Programs like the reservation's tribal court are seeing high numbers of defendants struggling with meth addiction, and an increasing number of children are entering the tribe's family services and being raised by grandchildren or foster parents. The problem has even worsened a housing crisis on the reservation, as meth increasingly contaminates tribal housing units.
"It's a monumental task for them," Business Council member Stephen Fast Horse said. "It would be very helpful if we were all together, to line up and help with those initiatives."
With 85 percent of the tribe's 10,500 or so members 30 years old or younger, addressing the problem is especially important to tackle now to reverse many of the problems tribal citizens are dealing with, Fast Horse said.
"We can no longer sit by and watch our family structures just be destroyed," he added.
Discussions about taking more aggressive action to reduce the number of tribal citizens using meth and the trickle-down effects that use has on them and others started late last year. The Business Council met with most Northern Arapaho tribal department officials then to begin talking about how to tackle the problem.
The Northern Arapaho's move also follows a similar meth usage state of emergency declaration by the Oglala Sioux Tribe in South Dakota earlier this year. That tribe's move partly inspired the Northern Arapaho to do something similar, Business Council member Clarinda Calling Thunder said at Thursday's meeting.
"Today, I think we've went in a good way; we took a good step," she said. "As a tribe, I think we can do it. We can bring back our people. This drug has eradicated our culture, our beliefs, our values."
The state of emergency declaration also calls for the tribe to establish a task force that will recommend ways to combat the rising distribution and usage of the drug. The task force, according to the tribe, will be asked to look at: factors causing the crisis on the reservation, resources needed to address the problem, recommendations on how to fight the crisis, and measurable goals and time frames for the tribe to work toward and gauge its progress in addressing the usage of methamphetamine on the reservation.
Business Council Chairman Lee Spoonhunter said the tribe will also hold public listening and input meetings to help determine plans to fight the crisis.
Despite efforts by the few departments and programs — like the tribal court and its wellness court initiative, an outpatient treatment program, Wind River Cares health clinics and social services — whose missions partly involve the effects of drug and alcohol use, the problem has worsened, leaders said Thursday.
Before Thursday's meeting, Northern Arapaho leaders met with elders and tribal agency employees to further discuss the problem and potential solutions, like practicing traditional cultural values and practices, banishing those involved in the methamphetamine trade from the tribe and reservation and drug testing members to be eligible to attend ceremonies. Other solutions like changes to the tribe's law and order code, asking tribal citizens to report drug use or distribution, and holding enablers or users accountable — even if that means violating cultural norms — have also been discussed, officials said Thursday.
At Thursday's meeting to announce the declaration, hundreds of attendees listened to tribal leaders and officials discuss the problem and what could be done. In attendance were officials from tribal agencies, Wind River Agency Superintendent Leslie Shakespeare, Wind River Police Department Chief Tony Larvie, state law enforcement and social services officials, and a representative from the U.S. Attorney's office, Spoonhunter said.
When the tribal citizens who have been personally affected by meth use were asked to stand up at Thursday's meeting, nearly all of the 300 or so in attendance did.
"They can come back from this drug, and that's what we hope and that's what our prayer is," Business Council member Kim Harjo said. "Our prayer is that everyone is going to pitch in and everyone is going to help each other and be a community."
Be the first to know
Get local news delivered to your inbox!