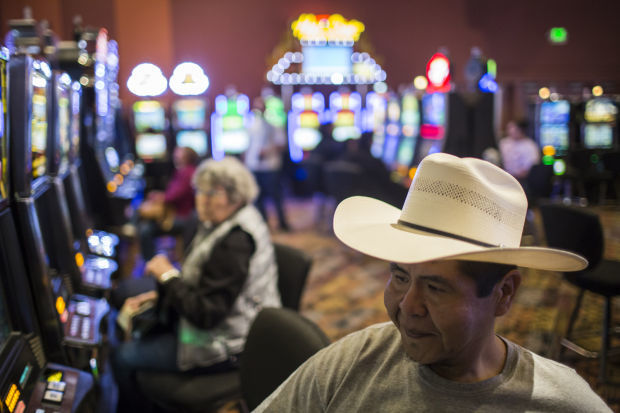 Northern Arapaho tribal officials on Tuesday named two new leaders of its gambling operations, including a citizen of the tribe and someone with years of gaming industry experience.
Gaming industry veteran Brian Van Enkenvoort will serve as the CEO of the Wind River Hotel and Casino and related enterprises, with Northern Arapaho Tribe member and former casino employee David "Ron" McElroy working as deputy CEO, tribal officials said in an afternoon news release.
"Both individuals have extensive connections and strong roots in Wyoming, and both bring a wealth of tribal and local knowledge and experience that will move the Casino in a positive direction," Northern Arapaho Business Council Chairman Lee Spoonhunter said.
That report, prepared by Spectrum Gaming Group, also recommended several changes, like implementing better purchasing and bidding procedures.
The leadership announcement also comes after a turbulent end to the tenure of the casino's first and longtime CEO, Jim Conrad.
The consulting report also found no evidence that management had willfully violated any gaming rules or regulations.
"Just like any organization or business, we are always looking to evolve and improve. Part of that process often includes bringing in new leadership that can give us a fresh perspective and a new start," business council member Stephen Fast Horse said. "Brian and Ron have a track record of leadership that's focused not only on growing business, but on serving the needs of the community."
Conrad had also recently named Andi Clifford, the Democratic state representative of House District 33, as the casino's assistant CEO, but she told a Star-Tribune reporter Tuesday morning that she had decided not to take the job. Clifford had previously worked at the casino as recently as January 2018 as the highest ranking manager who was a Northern Arapaho citizen.
In addition to the Wind River Hotel and Casino — Fremont County's largest employer — outside of Riverton, the tribe operates the 789 Smokeshop and Casino in Riverton and the Little Wind Casino in Ethete.
The casinos brought in more than $36.8 million in revenue last year, according to the Spectrum Gaming Group report.
New leadership
Van Enkenvoort last served as the general manager of Mohican North Star Casino and Bingo in Bowler, Wisconsin, the tribe said.
While in Wisconsin, Van Enkenvoort honored the vision of tribal members and helped upgrade the resort, increase revenues and expand the customer base, Northern Arapaho officials said. He also has had leadership roles in other tribal entities and government programs.
"I'm honored and excited to be a part of this team," Van Enkenvoort said in the announcement. "My goal is to bring about an organization that is built both from the bottom up and the top down, and to establish a strong foundation that will ensure the long-term strength and success of the Casino for decades to come."
McElroy most recently worked as the Chief Financial Officer of the Wind River Cares clinic and was the casino's CFO from 2004-2012. As a citizen of the tribe, he said he brings a "unique and important perspective" to the job.
"I'm grateful for the opportunity to serve. I see a new chapter of success for the Wind River Hotel & Casino, and a new chapter of success for the Northern Arapaho Tribe and our people," McElroy said. "I'm excited to be a part of it."
Star-Tribune reporter Nick Reynolds contributed to this report.
Follow reporter Chris Aadland on Twitter @cjaadland
Be the first to know
Get local news delivered to your inbox!