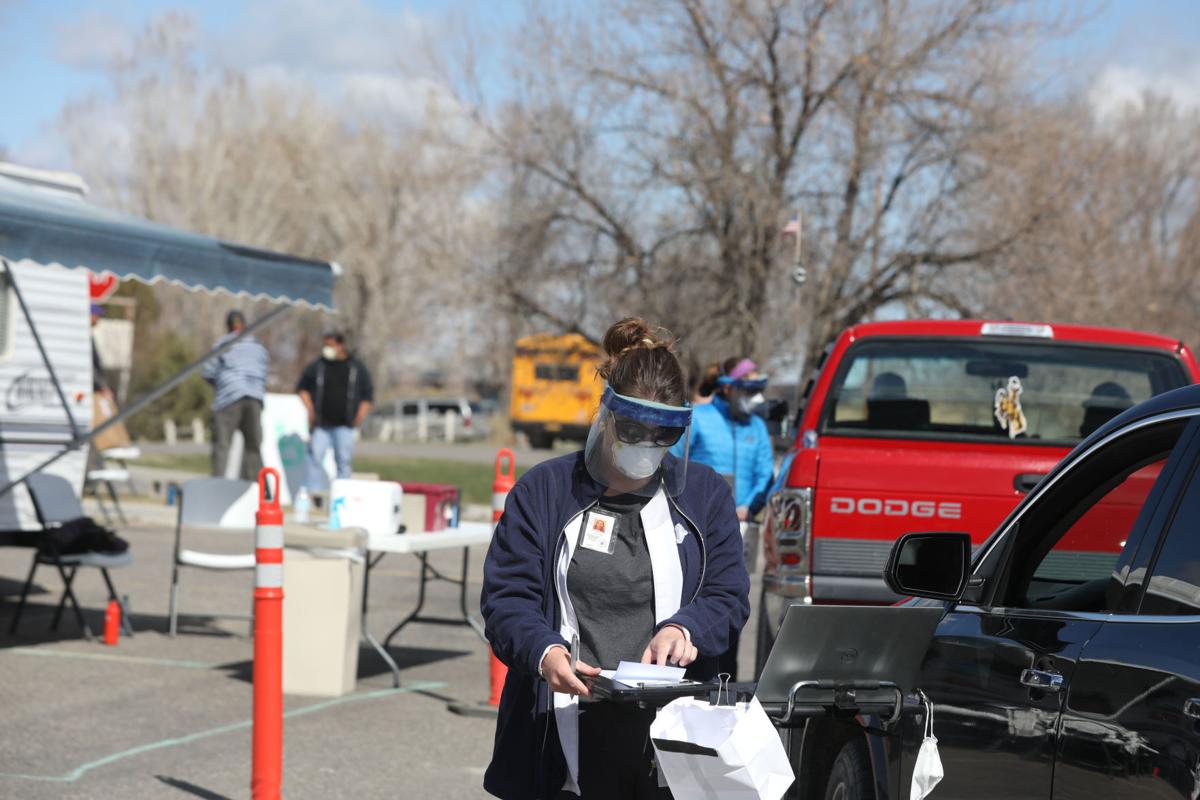 The Northern Arapaho Tribe has vaccinated 45-50% of tribal members, according to Dr. Paul Ebbert, Chief Medical Officer of Wind River Family & Community Health. Compared to the rest of Wyoming, which has fully inoculated just 37% of the eligible population.
And while Dr. Ebbert's goal is short of vaccinating 70% of tribal members, he hopes incentives and awareness will push the unvaccinated to begin the process.
"We actually had the most people vaccinated in a month in July than we've had since, like February or January," he said.
Northern Arapaho tribal members can receive up to $100 for getting both scheduled doses of the vaccine, Dr. Ebbert pointed out.
The rise of the delta variant has played a considerable role with the increase of vaccinations. But the almost daily reminders from the tribe's social media page and attending ceremonies have also played a part.
Tribal leaders like Northern Arapaho Business Chairman Jordan Dresser and medical professionals have created campaigns explaining what vaccination does and its benefits.
"Like the rest of the country, a lot of (tribal members) have questions about the vaccine and what they put in their body," Dresser said. "We just inform tribal members how it's going to benefit you in the long, as an extra layer of protection for you, and especially all those who are elderly and with underlying health conditions."
In contrast with many Americans and the belief in the west that individualism has propelled greatness, Dresser points out Indigenous peoples have always relied on the community to survive.
"The pandemic has shown me the strength that native communities have always had," Dresser said. "We come together, and we try to take care of each other. That's what this vaccination campaign is all about."
Across the country, Native Americans have higher vaccination rates than the rest of the country, at 45.5%. Followed closely by Asians at 36.6%, according to the Centers for Disease Control and Prevention's COVID-19 tracker.
Dresser knows keeping the delta variant out of the reservation will be tough. Wyoming has one of the country's worst vaccination rates, and masks have been a contentious subject throughout the state. So, getting as many tribal members vaccinated is of utmost importance.
And with the start of school quickly approaching, Dr. Ebbert said masks will be mandatory in schools, along with COVID-19 testing. In contrast to Gov. Mark Gordon recent decision stating there would be no mask mandate for public schools despite the spike in COVID-19 cases.
The biggest demographic of unvaccinated tribal members on the Wind River Reservation remain 12 to 17 and 18 to 44-year-olds. Misinformation and a false sense of security have plagued this group, not only on the reservation but also across the country. Dr. Ebbert, however, stresses that many folks haven't made the time to get vaccinated, which has forced the tribe to get into the community to inoculate this group of people.
Last year, COVID-19 devastated many tribal members on the Wind River Reservation. Housing shortages have contributed to multi-generational households, leading to overcrowded homes. The combination of pre-existing conditions, such as diabetes, asthma and heart disease, left many tribal members vulnerable.
Wyoming's Indigenous population is under 3%, but more than 7% of people who died from COVID-19 in Wyoming identified as Native American.
That forced the Eastern Shoshone and the Northern Arapaho to mobilize quickly. By enacting strict mask guidelines, turning casinos into isolation centers, and creating temporary housing for the transient population. The tribes got down to about five cases per week by September 2020.
And the efforts were rewarded. Earlier this year, the reservation was well ahead of the state with COVID-19 testing, contact tracing, and vaccinations rates.
Over the weekend, the Northern Arapaho commemorated loved ones lost to COVID-19 by hosting a memorial run/walk. Originally planned as an in-person event, the memorial run/walk went virtual due to a rise in COVID-19 cases.
"This run is not only remembering who we lost," Dresser said. "It's also a way to educate and offer hope to people. Get vaccinated, social distance and let's beat this together."
Eastern Shoshone tribal leaders did not reach out in time for this article.