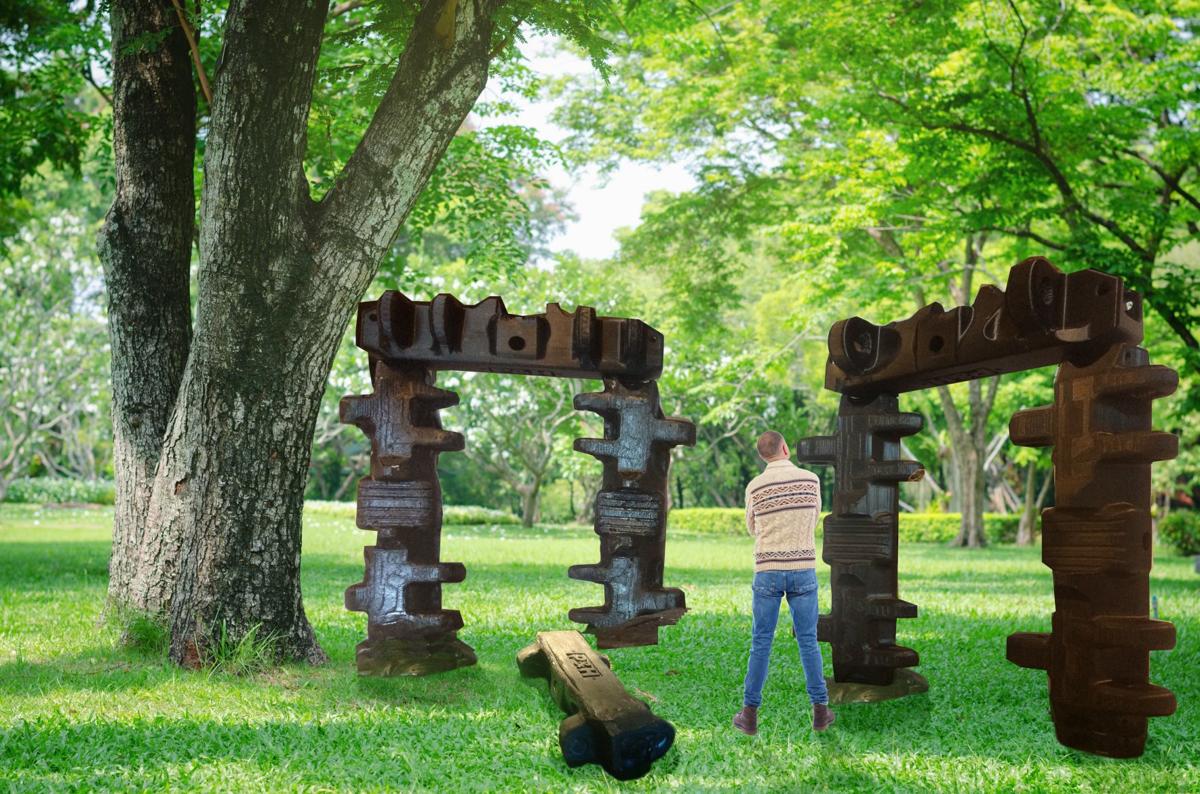 GILLETTE — A sculpture donated to the Campbell County Cemetery District to pay tribute to the coal mining industry has ruffled the feathers of a couple of residents, who claim it's not art and not appropriate for a cemetery.
The sculpture, titled "Shovel Shoe Henge," is designed and donated by Bob Eldridge, a member of the cemetery's sculpture committee. It's comprised of two archways made of crawler shoes from P&H mining shovels.
It's a collaboration between three companies. Arch Coal donated the crawler shoes that were taken from mining shovels used at the Black Thunder coal mine. Komatsu is donating the labor required to put it together and Structural Dynamics did the engineering for the bases.
The sculpture is not part of the cemetery's Art Walk program and it wasn't put together in time for the Art Walk's reception July 14.
Eldridge said he thinks the piece, which will be placed on top of a hill at Mount Pisgah Cemetery, will resonate with Campbell County residents, many of whom have ties to the coal industry.
"It represents the contribution the P&H mining shovel has made to the Powder River Basin," he said.
But another sculpture committee member, Patricia Bertch, was critical of the sculpture, calling it "garbage" and "scrap junk."
This past spring, the sculpture committee, made up of six people, voted 5-1 in favor of the piece with Bertch casting the lone no vote. The cemetery board approved it at its regular meeting two days later.
Sexton Darin Edmonds told cemetery board members last week that Bertch has since resigned from the committee.
"It's three pieces of scrap, and they're calling it art? They're degrading that beautiful cemetery. I think it's horrific," Bertch said. "You can't pay me to want it in there."
Her friend, Cheryl Rieger, is of the same mindset.
"How do you consider that art? That's companies going together and slapping whatever together," she said.
Bertch and Rieger said they wouldn't be opposed to the sculpture being placed in an industrial park or at Gillette College, but "it's not something very appropriate for a cemetery," Rieger said. "It's not beautiful."
"Put it in an appropriate place," Bertch added. "We're honoring the dead (in the cemetery), not honoring the coal miners."
"I don't know how you can determine what is cemetery-related and what isn't," said Tom Butler, a member of both the cemetery board and its sculpture committee.
"Good or bad, I think it's going to strike a chord with people," Edmonds said. "I think a lot of people will identify with it, a lot of people will appreciate it, and I think it will fit with what we are trying to do. Obviously, that's up for the public to decide."
Rieger said the cemetery has lost its artistic integrity by agreeing to have this piece.
"What's next? Can I bring tractor equipment because there's farmers out there?" she asked.
Jim Hastings, president of the Campbell County Cemetery District Board, said he's excited to have a discussion on art, because "that's going to bring more people into the cemetery, which is exactly what we want."
Bertch said the public should "have some say on what they're putting in that cemetery."
That's the point of having the sculpture committee, Butler said. It's made up of two cemetery board members and four residents.
"What's the point of having a committee if you can't go with what the committee recommends?" he asked, adding that there's no reason to only allow sculptures that have the group's unanimous support.
"If we put everything up to vote for the community on everything we accept, we might as well forget about it because we won't have enough time," he said.
Hastings said the board wants to respect the committee's decisions, "but at the same time, if we put sculptures out there and we begin to have a lot of complaints, then we're going to have second thoughts on whether it stays or not."