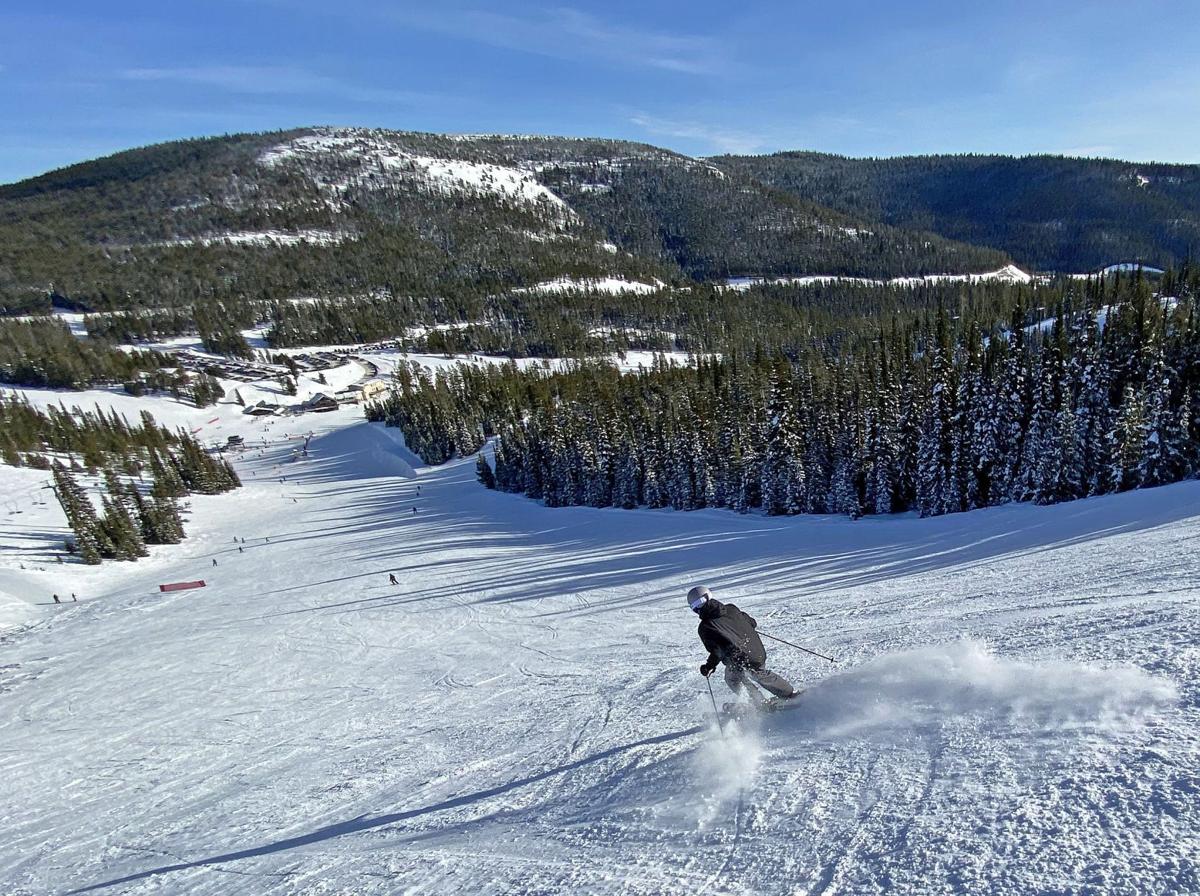 After 47 years as a ski area owner, George Willett sold Showdown Montana to his daughter, Katie Boedecker, in September.
"I'm looking forward to Kate having a great experience here and continuing to enjoy what she's doing," Willett said.
Boedecker could not be reached for comment. But during Willett's ownership she has worked a variety of jobs at the Little Belt Mountains ski hill. These include director of marketing and advertising, prep work in the kitchen, bussing tables, operating the ski lifts, teaching skiing and overseeing guest services. In 2001 she became the ski hill's operations manager.
Now it's George who will be working for Katie.
"Kate tells me what to do, and I get to stick around," said Willett, who turns 80 this month. "I've got a pretty good deal."
Deal
The Montana Business Assistance Connection — which sponsors economic development in Meagher, Lewis & Clark and Broadwater counties — helped Boedecker secure the loan. Brian Obert, executive director of MBAC, said the loan package had to be fashioned to help banks understand the unique business of running a seasonal ski area. MBAC also invested in the business.
"Everyone knew it was a gem," Obert said. "Showdown is such an iconic business in Meagher County. It helps drive that economy."
The hard part was making that understandable to bankers, in part because the ski area operates on land leased from the Helena-Lewis & Clark National Forest.
Rare
Boedecker joins a relatively small list of women ski area owners. Betsy Pratt is someone who paved the way. She was the majority shareholder in Vermont's Mad River Glen ski area in the late 1970s, according to Kelly Pawlak, president and CEO of the National Ski Areas Association.
"For the most part, there are lots of women (past and present) who own with a husband or family," Pawlak wrote in an email. "And only a few, if any, that are solely owned by women."
"It's pretty rare," said Seth Mosia, president of the International Skiing History Association.
He noted Carol Holding became the owner of Sun Valley Resort in Idaho after her husband, Earl, died in 2013.
"Many females had leadership and ownership positions alongside their husbands," said Jeff Blumenthal, vice president of IHSA.
Women continue to provide key leadership roles at ski areas in Montana. That's the case at Red Lodge Mountain, according to manager Jeff Schmidt, where females are in charge of mountain operations, finances, lifts, human resources and marketing.
"I'm fortunate to have the crew I have," said Schmidt, who is also president of the 14-member Montana Ski Areas Association.
History
Showdown Montana began as Kings Hill ski area in 1936 — the first to open in Montana — but little information exists about its early formation near the mining community of Neihart. Back then, like most ski areas being formed, skiing was a social activity organized by a club. For Kings Hill the club was located in Great Falls.
"It was just a small group, hiking up the mountain," Willett said, adding they had to be a tough bunch to maneuver the heavy, long wooden skis in leather boots.
The hill began to slowly grow in 1939 when the Great Falls ski club discussed building a warming hut and hiring a professional instructor. The half-mile rope tow that operated back then cost 50 cents to ride for ski club members, $1 for all others. A department store ad from the era boasted about 1,000- and 2,000-foot rope tows to the top of 8,200-foot high Porphyry Peak "for the greatest thrill of your life. Ski for fun, for health, and for sport."
"The war came and slowed things down a bit," Willett noted of World War II. "After '45-'46 it picked up again."
He started skiing the mountain in 1968 and partnered with friend Ted Cogswell to buy the hill in 1973. With the purchase, they changed the named to Showdown Ski Area, which was transformed to Showdown Montana in 1995. During his time, Willett ticked off a number of improvements to ski runs, lifts and an expansion of the parking lot.
"It used to be a lot of fun, now it's all business," Willett said.
Vitals
The mountain boasts one triple chair, two double chairs and a "magic carpet" conveyor for beginners. Open Wednesdays through Sundays, the ski area sits on 640 acres of leased Forest Service land. Lift tickets are $50 for adults, $25 for ages 6 to 12.
"The goal was always to keep the ski area as a local family friendly ski area for central Montana," Willett said.
Boedecker has plans to build lodging and an outdoor pavilion "to utilize Showdown's year-round recreational opportunities, in addition to providing an array of family-related outdoor activities, and hosting small conferences," according to a Montana Business Assistance Connection story. The ski area currently employs 13 to 15 year-round staff, the MBAC reported.
"We love what she's doing up there and would like to help her with some of the next steps," Obert said.
"Showdown is one of those businesses that does define the community," he added.
According to the National Ski Areas Association, the alpine ski, telemark and snowboard industries contribute more than $55 billion in retail spending to the U.S. economy and support more than 533,000 jobs. Last year the industry suffered an estimated $2 billion loss when 93% of ski areas closed in the wake of the novel coronavirus outbreak.
Reflecting
Willett said his biggest accomplishment during his tenure at the ski hill was "staying alive in lean years," adding he had a great partner in Cogswell who was supportive of making changes. The pandemic has challenged the ski area to adapt again, this time limiting lodge use and requiring customers to wear masks. Unlike some ski areas, however, Showdown has not limited ticket sales this season nor did it close early last spring.
Looking forward, Willett said his daughter's biggest difficulty will always be one she can't control — snowfall. The other challenge is staying in tune with what the public wants, he said.
"Kate has a lot of dreams," Willett said, including seeking a land exchange with the Forest Service and opening the ski area to more summertime activities.
There's one thing Willett knows for sure, something that hasn't changed in all of the decades he's owned Showdown Montana.
"Skiing is about as much fun as you can have with your clothes on," he said.