Imagine seeing a major problem in your home state that needs solving — one that has followed your family for decades — and getting an opportunity to be the one to solve it.
Imagine working on that issue for years: traveling countless miles, holding numerous meetings, shaking dozens of hands, conducting hours of research and, after months of toil, producing a well-thought out plan to solve that problem, something that not just outlines your unique vision for the state but a collective vision of what it could be.
Imagine selling the plan and building consensus, looking at each and every aspect of the plan to build up to it brick-by-brick and finally establishing a coalition that, for the most part, is ready and willing to work with you to help make those aspirations realities.
Then, after eight years of this, imagine handing that plan off to someone else to carry across the finish line.
Less than four months after releasing what will be — if successful — one of the signature policy achievements of his administration, outgoing Gov. Matt Mead is placing the success of his economic diversification strategy, Endow, squarely in the hands of his successor, Wyoming Treasurer and Gov.-elect Mark Gordon.
Considered by Mead — whose grandfather, Clifford Hansen, pushed for something similar as governor — to be the state's best bet to diversify its economy and leave behind the booms and busts of the state's drilling and mining industry, Endow establishes a vivid picture of where the state needs to go: creating more jobs in more industries, improving infrastructure and increasing opportunity for the state's young people.
How it gets there from where we are today, however, will depend on the tone set by the Gordon administration in seeing the plan across the finish line.
In an interview Wednesday in the Star-Tribune newsroom, Mead was optimistic about the plan's future and expressed confidence in his successor's willingness to pick the ball up where he left it.
"We've had I don't know how many conversations about different issues, but we've certainly had a conversation about Endow," Mead said. "My sense from those conversations is that he's fully on board with Endow. But I do think he wants to — and I think he should — take time to go through each of the recommendations with his staff and his team. I think he needs to be able to respond to changing circumstances — oil going up, oil going down. ... I'm encouraged; the overall concept, I think, he will fully embrace."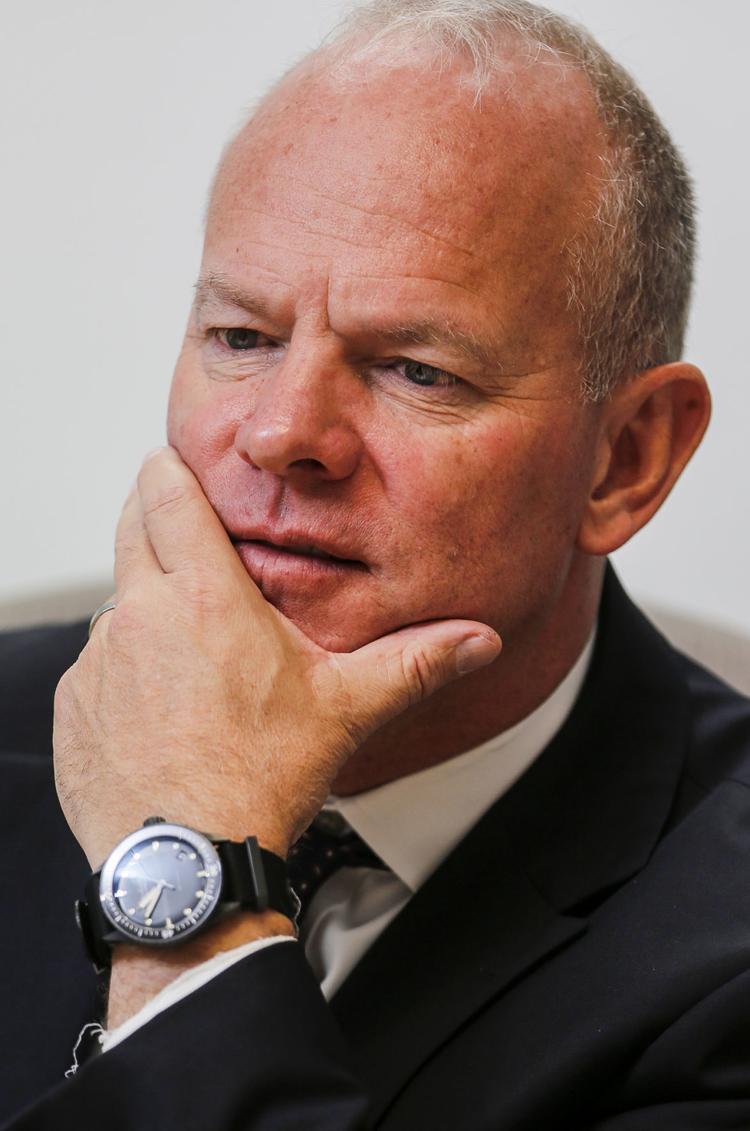 The success of the program, though, depends on a number of factors beyond the control of the executive branch, Mead acknowledged. The state's tax structure needs examination, the appetite for which he was unwilling to predict, given the sometimes fickle nature of the Legislature on the topic of revenue. Given the state's slow rise out of the most recent bust — which has still left the state earning only about 56 percent what it did at its peak — has only emboldened Mead to assert that the time to do something about taxes and revenue is now.
"This is the time, rather than waiting until it's too late and we are in an emergency situation to not act in a thoughtful way," he said. "I understand some (legislators) take pledges not to tax, and some promise not to tax, but I don't think, to me that's ... we've got to look at the situation we're in. How do you say you're absolutely not going to do that?"
Solving the state's revenues, Mead said, is crucial to other aspects of his plan. Companies today are seduced not by the state's low taxes but by promises of a strong workforce and stronger infrastructure, he said, and attracting those companies can only be achieved by a committed investment to expanding things like internet access and working toward a 67 percent educational attainment rate — a non-negotiable aspect of the plan he said requires an appropriate level of investment.
Improving prospects for health care in Wyoming—and trying again for the missed opportunity of Medicaid expansion — Mead said, are also crucial to the plan's success.
"I'm just not satisfied with progress on that in these eight years," said Mead. "And it relates to me, not just individual health care, but it relates to what we're trying to do with Endow. If Endow is totally perfect and everything else is accomplished, but you don't have adequate health care in Wyoming, it's just not going to work."
These issues, as the governor said, are Gordon's problem now. A little over a month ago, the Endow executive council met in Cheyenne to discuss the plan's future and outline a "Go-Forward Strategy," described in an October news release as a four-year action plan they called "critical" to the implementation of the plans the council released in late August.
Time will tell what will happen to Mead's vision for the state once he's out of office. But the outgoing governor might object to the idea that Endow is his vision alone: It's everyone's, he said, and it will take shape underneath Gordon's watch.
"Change is inevitable," said Mead. "The question is, how are we going to manage that change, and what are the goals we have for our future? To just say we're going to maintain the status quo is not realistic, whether you're going backwards or you're going forward. So let's say, 'This is what we want, what we want Wyoming to look like,' and let's build it."