The pandemic is not treating everyone in Wyoming equally.
People of color and Native Americans in the state are being disproportionately impacted by the coronavirus, data collected by the Wyoming Department of Health shows.
Out of the 452 confirmed cases in the state as of Tuesday, 54 percent of patients identified as white. But white people comprise over 83.8 percent of Wyoming's population. Meanwhile, American Indian and Latino patients are overly represented in the data, with the rate of confirmed COVID-19 cases outstripping their percentage of the state population.
Wyoming isn't an outlier: The virus is infecting communities of color at higher rates in almost every state across the country. Advocates point to entrenched inequities that have long plagued communities of color. A lack of health care access and economic opportunity, fueled by decades of discriminatory policies, are just some of the myriad factors fueling the racial disparities Wyoming is seeing.
In Wyoming, American Indian patients so far make up a staggering 22.3 percent of confirmed COVID-19 cases but represent 2.7 percent of the state's total population.
Sen. Affie Ellis, R-Cheyenne, who is a member of the Navajo Nation and the first Native American to serve in Wyoming's Senate, doesn't necessarily need statistics to know the pandemic has been devastating to American Indian families, especially those living on the Wind River Reservation.
"I think whenever we're talking about statistics and data, or the number of cases, there is something really impersonal about that," she said. "When you think about losing a family member and an important person in your community, there's no question in my mind that we can't forget that these are human beings."
The factors exacerbating the coronavirus in Indian Country are "hundreds of years in the making," according to Ellis. For instance, inconsistent access to medical care and barriers to economic mobility have deep roots in legacies of forced assimilation and colonization, not to mention ongoing discrimination and chronic poverty facing Native families across Wyoming.
"It's just this generation-by-generation decline," Ellis said. "... All (these structural issues) lend themselves to making COVID-19 more spreadable and more deadly, especially when you think about underlying health conditions that were preexisting."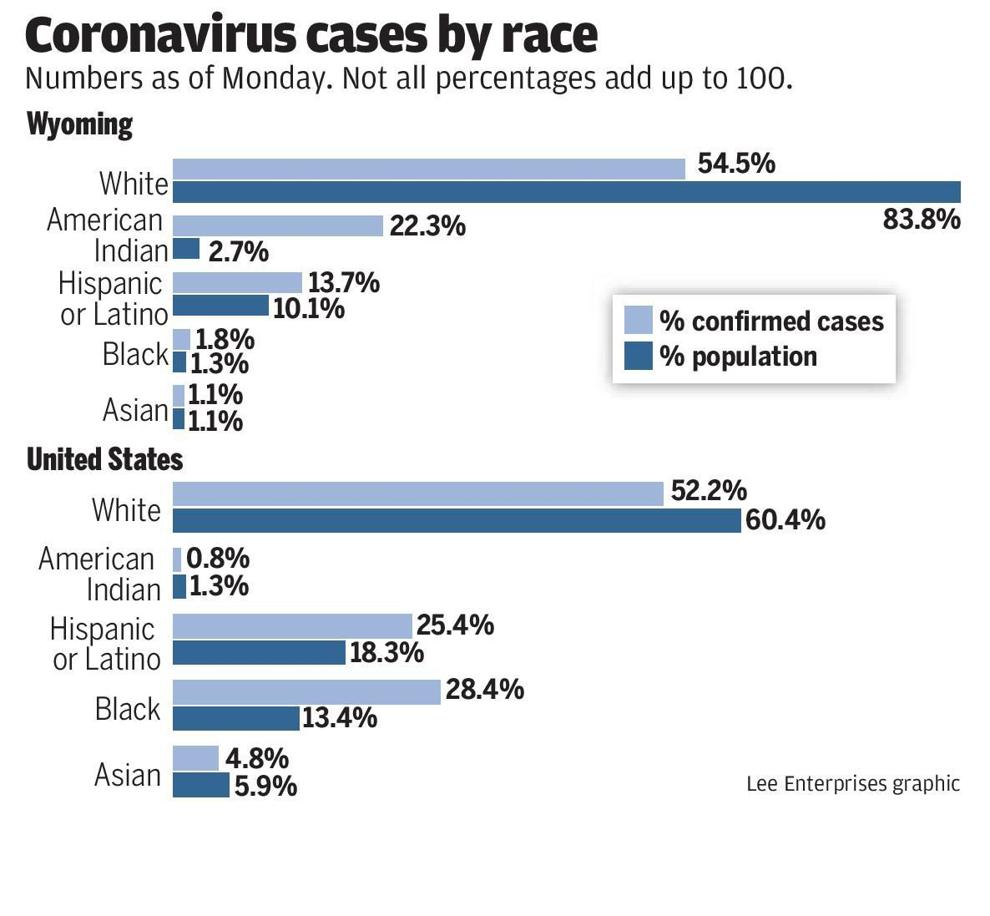 The disproportionate number of confirmed COVID-19 cases on the Wind River Reservation is likely in part due to the higher rate of coronavirus testing available for tribal citizens, compared to other parts of the state. About 45 percent of non-Wyoming Public Health Laboratory tests conducted in Wyoming took place in Fremont County.
However, factors like housing shortages and the prevalence of multi-generational family homes, also likely place tribal citizens at a higher risk during the pandemic. The sharp uptick in confirmed COVID-19 cases the past two months on the reservation comes in spite of a concerted effort by the tribal nation to stop the spread; the reservation is the only place in Wyoming with a stay-at-home order.
"A lot of our families live in multi-generational homes, where they'll have 10, 15, 20 people in a house, and that may be from babies to grandma and grandpa, who are very much at risk," said Dr. Paul Ebbert, chief medical officer of the Northern Arapaho Tribe's Wind River Family & Community Health Care. "If you're 25, and you get the disease,your risk is still relatively low. But if you're 75 with diabetes or heart disease, then your risk is very, very high."
Antonio Serrano, an advocacy manager with Wyoming's ACLU, said it's important to consider the additional risks facing people of color, and the ways current health care systems fail to serve Wyomingites living on the margins.
"Black people, Latinx and Indigenous people are among the most vulnerable communities and at risk for COVID-19," Serrano said. "We're generally the workers who are on the front lines fighting against COVID-19, and Latinx and immigrants are part of that community."
Exposing inequities
A study by the Center for American Progress found the economic fallout from the coronavirus has been particularly severe for communities of color, due to "occupational segregation, economic exploitation, and employment discrimination." For example, workers of color are overly represented in the nation's low-wage job sector and therefore less likely to have the luxury of working from home.
And analysis by the Pew Research Center study found 29 percent of Latino households nationwide have suffered loss of work and 40 percent have experienced reductions in income during the pandemic. Black, Latino and Native American households have less wealth and liquidity than white households on average, due to racial discrimination too.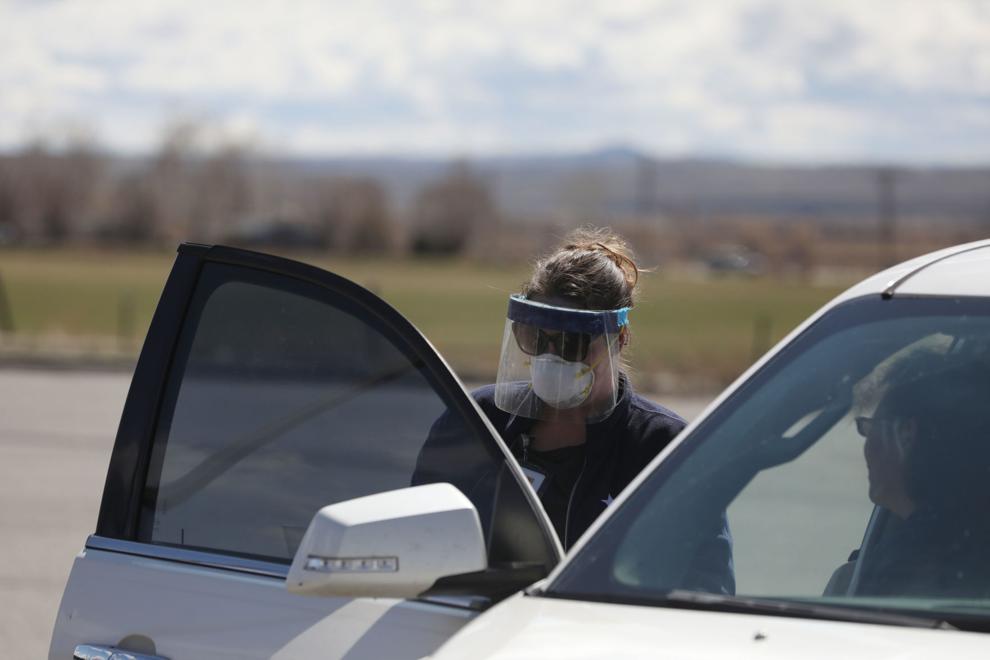 "The coronavirus has absolutely exposed all underlying structural inequalities," said Jen Simon, founder of the Wyoming Women's Community Action Network. "Anything that was broken before wasn't magically going to be fixed in a crisis, it was actually going to be illuminated, exacerbated and maybe even expanded in certain ways."
Immigrant families are scared to access medical resources when they need them too, according to Serrano. That leaves open the possibility that the number of infections in communities of color are actually greater than what the state has so far been able to track, he said.
Federal coronavirus relief aid did not contain provisions explicitly exempting hospitals or clinics from the reach of U.S. Immigration and Customs Enforcement. The agency has issued a statement saying, in light of coronavirus, it will revise its protocols and "not carry out enforcement operations at or near health care facilities, such as hospitals, doctors' offices, accredited health clinics, and emergent or urgent care facilities, except in the most extraordinary of circumstances."
But Serrano, of the ACLU, believes these enforcement changes fail to go far enough; fear continues to discourage immigrants from seeking help at medical facilities, or applying for federal support, he said. "I know that a lot of people are just staying home and fighting it," he said. "It's just scary. It's scary that they don't feel like they have the same rights as everyone else."
The ACLU has called on ICE to cease all operations during the pandemic. The advocacy group has also called on the state, businesses and hospitals to provide support to essential workers, including free testing, paid family medical leave and higher safety standards to protect them.
Latino families may also be unable to access proper medical care during the pandemic due to a lack of health insurance. "A lot of labor workers, especially immigrant workers, don't have insurance," Serrano explained. "And that's not just Latinx communities, that's generally for people of color and lower-income people who are working labor jobs. They don't have insurance, and if they do, it's not very good."
Non-citizens living in the U.S. are more likely than U.S. citizens to not have health insurance, according to a report published by the Kaiser Family Foundation in March, making accessing care for immigrant families even more difficult during a pandemic.
Tracking deaths
State Health Officer Dr. Alexia Harrist "urged caution" before coming to any conclusions about the data tracking lab confirmed COVID-19 cases by race.
"Our (population) numbers are relatively small," Harrist said. "I don't think ... I want to make a judgment now about whether certain races or ethnicities are more susceptible to this illness."
"I think it's too early to know, but it's an important factor to measure and keep track of," Harrist added.
Seven patients with coronavirus have died in Wyoming. Four of the deaths were Native American patients, one was Hispanic and two were white, Wyoming's Health Department told the Star-Tribune.
There are limits to the data. For one, 8.6 percent of patients with confirmed cases of COVID-19 in Wyoming did not identify their race. The state isn't publicizing the death rates by race or ethnicity, unlike the majority of states around the U.S.
Furthermore, the state tracks the race of patients using the ethnic category "Hispanic," which some experts said can distort data analysis, because several racial groups falling into this one category.
The COVID Tracking Project, an organization collecting and monitoring data during the pandemic, calls on states to collect more detailed information on patients race and ethnicity to ensure racial and ethnic inequities during the virus can be meaningfully addressed.
Star-Tribune reporters Seth Klamann and Chris Aadland contributed reporting. Morgan Hughes created data visualizations.