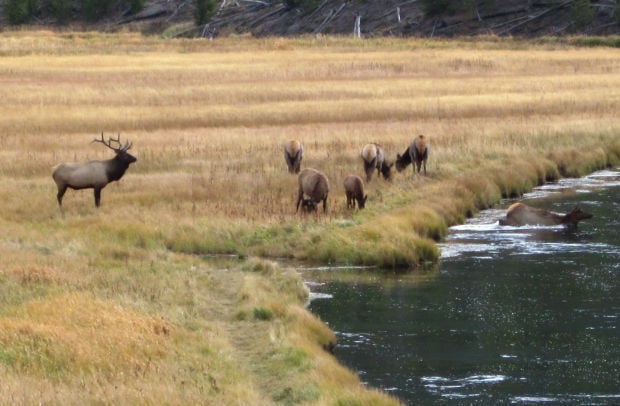 In a steadily increasing trend, wildlife managers are counting more elk migrating north out of Yellowstone National Park in the winter.
"It used to be about one-third of the elk migrated out," said John Vore, Game Management Bureau chief for Montana Fish, Wildlife and Parks. Now it's close to 80 percent.
The elk are members of the Northern Range herd, which spends its summers spread out across the northern tier of Yellowstone National Park's 2.2 million acres. The herd is one of six to eight populations that migrate in and out of Yellowstone. The other three main groups are the Cody, Jackson and Clarks Fork herds in Wyoming. The Park Service estimates about 10,000 to 20,000 elk use the park for summer grazing.
During last year's annual count of the Northern Range herd, wildlife biologists tallied 4,844 elk. Of that total, only 23 percent — or 1,130 of the herd — were found inside Yellowstone. The other 77 percent — 3,714 elk — were counted north of the park in places like Montana's Dome Mountain Wildlife Management Area and Dailey Lake at the southern end of Park County.
"There's a really distinctive trend, a pretty steady drift" of elk out of the north side of the park, said Karen Loveless, an FWP wildlife biologist based in Livingston. "In 2000, 24 percent of the herd came out of the park. In 2013 it was 77 percent and there's been a steady rise. I am not going to be surprised if it is more this year."
The reason for the increase could simply be a movement to an area with less snow and better forage. But there are other factors worth considering. Montana has reduced hunting pressure outside the park's northern boundary by limiting hunters to bull elk only and making those permits to hunt bulls available only through a special drawing. The limited hunting is meant to increase the herd's population. Could a side effect be that cow elk feel safer from hunters and are therefore more willing to migrate north in Montana?
Certainly Yellowstone National Park has changed in the last 15 years thanks to an extended drought, wildland fires and shorter winters. The park is also home to an increasing bison herd that now numbers about 4,900 animals. And it's a predator-rich place, with strong populations of grizzly bears, black bears, wolves, mountain lions and coyotes — all of which consider elk and elk calves a vital part of their diet.
"The increasing migration correlates with everything," Loveless said. "There are so many different factors. ..."
The reason elk and other animals move from summer to winter ranges is an ancient drive to find the best possible food source and to avoid being eaten by predators. It's the same motivation that annually pushes Yellowstone's bison out in the winter, another issue federal and state agencies are struggling with in Montana.
"Migration is a striking behavioral strategy by which many animals enhance resource acquisition while reducing predation risk," according to the Wyoming Wildlife Initiative's website. It's a behavior also exhibited by other animals native to the Greater Yellowstone Ecosystem like mule deer and pronghorn, migrations that have been documented in other recent studies by the group.
The Wyoming Wildlife Initiative's researchers have also found that some elk are choosing not to migrate into the park in the summer, instead preferring the relatively predator-free environment outside the park and access to irrigated farm fields for food. Those elk have abandoned their migratory ways, causing problems for farmers, ranchers and wildlife management agencies.
Unlike some of those Wyoming elk, though, Loveless said she's not seeing elk that migrate into Montana's southern Park County from Yellowstone choosing to take up residence.
"We don't have a lot of them that stay," she said.
Because elk gather in larger herds in open areas in Montana during winter counts, compared to smaller groups hiding in the trees inside Yellowstone, Utah State University is conducting a two-year study about whether biologists are simply undercounting elk in Yellowstone because they are harder to see. The 2015-17 "elk sightability study" could give biologists better estimates of how many elk are missed during annual counts.
Elk management in the area, because of the high-profile population, has been a continually evolving process for Montana and the Park Service. Decades ago, the Park Service culled the elk herd and even herded them out of the park toward awaiting Montana hunters into what was called "the firing line."
In 1995, when wolf reintroduction in Yellowstone began, the Northern Range elk herd numbered about 17,000. The population seemed to bottom out two years ago at 3,915 elk. Slowly the trend may be reversing. Last winter's count was 24 percent higher than 2013.
"The size of the herd, the large number of bison, the number of bears and wolves on the landscape, all of that is pressure to migrate," said FWP's Vore.
"It's a premier herd, and that's one more reason we have to pay attention to it."
Be the first to know
Get local news delivered to your inbox!