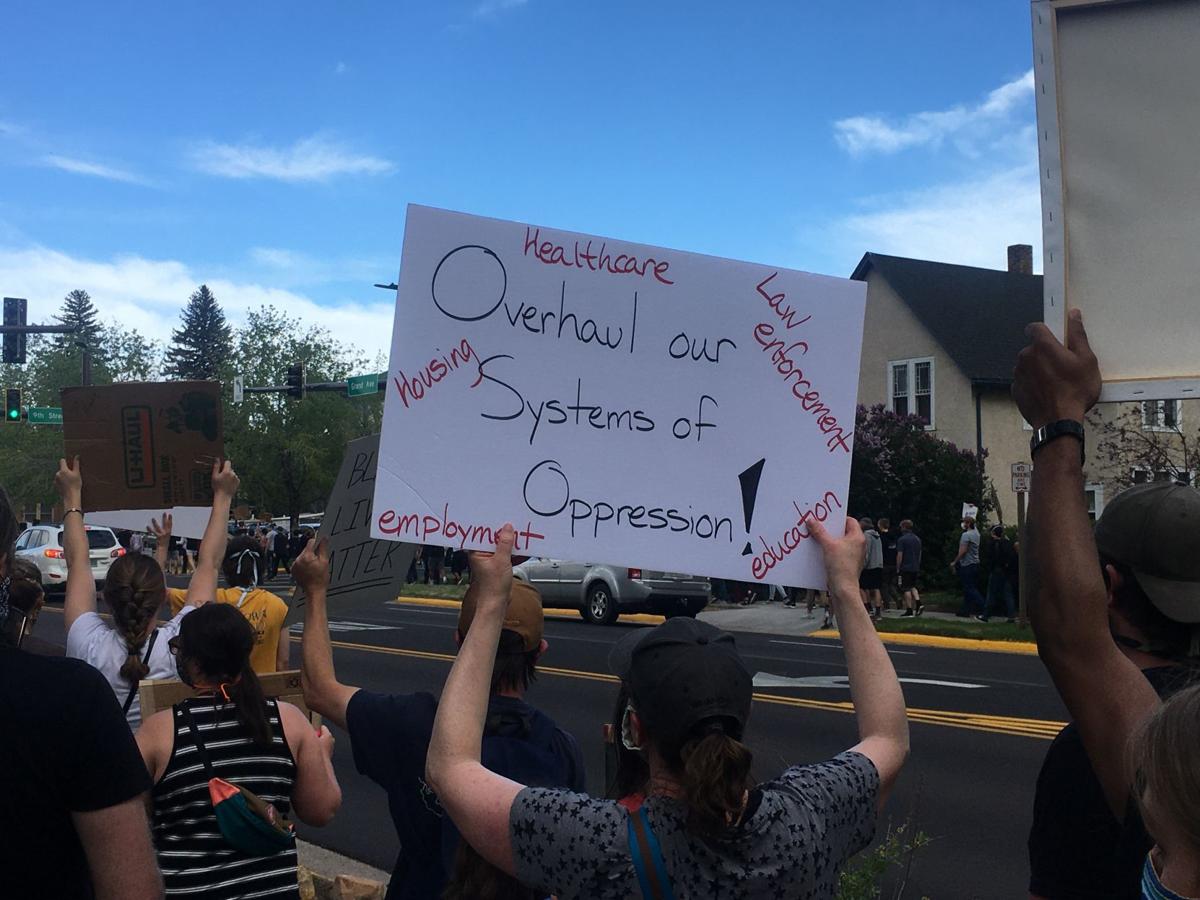 Police arrested seven people during a protest Thursday in Laramie, hours after issuing a warning of possible citations if demonstrators walked in the streets.
Along with making seven arrests, police also issued five citations, according to Laramie police Lt. Gwen Smith. The majority were suspected of disorderly conduct relating to impeding traffic, she said.
The arrests were the first stemming from the protests in Laramie, which have been held regularly in the town since early June. Some protesters complained that police were focusing on them and not trucks that had been spraying exhaust on demonstrators at past events.
Protests against racism and police brutality have been held in many of Wyoming's cities and towns since the death last month of George Floyd, who was killed when a Minneapolis police officer knelt on his neck for nearly nine minutes. It's unclear whether there had been arrests at previous rallies elsewhere in Wyoming, although none have been publicly reported.
Laramie has been home to more protests than most of Wyoming's towns. Demonstrators there are also speaking out about the death of Robbie Ramirez, who was shot and killed by Albany County Sheriff's Deputy Derek Colling in November 2018.
During some of the protests, demonstrators have walked down Third Street and laid down in the intersection of Third and Grand Avenue — on some occasions for several minutes. They've also been harassed at times by pickups that have sprayed them with exhaust.
"The safety of those involved in the demonstrations as well as those in our community is of utmost importance and that safety is jeopardized when pedestrians enter one of the busiest roadways in Laramie," the department said in its statement.
The police warning did not mention arrests. Smith said officers initially handed out citations, but then changed tactics.
"The decision was quickly made to arrest instead of issuing citations as there were crowd control and safety concerns as the remaining protesters stopped marching and remained in the street during the time the officers were writing the citations," she said.
Police also warned protesters in person ahead of Thursday's demonstration. In a video posted to Facebook, demonstrators can be seen asking police why they hadn't cited drivers who had purposely sprayed the protesters with exhaust. A police officer tells the demonstrators that there is a city ordinance against the practice of spraying people with exhaust (the practice is called rolling coal). When asked whether it would be enforced, the officer answers, "Maybe."
Smith confirmed Friday police hadn't issued any citations for excessive smoke. She said the safety of the protesters and public took precedence over trying to stop the trucks.
"It is more important for the officers to do what they can to ensure the safety of protesters, who are sometimes walking in the streets and could easily be hit by a car, than to try to identify or stop a vehicle to write a citation for excessive smoke," she said.
After Thursday's arrests, an online fundraising drive began to collect bail money for people arrested or cited. As of Friday evening, it had raised more than $5,700.



Photos: A day of protests in Casper
Be the first to know
Get local news delivered to your inbox!