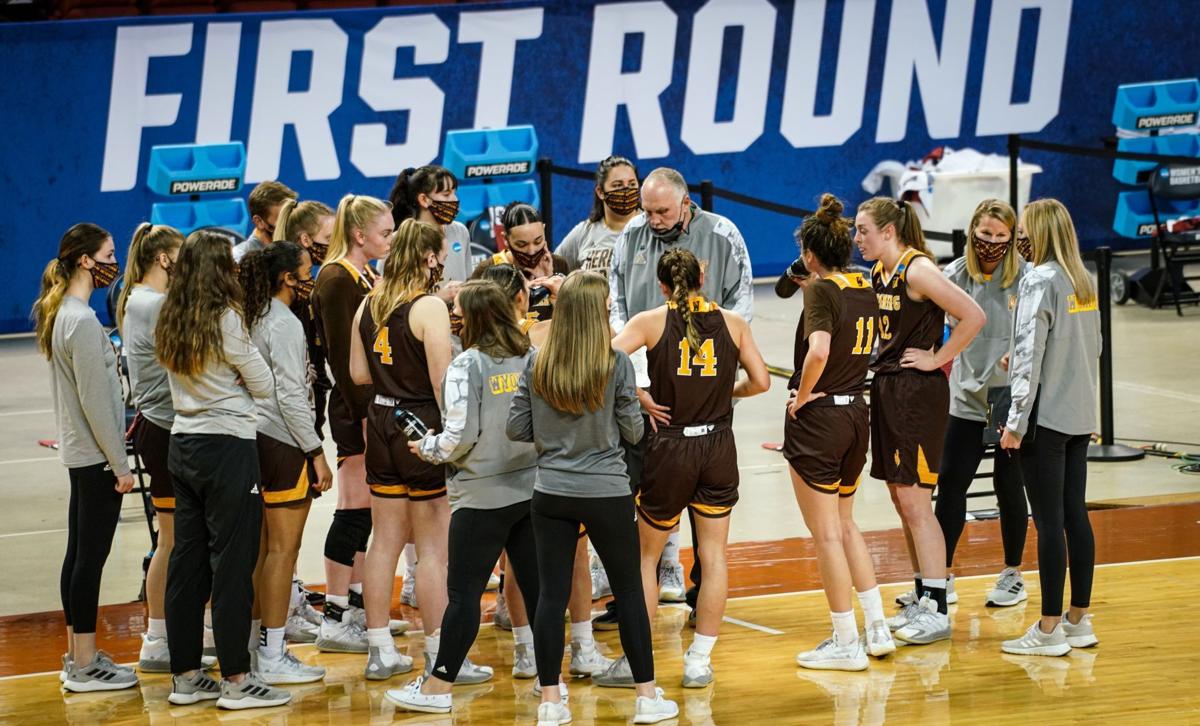 LARAMIE — The Wyoming women's basketball team's week-long stay in Texas didn't come with an NCAA Tournament win. But for head coach Gerald Mattinson and his players, the trip was far from a waste.
For only the second time in program history, the Cowgirls played on the sport's biggest stage. They were knocked off in the opening round by a bigger, more athletic UCLA team that's been here and done this before. The Bruins played for their fifth straight Sweet 16 berth late Wednesday night against Texas.
But UW was one of just 64 Division I teams that can say it played in the NCAA Tournament this season. And as the Mountain West's automatic qualifier, the Cowgirls were the only one from their conference that got that experience, which Mattinson doesn't believe is insignificant for a group of players that's in line to return largely intact.
"I think it can be very valuable," Mattinson said.
Barring any transfers, most of UW's significant contributors will bring the experience back with them next season. The Cowgirls had just three seniors on this year's roster, all of whom have opted not to return for an extra season of eligibility and instead will begin life after college.
Seniors Dagny Davidsdottir and Jaye Johnson were both starters, but the Cowgirls are set to return more than 78% of their scoring. That includes their top three scorers in McKinley Bradshaw (11.7 points per game), Quinn Weidemann (11.0) and Alba Sanchez Ramos (10.3). Junior point guard Tommi Olson, who finished among the top 3 in the Mountain West in assists and steals, will also be back.
UW is also in line to return 77% of its rebounding from the top defensive team in the Mountain West.
"This is huge for us," Ramos said. "We're a very young team, and nobody expected us to get this far this year. I think we can do this right now with this young team we have. Let's see what's there for us in the future. I think it could be very bright."
The Cowgirls allowed just 58.3 points per game en route to the program's first Mountain West tournament championship. UW also finished in the top 4 in the conference in field-goal percentage defense (39.3) and 3-point shooting (33.5), but UW could use more overall efficiency in putting the ball in the basket.
Only Air Force and San Diego State averaged fewer points in the Mountain West than the Cowgirls' 62 per game, which is part of the reason UW entered the postseason just a game above .500 before ripping off four wins in four days in Las Vegas to punch its ticket to the Big Dance.
But Mattinson said he saw some of the younger players who didn't log as many minutes make strides in practice. Freshmen Ola Ustowska (14.4 minutes per game), Grace Ellis (10.3) and Marta Savic (7.2) are among those who could see their roles increase next season.
Mattinson said he'll have year-end meetings with each player next week to determine what their individual and team goals are going forward.
"I'm excited for them and excited to have them around," Mattinson said. "I think they're going to be very dynamic next year and be able to score in a variety of ways that maybe they couldn't this year. So I think going forward with this group, as we like to say over here, I think the ball is in their court. And it's what they want to do as individuals and then as they come together as a team early next year as to where they want to be and what they want to do."
The Cowgirls' season included a 22-day layoff because of COVID-related issues in other programs before the postseason. As much as anything, Mattinson said he hopes the Cowgirls' run to the NCAA Tournament serves as several lessons learned.
"One of the things I hope they take out of the whole season is you can battle through adversity many times and still come out on the top end," he said. "I think for our young kids, one of the things we can do is if this is the level you want to play at, these are the things you've got to be able to do. And now they understand when you go in here in a few weeks when you start some spring drills or whatever, they understand what they're working for and what we're trying to get you geared for.
"What are you looking at to compete at this top level? Because I'm sure that's what we all want to do is compete at that level. So yeah, I think there's something to take away from this for them."
Follow UW athletics beat writer Davis Potter on Twitter at @DavisEPotter.