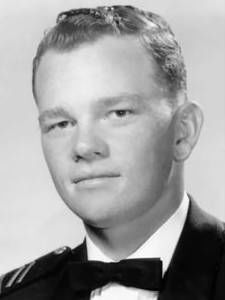 An airman will make his last flight Monday.
The body of Lt. Alva Krogman, killed when his plane crashed during the Vietnam War, will arrive at Billings Logan International Airport on his way to his hometown of Worland, Wyoming.
"I'd just ask that people be respectful. The last person we took down to Wyoming, people were lined up on both side of the highway all the way into town, all the way into the cemetery where they were going to inter him. It seemed like whole town was out to watch and support," said Danny Glover with the Patriot Guard of Montana, which will be a part of the procession out of Billings.
Krogman was born in Worland in April 1941. He was piloting an O1-F Birddog in the skies over Laos about 25 years later. Krogman graduated from the United States Air Force Academy in 1964 before receiving his pilot training at Reese Air Force Base in Texas, according to an archive maintained by his fellow academy graduates.
His first assignment overseas was with the 504th Tactical Air Support Group, based out of Bien Hoa Air Base in South Vietnam.
Krogman took off from Nakhon Phanom Royal Thai Air Force Base in Thailand on January 17, 1967, according to the Defense POW/MIA Accounting Agency. Krogman was on a visual reconnaissance mission over southern Laos, flying slowly low to ground in an unarmed aircraft. His plane went down that morning after taking fire. After another aircraft was shot down in the attempt to find and rescue him, Krogman was declared killed in action on Jan. 31 of that year.
A DPAA recovery team working in the crash site in Ban Kok Mak, Laos found the remains that would later be attributed to Krogman in 2019. After more than a year of further investigation of the site, he was considered accounted for in July 2020.
Receiving him on the tarmac will be two nephews, a niece and an Honor Guard. Members of the Montana Highway Patrol and riders with the Wyoming and Montana chapters of the Patriot Guard were also invited to escort him to Worland. Glover, who served 21 years in the U.S. Navy, has been with the Patriot Guard since 2007.
He expects at least 10 other riders to join in the route to Main Street toward the Interstate 90 entrance in Lockwood, with the procession from the airport set to begin around 2 p.m. Going from Highway 212 to Highway 310, Krogman will pass through Laurel and Bridger before he reaches the Wyoming border.
Mike Cowan, the director of Bryant Funeral Home in Worland, has spent the past month meeting with officials in Billings to see that Krogman makes it home. Cowan told the Gazette that his funeral service will be held July 21. The service will include military funeral honors and a five-jet flyover.