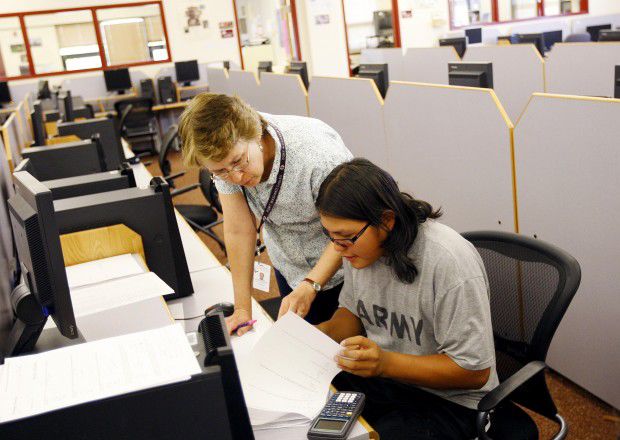 CHEYENNE — A proposal to slash the number of school districts in Wyoming by more than half to save money doesn't appear to be making the grade in the state Legislature.
Opponents say the idea is politically toxic in the state that values local control of schools.
"We talked about it 15 years ago, and it's an ugly political deal," said state Sen. Hank Coe, chairman of the Senate Education Committee. "I mean it's the focal point of a lot of our small, rural communities — the schools are."
Consolidating the state's 48 school districts into 23 — one for each county — is one of the ideas suggested to ease the state's K-12 funding crisis.
The state faces a shortfall of more than $360 million in its annual K-12 budget amid a sharp downturn in fossil fuel production. In addition, billions of dollars in school construction and maintenance funding is drying up amid a halt in federal coal leasing.
Consolidating school districts would save an estimated $7.5 million, mainly by eliminating many high-level district administrators, including superintendents — many of whom earn well over $100,000 a year.
"We have districts in the state that have barely over a 100 students, but they have a superintendent for that district, a business manager for that district and that top level administration has similar costs to the larger districts," said state Sen. Chris Rothfuss, D-Laramie.
Rothfuss is from Albany County, which has one unified school district. Fremont County has eight districts.
Brian Farmer, executive director of the Wyoming School Boards Association, said his organization opposes consolidation because it erodes local control over the values and priorities that residents want in their schools.
In addition, Farmer said, long distances between schools in some counties make it impractical to combine districts.
While consolidation would save the state some money on administrative costs, "it's highly personal for folks that have a county with multiple districts where those districts have very different centers, different athletics teams, different communities and don't want to be forced into a situation where all that's brought together," Rothfuss said.
Be the first to know
Get local news delivered to your inbox!