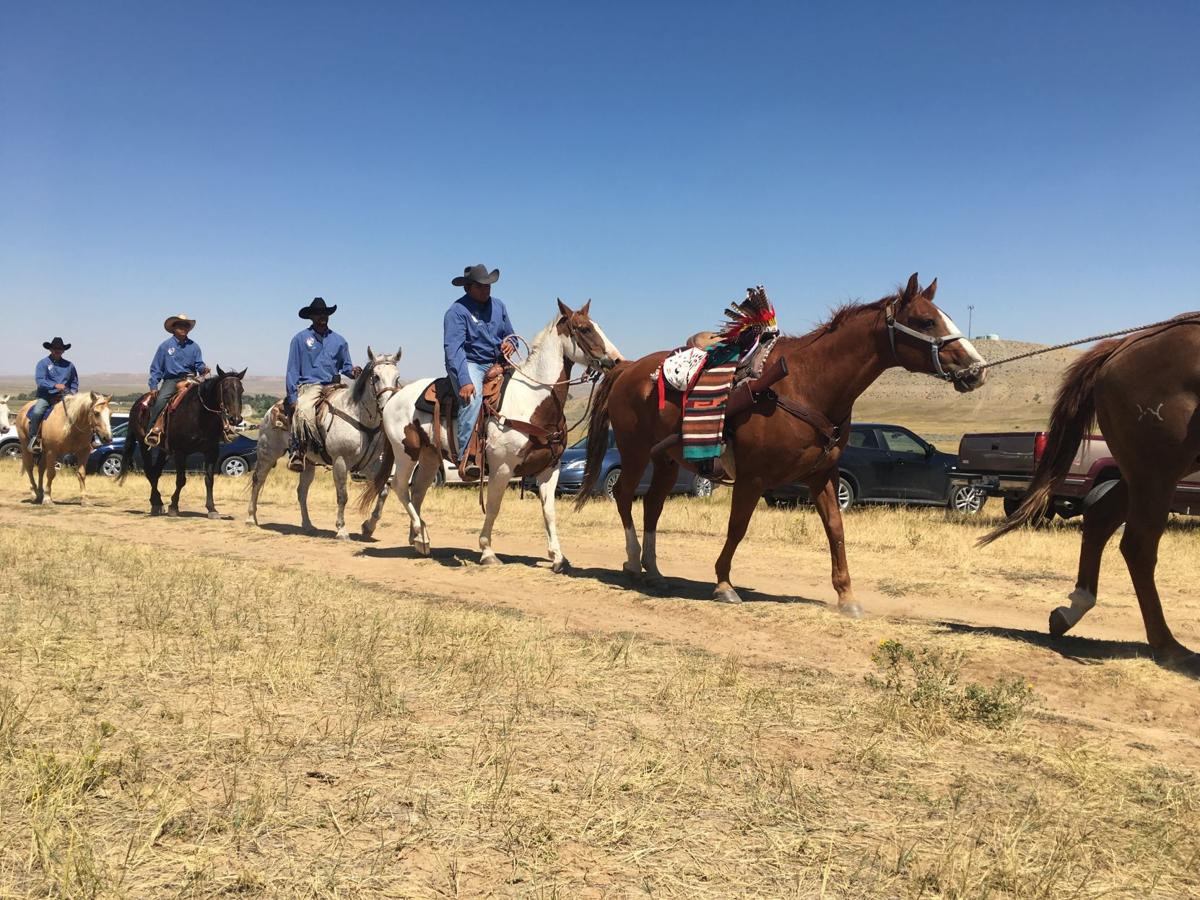 The remains of a Northern Arapaho boy who died in a federally run boarding school in Pennsylvania will be exhumed Thursday and returned to the Wind River Reservation, officials say.
Archaeologists for the Army National Military Cemeteries — which now oversees the former school's cemetery — could not identify the remains of Little Plume last year using the 100-year-old records that were available. The Army reported Monday that new information and research had verified that some of the remains at the former school belonged to Little Plume.
Northern Arapaho tribal officials declined to comment at this time.
Thousands of Native American children were taken from their families in the late 1800s and early 1900s and sent to Carlisle Indian Industrial School in Carlisle, Pennsylvania. The grounds of the school are now the Army War College.
The boarding school system was designed to strip Native American cultures from the children and inculcate them instead with white Christian traditions. They were barred from speaking native languages. Their hair was cut and they were given new names.
It is unclear why nearly 200 children died at the Carlisle school, but due to the arduous work of tribal offices, some of those children are returning to their descendants.
"The Army's commitment remains steadfast to the four Native American families whose sacrifice is known to only a few," said Karen Durham-Aguilera, executive director of Army National Military Cemeteries in a statement Monday. "Our objective is to reunite the families with their children in a manner of utmost dignity and respect."
It's no small task. The records from the time period when the children died are scarce. Graves markers often include the children's school-names rather than their birth names. Further complicating identification of remains is the fact that the cemetery was moved to a different part of the school grounds in 1927.
The return of Little Plume, as well as Northern Arapaho boys Little Chief and Horse last year, was the culmination of nearly a decade's work by families and tribal preservation groups. One Northern Arapaho woman in particular played a key role: Yufna Soldier Wolf.
Soldier Wolf is the great niece of Little Chief, one of the boys returned last year. He was the oldest son of her great-grandfather, Sharp Nose and taken to Carlisle with his brother Scout's Enemy. Scout's Enemy returned home. Little Chief died of pneumonia nearly two years after arriving.
Soldier Wolf said the federal government's choice of boys to take to Carlisle was not arbitrary. They were the children of tribal leaders and would have some day been leaders themselves.
"They were hostages," she said in an interview last summer.
It was an emotional day in August when Little Chief and a boy named Horse came home. Rider-less horses carrying child-sized war bonnets led processions to three grave sites. Little Plume's remained empty.
Nearly 11,000 Native American children were taught at Carlisle between 1879 and 1918. Returning remains of those who died there to families has been a difficult process for tribes.
In addition to Little Plume's exhumation beginning Thursday, three other children will be unburied and returned: George Ell (Eli) of the Blackfeet tribe, Herbert Little Hawk of the Oglala Sioux and Her Pipe Woman (Dora Brave Bull) of the Standing Rock Sioux.
Follow energy reporter Heather Richards on Twitter @hroxaner
Be the first to know
Get local news delivered to your inbox!