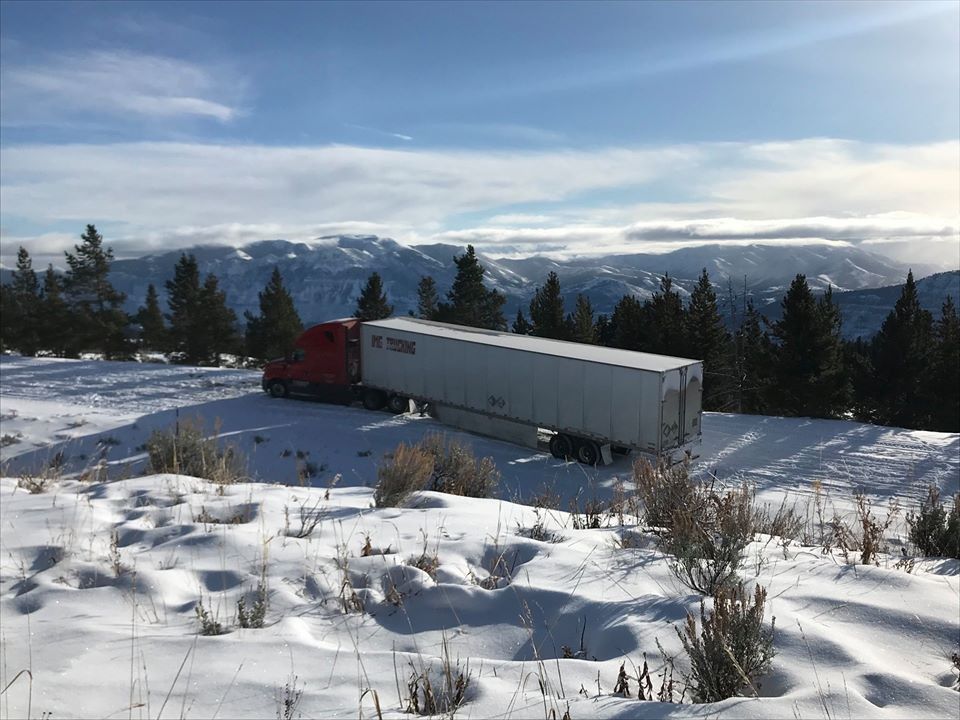 The Beartooth Pass is closed, and not just because the signs say so.
Wyoming officials rescued a semitruck driver and a passenger who were stuck in snow Friday on Highway 212, the iconic mountain road between Red Lodge and Cooke City, Montana, that closes seasonally.
The driver traveled north on Wyoming Highway 296, commonly known as the Chief Joseph Highway, following a route from his GPS, according to a social media post from the Wyoming Highway Patrol. That road, which also traverses steep mountain areas, is plowed through the year and open depending on conditions.
But the driver turned east when hitting Highway 212, traveling toward Red Lodge. From its junction with the Chief Joseph Highway, the Beartooth Highway rises from about 7,150 feet to 10,947 feet in altitude — almost 3,800 feet — before descending into Red Lodge.
The driver drove past a sign declaring Highway 212 closed and another sign warning against vehicles more than 40 feet long, and got stuck about five miles east of the Chief Joseph intersection. The driver was unprepared for mountain conditions, according to the highway patrol, but the semitruck was hauling snowmobiles.
The driver used his company's messaging system to call for help. Much of the road does not have cellphone reception.
The highway patrol got a call at about 11:30 a.m. A responding officer was able to reach the semi in an all-wheel drive Dodge Charger.
A loader and snowplow from Yellowstone National Park cleared a path for a wrecker from Cody to tow the semi out, the post says.
More than eight hours after the initial call, the truck was freed.
"It happens too often on US 212 in the spring and fall, and drivers take that route because of their GPS instructions," the highway patrol post said.
The post also noted that the highway patrol has requested a gate or barrels to block the road, but the road isn't maintained by Wyoming; it's maintained by the U.S. Park Service.
This fall, the highway closed for the season in October. A snow-measuring site near the road at 9,360 feet recorded 28 inches of snow Monday.
In 2018, two men following their GPS instructions got stuck on the Beartooth Highway in early May. They had to be pulled back on to pavement by a local resident after being found by search and rescue crews.
Even when the pass is open, conditions can be treacherous. In June, a vehicle got stuck when drifts of up to four feet blew across the road. A highway patrol trooper had to get a ride on a snowplow to reach the vehicle.
Be the first to know
Get local news delivered to your inbox!