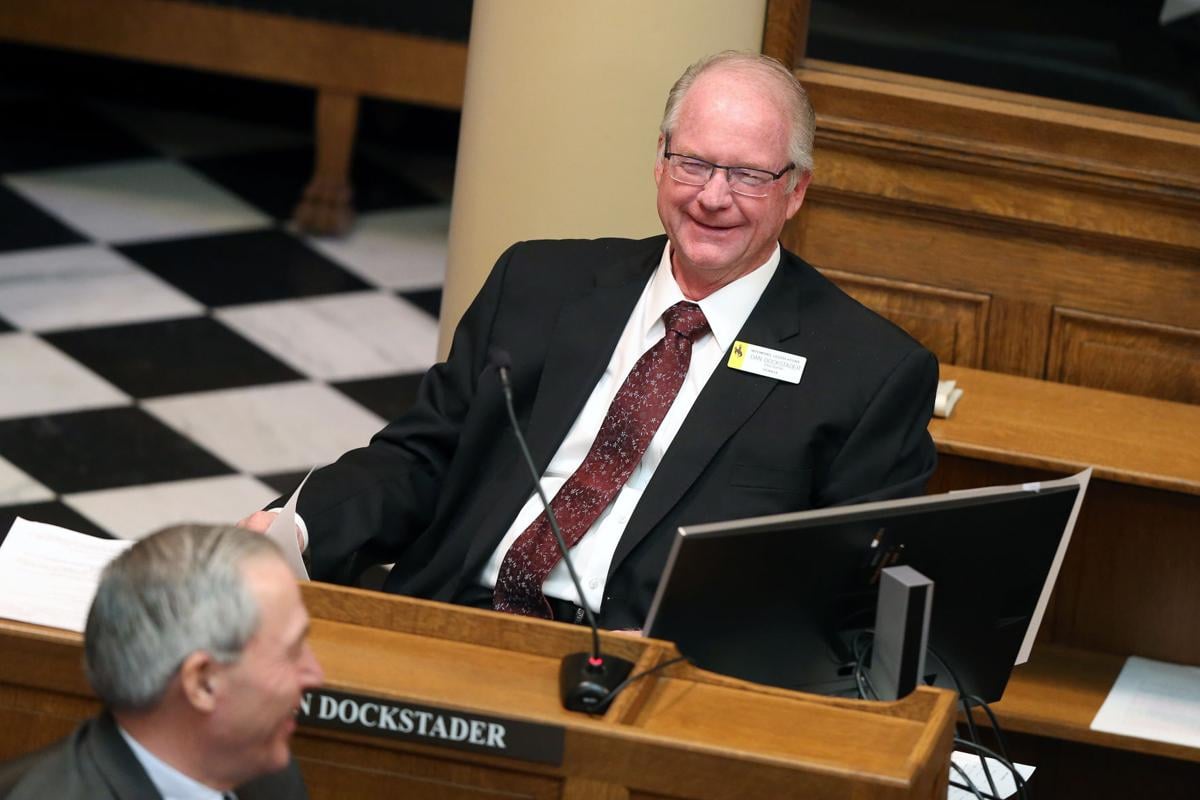 CHEYENNE — Leaders of Wyoming's Senate have shown little appetite for revenue-generating bills during this year's legislative session. Instead, those at the top have called on the governing body to continue scaling back the size of government to reduce the state's gaping budget deficit.
Nonetheless, lawmakers will face tough choices ahead as they move into this week's discussion on Wyoming's supplemental budget and education funding model.
During a meeting with the press corps on Friday morning, Senate President Dan Dockstader, R-Afton, said the state needed a "reality check."
"Our obligation is to bring a balanced budget — and to live within our means — back to the state of Wyoming," he said.
Back in May, state experts predicted Wyoming could face a $1.5 billion revenue decline through June 2022 in light of the pandemic and downturn in energy. In response, Gov. Mark Gordon made substantial cuts to the budget. Those reductions, coupled with a slight recovery in oil and coal activity over the past several months, led state forecasters to scale back their predictions for the revenue shortfall early this year.
Still, the state must find a way to solve a lingering problem: a multimillion dollar shortfall in K-12 public education funding. Public education funding is constitutionally protected in Wyoming and has become a touchstone for fiery debate between members and chambers during this year's general session. What's more, Wyoming's current revenue model has faltered as demand for the state's massive reserves of thermal coal declines, and the world's volatile oil and gas markets contract.
Some bills introduced this session aim to impose minor tax or fee increases — think fuel, tobacco and real estate tax hikes. But a majority of bills that would have drummed up new revenue haven't survived long enough to reach the House or Senate floors. Others have yet to be heard.
Senate leadership appeared intent on keeping revenue bills on the sidelines this year. Finding ways to replenish the state's general fund would be premature, they said.
"The House, part of their way to fix it (the budget) is to raise taxes, and raise revenue," Senate Majority Floor Leader Ogden Driskill, R-Devils Tower, told the Star-Tribune on Friday.
But the Senate has stood firm, he said.
"There is no way in the state of Wyoming with 500,000 people that you could raise enough revenue," he continued. "We're not going to have another stream like coal. It needs to come from a foundation of cuts."
"There is no way to fix the revenue problem until you actually get to where you can reduce the budget that we can live with," Driskill added.
Mineral industries have long bequeathed the state with the billions of dollars it has needed to fund the vast majority of government and essential public services. But those revenue streams are quickly drying up.
Driskill admitted scaling back government services to such a high of a degree would not necessarily be easy.
"That is going to be really difficult for folks," he said. "Our schools are built on a model that is unsustainable, which means we have to change how we do business. And that is always painful."
Senate Vice President Larry Hicks, R-Baggs, concurred, saying the government needed to identify its "threshold" and resize before new revenue sources could be adopted by the Legislature.
"We're going to resize government and find out where the floor is," Hicks said. "Once we figure out where the floor is, if we lack the revenue stream, and people want something above that, that's when we'll have a very serious conversation about taxes."
Follow the latest on Wyoming's energy industry and the environment at @camillereports