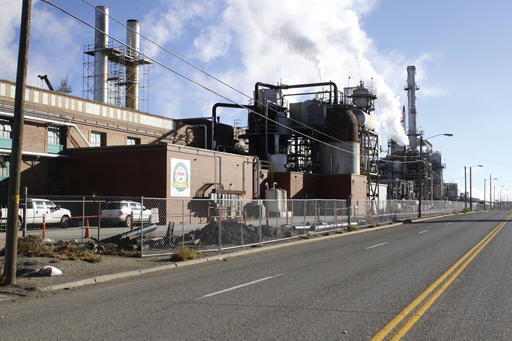 SINCLAIR — As you leave Rawlins at sunrise you can see the steam from the Sinclair refinery raising a billowing silhouette against the twilit sky.
It is only when you approach, crossing through the narrow valley eastbound on I-80, that the enormity of the structure strikes you — dozens of glittering white gleams sparkling like Christmas lights on the rising towers of the refinery itself.
It is cold as the sun begins to rise; yet within the refinery vast furnaces endlessly burn and boil crude oil, distilling it down to kerosene, jet fuel, diesel and ordinary gasoline.
"Everything burns here; we aren't making cupcakes," Ray Hansen, refinery project engineering and technical services manager, said as he led a tour group of University of Wyoming MBA students on a shuttle around the sprawling Sinclair grounds.
"We take our safety very seriously."
The complexity of the refinery's work is staggering. There's few industries where "cleaving" molecules is a standard order of the day. Few workers can say they operate devices like a hydrocracker, a device that uses hydrogen and heat to function like a pressure cooker to convert heavy crude oil into kerosene, diesel or petrol.
"We really have some high technology here in this refinery," Hansen said. "There's a billboard out there that says this is one of the most complex refineries in the west — and it is. We're one of the few refineries in Wyoming that has a coker, a hydrocracker and a hydrotreater. It really works well."
The refinery produces fuel and that requires power. Energy is a major concern at the refinery, which has to bear the brunt of Wyoming's famous winds and its frigid winters. Blackouts could pose serious risk not only to operations, but also the safety of the refinery's 560 employees.
"We have natural gas generators here actually," Hansen said. "Our power plant, our pumps and compressors have their own electricity, so even if there's a disruption in the plant, we at least keep the steam hot, because at -30 degrees, well, you've all seen wax candles and asphalt.
"When that sets in in pipes, you're kind of in a real situation," he said. "We constantly make sure that we have electricity . we have steam generators too, and we can fire diesel fuel."
The refinery burns crude oil, but the smoke that rises from its stacks is as white as the driven Wyoming snow. Sensors monitor the emissions that come out of the stacks. Tubes funnel natural gas and crude oil into great furnaces at the base the myriad smokestacks, engineered to combust in a manner that leaves no soot and no pollutants. The gas is cleaned before it is even fired, processed to remove sulfur and constituents from the gas.
A byproduct of the refining process is asphalt, which Sinclair sells.
"Everything in this refinery is skilled labor," Hansen said. "There's a high degree of training and labor. The Sinclair employees are almost exclusively (from) Wyoming. Most people come from the area and we try to hire local. One of our goals is community affairs and we want to interface with the community to be a good citizen, to be environmentally friendly, to have good jobs and to build our state. One of the ways you do that is to hire local."
The refinery's heart is a sophisticated control center — "like the bridge of the (Starship) Enterprise" — Hansen described, featuring an array of computer screens and control panels that sends commands and receives reports from every corner of the facility. Temperature, pressure, flow — every piece of data is received by the control room and its dozen operators.
There's a massive amount of moving parts keeping Sinclair burning, but at the end of the day, the only thing that comes out of the refinery is a finished product — and clean white steam.