State luminaries remember George H.W. Bush, who had strong ties to Wyoming
Every few winters in Washington, change begins to brew within the pallid and solemn walls of the Russell and Dirksen Office Buildings on Capitol Hill.
The heat of election season dissipates, the offices of senators retired either by ballot or fatigue empty out while the freshman class of America's most powerful public servants prepares to take their place. It is another ritual in a long list of time-tested traditions on Capitol Hill, with office space long-determined by a newly elected legislator's former government service and then by the population of the state they come from, which is then used to assign them a number.
In December of 1962, 65-year-old Milward Simpson — fresh off a historic special election in his home state of Wyoming — was handed his number and, with his son, moved into the office of outgoing Sen. Prescott Bush of Connecticut, a wealthy, highly educated New England statesman who chose not to seek re-election that fall.
It was in that room that Alan K. Simpson — then a 31-year-old attorney from Park County and three years away from his first seat in elected office — met George Herbert Walker Bush, a Texas oil man who several months later would be elected to the chairmanship of the Harris County Republican Party in his adopted home of Houston.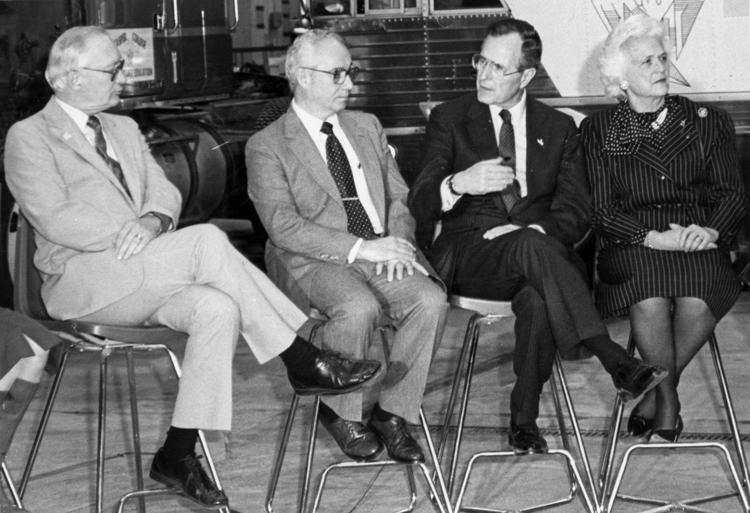 This chance meeting, as things turned out, would be the start of a friendship that will come full circle Wednesday in the city where they met, as Simpson — the lifelong friend of the man that would become the 41st president of the United States — was among the four people selected to speak in memory of Bush, who died Friday.
Throughout the late-'80s and into the new millennium, the stories of the Bush family, the Simpsons and Wyoming would be closely intertwined, from the careful crafting of policies affecting the West to the quelling of the Yellowstone fires. The youngest Simpson would become a valuable ally not just on the Senate floor but occasionally on the campaign trail as well (whenever he was asked, he clarified in an interview well after the 1992 elections).
"It was a handshake deal, no Realtors, no attorneys, nobody present," Simpson told the Washington Post earlier this week. "Dad remembered meeting him, and he said, 'We have a nice house; you have children,' and they said, 'Just what we want.'"
Bush was connected to Wyoming as well. From the Cowboy State, Bush found a Secretary of Defense in Dick Cheney, who would later serve as Vice President to Bush's son, George W. Bush. The elder Bush would later describe Cheney as having become an "iron-a—" over his foreign policy after 9/11, but the two were extremely close while in office, navigating the tribulations of a nation at war in the Persian Gulf to the quieter times. Cheney remembered Bush for his "personal touch," exemplified by the letter he sent to the daughter of his former defense secretary, now-Rep. Liz Cheney, when her father received the nomination for vice president.
"There was no gesture that was too small or insignificant of what he was willing to do to make people comfortable," Dick Cheney remembered on the Today Show earlier this week.
While it was difficult to gain an official tally by press time, the Star-Tribune was able to count around a half-dozen separate trips the elder Bush made to Wyoming: Fort Caspar for a GOP picnic in 1983, Casper College and Yellowstone National Park in 1988, Cody and Yellowstone again in 1989, a 1990 visit for the Wyoming Centennial Parade, and after his term had ended, a visit to Cheyenne's Frontier Days. Bush's most notable visit was likely his return to Yellowstone in 1989 to survey the damage of the wildfires that, one year earlier, upended a fly-fishing trip he had been taking.
Before a 1992 visit to his one-time Chief of Staff Jim Baker's ranch in Pinedale for a fishing trip, Bush wrote a letter in response to one written by then Wyoming Gov. Mike Sullivan, wishing him well on his trip. The letter concluded: "You're a thoughtful guy, but gosh darn it, I wish you were a Republican."
"I wasn't a close friend of his, Al Simpson was," Sullivan said in an interview on KTWO Television on Monday night, "(…) but I was benefited by the Republican delegation from Wyoming who were all friends of his, in particular Al and Dick Cheney."
Bush's most recent Wyoming trip came in 2005, when Bush and Simpson shared the stage for a look back on their careers in politics at a University of Wyoming fundraising event, discussing everything from going bird hunting together to playing tennis with Boston Red Sox legend Ted Williams. They even discussed the beatings in the polls and in the press Simpson received for his role in the Clarence Thomas hearings of 1991, where some saw him as needlessly pressing Anita Hill, who had accused the Supreme Court nominee of sexual misconduct.
Bush stood by him, though, a dispatch from the Associated Press noted at the time, with then-president Bush writing Simpson in a letter: "Don't let the bastards get you down."
Simpson was an ally to Bush as well: As a co-sponsor of significant amendments to the Clean Air Act — a signature achievement of the Bush administration — while in the Senate Environment and Public Works Committee, Simpson helped deliver a bill to Bush's desk after what was by all accounts an absolute dogfight.
"Day after day, while (then-Senate Majority Leader George Mitchell) would be running the Senate (he'd) come in and say, 'OK, where are we now? How are we doing? Are we moving?'" Simpson said in an interview remembering the negotiations. "And then he'd be called to the floor and we'd hack around in it some more, and we put together a bill, and George Bush signed it, and Bill Riley was the head of the EPA at the time. And that could never have been done by anybody else but George because it just pissed off both sides so bad that they couldn't even breathe."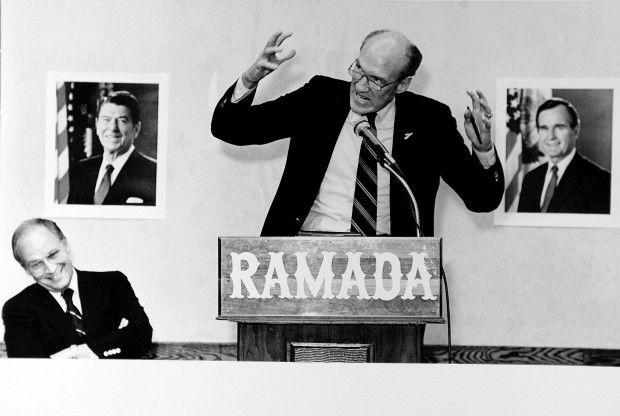 But that, Simpson said, is democracy.
"We had to let everyone have their say, and it was too bad you missed some of it," said Simpson at a press conference in 1990 marking the bill's passage to the president's desk. "Because it was rich … and profane, and sometimes embittered and ugly. But it's called democracy, and I come away with a great respect for colleagues on both sides of the aisle."
The warmth between the two perhaps shone through most prevalently at a dinner commemorating Simpson's time in office after his retirement in 1996. At the podium, Bush choked up during the toast, remembering the 6-foot-7-inch legislator as a giant who would "pull him up" when times got tough.
His closing remarks to the legislator, however, reflected a knowing warmth of the days to come.
"There is a wonderful life after leaving Washington, D.C." Bush said. "Great happiness. No steady job."
On Wednesday, it'll be Simpson's turn to say his piece.
Follow politics reporter Nick Reynolds on Twitter @IAmNickReynolds