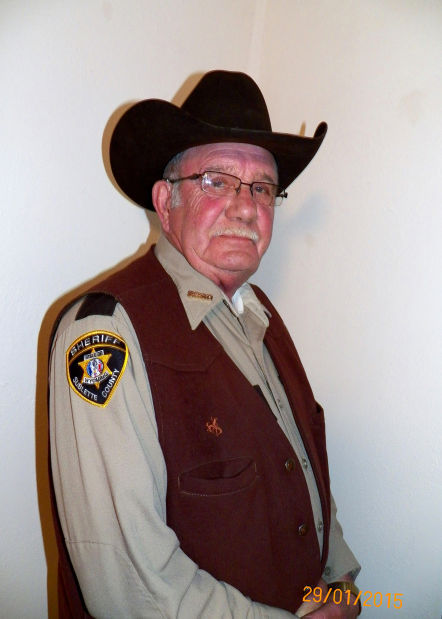 There's a new sheriff in an Old Western town, and his first order of business is to ban deputies from wearing cowboy hats and cowboy boots.
Stephen Haskell has been sheriff of Sublette County since Jan. 5. The county covers eight communities, including Pinedale, which True West magazine recently named one of its 2015 top 10 true Western towns.
The same month the list was published, Haskell decided the Western look no longer belonged on his officers.
"I had my patrol deputies wearing one uniform, (and) I had detention wearing another uniform. It looked like the Skittles platoon," said Haskell, 53, who's worked in law enforcement for three years. "We had a rainbow of colors. Who the heck is who?"
So he decided on new uniforms: black trousers, a tan shirt, black boots and a black ball cap. And you won't see Gene Bryson wearing any of it.
Bryson, 70, was the deputy who wore the brown cowboy hat, brown cowboy boots, summertime leather vest or wintertime wool vest.
He retired on Friday after 28 years with the Sublette County Sherriff's Department, 40 years total in law enforcement, the only guy on the force still wearing a cowboy hat.
"That's kind of the reason why I retired," Bryson said. "I am not going to change. I've been here for 40-odd years in the Sheriff's Office, and I'm not going to go out and buy combat boots and throw my vest and hat away and say, 'This is the new me.'
"That's not going to work."
Bryson was born and raised on a ranch in Montana, then moved to work on a ranch in Colorado and Wyoming.
He went into law enforcement in 1974. He was sheriff of Niobrara County from 1979 to 1984 and has also been an undersheriff, a captain, a sergeant, an investigator and more.
"And I've had a cowboy hat on since 19-I-don't-know," Bryson said. "I've always worn a cowboy hat, all my life."
Bryson's Old West look was popular in town, enough so that tourists and locals would constantly ask for pictures.
"That's what looks good to me in the Sheriff's Department," Bryson said. "It's Western. It's Wyoming."
Haskell, the sheriff, was also raised in Wyoming. He served in the Marine Corps for a quarter of a century and was a semiprofessional bull rider and bareback rider for seven years. On the wall of his office is the Cowboy Code of the West.
"I'm very much for the Western way of life and the look. And that's the way I dress," Haskell said. "However, for a professional outfit -- and this also goes for my 25 years in the Marine Corps -- I like everybody to look the same. We are one team unified in one purpose. That is to do our job."
Another reason Haskell made the ruling was safety. Cowboy boots are slippery on ice, and cowboy hats blow away.
"Have you ever stood on the side of the highway on a blustery Wyoming day and tried to keep a cowboy hat on your noggin?" Haskell asked on the Sublette County Sheriff's Office Facebook page.
"I'd rather my deputies were concerned with their safety and the safety of the public than trying to chase down a fly-away cowboy hat."
Bryson said he would've stayed if not for the rule change. But now that he's retired, he'll spend more time with his wife and grandchildren and at his gun shop in Marbleton.
Just look for the guy in the cowboy boots, blue jeans, wool vest and cowboy hat.
"That's the way I dress," Bryson said. "Three hundred sixty-five days out of the year."