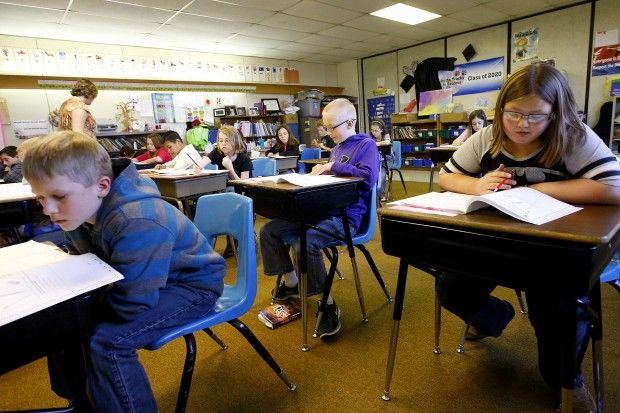 Most Wyoming education officials want to reduce testing time for students, but some say a new state recommendation to keep testing time below 1 percent will be hard without state or federal help.
A task force of teachers, principals and policymakers told the Wyoming Department of Education last month that students should spend less than 1 percent of their time taking tests. That bar is stricter than the national recommendation from the Obama Administration of 2 percent or less.
State Superintendent Jillian Balow, who campaigned on reduced testing time, said she supported the task force's recommendation.
"This is that meaningful conversation that Wyoming has needed to have," Balow said. "We are just hitting the pause button on student assessments: How can we get informed about the health of our education and the performance of our students without that burden of over-testing?"
The unspoken policy has been to gather data, Balow said. But Wyoming doesn't need superfluous information, she added, it needs good data.
But reaching the 1 percent cap is not simple or easy, some say.
Christopher Dresang, a task force member and assistant principal at Natrona County High School in Casper, said the feeling was unanimous during the meetings: Kids are over tested, and achieving the new goal will be hard, particularly for elementary schools, which participate in a number of local, state and federal tests.
"[High schools] are just responsible for one federally mandated test a year," Dresang said. "For us, 1 percent is not a big deal. For elementary schools, that will be difficult."
Kindergarteners in the Natrona County School District have already taken seven tests this year, Dresang said. It's less than halfway through the year and those students are probably close to the 1 percent cap already, he added.
Changing testing isn't something that individual schools or districts are all capable of doing, Dresang said.
"I think it has to happen at the state level, some kind of legislative authority to push us in that direction," Dresang said. "On the district level, overall unless the legislative says it's okay or not okay, we can't do it."
Schools, especially in smaller districts, will have a harder time.
"The funny thing about Wyoming districts is they are so individual, so different," he said. "It's hard to say one thing will fit all. Take Natrona for example we have a conglomerate of people at central service who set policy for us, and there are some smart individuals up there who can help with assessment or curriculum. (But for smaller districts) it would be hard for the state to say, 'districts you do the work.'"
Most schools in Natrona County are testing at about 2. 4 percent of the year, said Natrona Vice Superintendent Walt Wilcox at a recent school board meeting. When it comes to federally mandated testing, Natrona County schools are already below the 1 percent recommendation. But with district and state tests and assessments, the district goes over the limit, he said.
Balow believes Wyoming's schools can meet the 1 percent goal without state help. At this time, the superintendent has no plan to push for a policy change to mandate the cap.
Testing is still an important part of assessing individual students' needs and the performance of the entire Wyoming system, Balow said.
"I'm often asked, 'Are students assessed too much?' When we talk about the standardized test, yes absolutely. But when we think about it from a teacher's perspective, we want our teachers to be assessing our students every minute of every day," she said. "The most important assessment that takes place, is in the class every day."
Follow education reporter Heather Richards on Twitter @hroxaner.