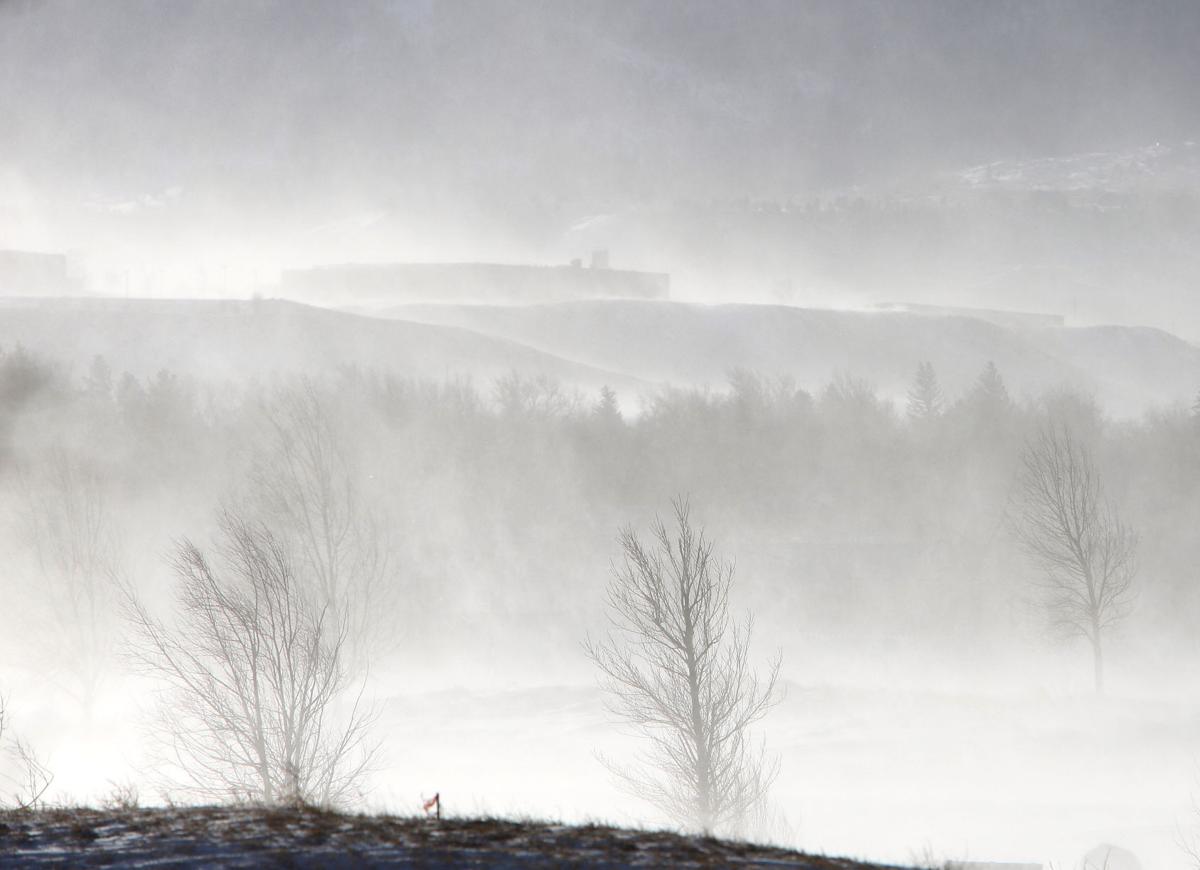 Meteorologist Jeff Braun of the National Weather Service office in Riverton spoke with the Star-Tribune about Wyoming winds and weather.
Why is Wyoming so windy?
That, Braun says, comes down to "location, location, location."
As most Wyomingites probably suspected, the state is in the right spot for factors that make air move fast.
The physical processes that generate weather conditions in the country travel west to east, and they do that far above ground level. To create wind, we have to have high pressure across the Great Basin and lower pressure in the Plains region at the surface level.
Summer winds are usually milder than winter ones; the area sees fewer storm systems in the summer months. Wyoming does have plenty of thunderstorms during that time, though, which can produce high winds. Strong winds from a thunderstorm could arrive up to an hour ahead of the storm itself. 
What are the windiest areas of the state?
Some are the mountainous areas. Braun lists the Salt, Wyoming, Absaroka and Beartooth ranges as those that see winds well over 100 mph.
Some of the biggest areas for strong winds in the state are from eastern Sweetwater County through eastern Fremont County, Natrona and Johnson counties and points farther east, Braun said.
The Interstate 80 corridor is also known for wind. Moving air seeks the path of least resistance, so it ends up flowing around the central Rockies and then often over relatively low areas such as Rawlins and Rock Springs.
Another particularly windy spot is Clark, near Cody. Many factors – like pressure and topography -- come together there to produce gusts that often exceed 80 mph.
In the Casper area, Wyoming Boulevard (Outer Drive) often sees sustained winds of 30 to 40 mph, with gusts of 70 mph not uncommon from November to April, Braun said.
What kind of wind damage should people watch out for?
Most wind damage happens when gusts hit 70 mph or above, Braun said.
Since the winds have been around a long time, the region has adapted. From a natural standpoint, most of the windiest areas in Wyoming have relatively few big trees. "We just don't see a lot of that to begin with," Braun said. Most damage in relatively treeless and open areas happens to manmade structures.
But wind can cause extra damage when it's paired with other conditions, Braun said. For example, a small fire started at the Casper landfill in October 2015. It could have smoldered and eventually died without incident. Instead, high winds whipped it into an inferno that eventually claimed 14 homes in rural Evansville and came to be known as the Cole Creek Fire.
Are there similarly windy areas in the nation or world?
Wyoming is not the only place that is buffeted by wind on a regular basis.
Boulder, Colorado, can be particularly gusty, as the Front Range is known for what Braun described as extremely strong downsloping winds coming down off the mountains.
Coastal areas, too, are familiar with gusts. As winds develop over oceans, they speed along with nothing to block them or break them up. That's why the north and northwestern coasts of Hawaii see such dramatic waves.
"Winds pile up the water and bring it there," Braun said.
How are wind chill and temperature related?
To calculate wind chill – how a mix of temperature conditions feels – meteorologists begin with the ambient temperature, then consider winds, which "whisk away heat and moisture from the body," Braun said. That's known as evaporative cooling, and it means we lose temperature and feel colder much quicker when we're in a cold wind.
But winds can have the opposite effect, too. When they come down a mountain, air compresses at the bottom, and that leads to what's called compressional warming. When air is compressed, it becomes warmer.
Braun offered the Cody area as an example. The rest of the state might be seeing temperatures near 10 degrees, but Cody might be as warm as 40 degrees because air is compressing as it flows from the west over and down to the bottom of the mountains.