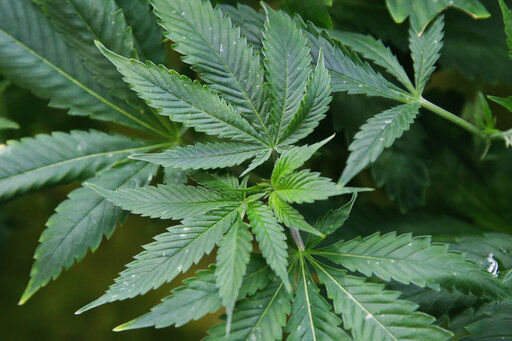 FORT WASHAKIE — Members of a group advocating for the legalization of medical marijuana on the Wind River Reservation are trying to convince tribal citizens of the benefits of the move ahead of a potential vote for one tribe on the question this week.
Some Eastern Shoshone and Northern Arapaho tribal members in recent months have pushed for their tribes to legalize medical marijuana and industrial hemp production, saying the plants could help diversify the reservation economy, create more jobs through cannabis-related businesses and offer an additional option to treat some medical conditions.
Now, with a potential vote for the Eastern Shoshone tribe later this week, members of a group researching the question for that tribe have been stepping up educational and lobbying efforts through events on the reservation and in Lander to answer questions and convince enrolled members to attend an upcoming General Council meeting and vote in favor of the proposals.
"It's out there now," said Bobbi Shongutsie, one of the Eastern Shoshone tribal members leading the effort to research the issue and draft proposals, of the recent informational events.
"New faces are out there talking about it on a positive note ... If we bring these people here, and they hear it and they see it for themselves, they're going to believe us."
Both tribes' general councils are comprised of all adult members of the tribe, who collectively hold ultimate authority over tribal affairs and oversee the business councils. The business councils are made up of elected officials charged with handling day-to-day governing.
The Eastern Shoshone Tribe was the first to bring the question up when the General Council voted in September to create a group to research the issue and come back to the council with proposals to vote on. Legalization of medical marijuana and industrial hemp cultivation was on the General Council agenda in January, but a lack of a quorum — not an uncommon occurrence — meant a vote would have to come at a later time.
Resolutions moving forward with medical marijuana legalization and hemp cultivation are scheduled to be addressed at the Eastern Shoshone General Council meeting Saturday.
However, with the tribe now taking agenda submissions for a General Council meeting later this month, it could come up again.
Convincing tribal members
Members of the group — which calls itself So-go-Beah Naht-Su' in Shoshone, meaning Mother Earth and Medicine in English — in charge of the effort for the Eastern Shoshone say growing and using the plants could lead to new businesses on the reservation and give tribal members options other than opioids for pain management or to help treat ailments. It could also keep tribal citizens, who might have to move away to cities like Casper to find work, on the reservation.
"It's hurting our people," Shongutsie said of opioid abuse. "And not only that ... there's going to be ... jobs if we get that here, from growing to building to processing to selling it."
But first, both tribes need enough of their members to attend general council meetings before the proposals can be voted on.
At an informational event Friday in Fort Washakie on the Wind River Reservation, Shongutsie said she hopes the group's lobbying efforts result in a quorum at the upcoming General Council meeting and a vote approving their proposals.
She believes that the group's efforts have had a positive effect, noting that curious "new faces" who haven't been at the recent General Council meetings attended Friday's event.
For example, she said an outspoken elder attended Friday's event and asked many questions about the benefits of medical marijuana and CBD oil. After being convinced that she wouldn't be "flopping around" high, she took some of the oil to hopefully help ease her aching bones. (Cannabidiol – also known as CBD – can be extracted from hemp and its psychoactive cousin to treat seizures and other medical conditions, or as a supplement.)
"I thought that was a big step," she said. "She will now go back out and tell everybody we are doing a good thing because there's still quite a bit that are hesitant."
The group, which has received help from advocates and businesses in the industry to educate the community, hopes to continue to hold informational events around the area, Shongutsie said. The group had previously hosted other meetings on the reservation to discuss their ideas and address any concerns around the time it first came up during a General Council meeting.
One advocate who has helped the Eastern Shoshone group is Melisa Sparks, who along with her husband, Kenneth, educate the public about medical marijuana. They said they plan to stay in the area to continue to assist with outreach efforts, and with implementation if proposals pass in General Council.
The two spoke about their experiences with medical marijuana on Friday, with Melisa Sparks saying it's her "passion to educate as many as possible with seeing what .... this medicine can do."
Medical marijuana has helped her father, a Marine Corps veteran, with post-traumatic stress disorder, and herself with pain management after suffering two strokes and losing a leg after she was run over by a drunken driver, she in an interview on Friday.
"So my my goal from this event today .. (is) that somebody leaves here with an open heart, open mind and is going to go out them doors and say, 'Hey, maybe we should we look at this or we should rethink this.'"
Enforcement questions
The two Wyoming tribes could join a number of U.S. tribes that have implemented regulations around industrial hemp and medical or recreational marijuana as an economic development tool or way to treat some medical conditions.
Members of the Eastern Shoshone group have said they have no plans to pursue legalizing recreational marijuana.
At a Saturday informational event at the Lander public library, Val Martinez of Colorado-based Angel Consultants, Inc. explained to a dozen or so attendees the potential benefits of hemp cultivation, products that can be produced from hemp, medical marijuana and CBD oil — a segment of the industry that some expect to explode with sales within this year.
Martinez and his business also produce CBD oil and other products containing CBD from hemp.
During the event, Martinez talked about the cultivation and processing of hemp, how to spot high-quality CBD oil when purchasing, as well as the history of the plants and historical legal uses, which go back as recently as the early 20th century in the U.S. for industrial and medicinal purposes.
"We've always been involved with cannabis or hemp in some form or another," he said.
But, if either tribe goes forward and legalizes medical marijuana and cultivates it on the reservation, they'll have to deal with an uncertain regulatory landscape.
Michael Pearlman, a spokesman for Gov. Mark Gordon, said Friday that the tribes haven't approached to state to discuss any potential loosening of marijuana laws, "so it would be premature for us to comment on any plans they may have at this point."
Since any legalization of medical marijuana would only apply to tribal lands within Wyoming's borders, the federal government would ultimately have enforcement authority.
Although cannabis is still illegal at the federal level, the U.S. Department of Justice in 2014 said it would treat tribes as states in marijuana enforcement, meaning federal authorities would generally not interfere with tribes that loosen cannabis laws.
Last month, the U.S. Attorney's office in Cheyenne told the Riverton Ranger that it would exercise "prosecutorial discretion in accordance with Department of Justice guidance."
"The United States Attorney's Office recognizes and respects the sovereignty of Native American Indian Tribes in their self-governance," U.S. Attorney for Wyoming Mark Klaassen told the Ranger.